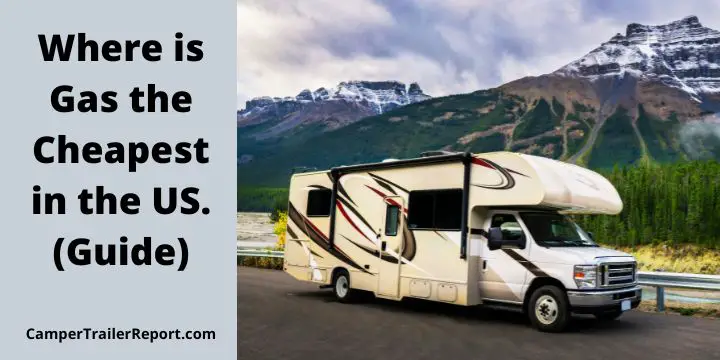 As demand for gasoline declines, prices in the United States begin to fall. As a whole, the cost has decreased by.18 cents in the past week.
Nationally, the average cost of regular unleaded gas has dropped to $4.49 per gallon. Though gas costs have been falling, most RVers still want to know where they can get the best deals.
Why did gas prices skyrocket?
Due to widespread panic and the subsequent travel curtailment, gasoline demand dropped to record lows in 2020. Oil and gas corporations have closed certain refineries to meet the lower demand. Finding enough reliable employees to keep the factories running was another challenge for businesses.
By 2021, people were finally venturing out again, somewhat raising the need for fuel. The price level remained lower than it had been in 2011. The national average price of gasoline was $3.61 per gallon in March 2011. March 2021 saw a cost of $2.89.
Oil and gas firms had still not restored their 2020-shuttered facilities by February 2022. After a long hiatus, many people have just resumed their travels.
The rising cost of gasoline can be attributed partly to the high demand during a period of low supply. Russia subsequently launched an invasion of Ukraine.
Oil prices skyrocketed as the attack caused widespread panic about the availability of this vital commodity.
Video Overview: How to Find Cheap Gas Near Me
Which states have the cheapest gas in the US?
Where is gas the cheapest in the US? The best places to find cheap gas are in the southern states. Fuel costs between $3.99 and $4.21 per gallon across the southern United States. All-inclusive costs in these states have been rounded up below:
South Carolina: $3.99
Georgia: $4.01
Mississippi: $4.02
Texas: $4.03
>> You may also like:45 RV Accessory Must-Haves for Your Travel Trailer<<
How to save money on gas while RVing?
However, the current price of gasoline is still far lower than what we've become accustomed to spending. There are always ways to reduce the expense of driving an RV, even if you're in one of the Southern States with the least gas prices. Below are some tips that can help you save money on gas.
Utilize RV LIFE Pro to arrange fantastic RV camping trips in your immediate area.
To find the best gas prices, no matter where you are, download the Gas Buddy app.
You can save money on gas by joining a club. Escapees and AAA are two such clubs.
To save money on petrol, get a gas card, which you can use at Pilot and Flying J Truck Stops.
Take your foot off the accelerator. The more slowly you travel, the more money you'll save.
To help the environment and save money, try to drive with the temperature up a bit more often than the AC is on.
Schedule all necessary fuel stops in advance to avoid stress when on the road in an RV. If you use RV LIFE Trip Wizard to map out your travels in advance, you can anticipate when and where you'll need to refuel your vehicle. It is possible to check the accessibility of gas stations using satellite imagery and street views.
Smart Phone Apps for Gas Prices?
Saving money on gas doesn't apply if you drive a great distance to reach a state or rural location. To make a dent in your gasoline costs, you'll need to research to find the lowest gas prices in your area.
Using a smartphone app that gives real-time gas station pricing data, you may locate the stations in your neighborhood with the lowest rates. The data these instruments provide is current and specific to your driving range, making them quite useful.
>> You may also like: Worst 5th Wheel Brands to Avoid <<
GasGuru
You can find cost-effective gas close to you with the help of the free app Gas Guru, which does so by fuel type and quality. You may get updated gas prices and get directions to the nearest station. Considering how frequently gas prices fluctuate, this is crucial information to have.
For those who would rather not waste gas searching for deals, a "nearby" option is available. Reviews that highlight the app's simplicity and reliability highlight how reliably it updates and how intuitively it functions. These maps are easy to read, and you may sort gas stations by price.
GasBuddy
In addition to searching for the lowest gas station by price and distance, GasBuddy also includes a search filter for brands and amenities.
The app's trip cost calculator will come in handy if you're trying to plan a road trip's budget. It also has a daily drawing for free petrol worth $100. While most customers seem pleased with the service, some have complained about the abundance of advertisements.
As of iOS 8.0, the Apple version works with the iPhone, iPad, and Apple Watch. You may get it through the iTunes App Store. The Android version is available on Google Play. You can also get a copy if you have a windows phone.
Gas Price Websites
There are a few places online you can look up the cheapest gas prices in your area.
The AAA website keeps track of gas prices at more than 100,000 stations in the United States, among other traveler-friendly services. In addition to providing current and historical gas price data, AAA's gas price feature also displays state-level averages (updated daily).
Also, a gas price estimator considers the traveler's estimated gas use and the vehicle's brand and model. The site also features advice on reducing your car's carbon footprint and maximizing its useful life.
The non-commercial website GasPriceWatch.com was launched in 1999. It enables consumers to make informed decisions. The site has no ties to oil or gas companies, nor does it accept advertising. Entering a city, zip code, or gas station name yields gas price data. The outcomes are categorized according to the fuel quality, from ordinary to mid-grade to premium to diesel.
Spotters contribute data to maintain the most current pricing data possible. For their efforts, spotters can receive financial compensation. Trends in gas and crude oil prices and the federal excise tax on gasoline and diesel are all available on the site.
Where is the gas most expensive in the US?
The price of gasoline in California is the highest in the United States.
>> You may also like: 25 Best National Parks in the USA  <<