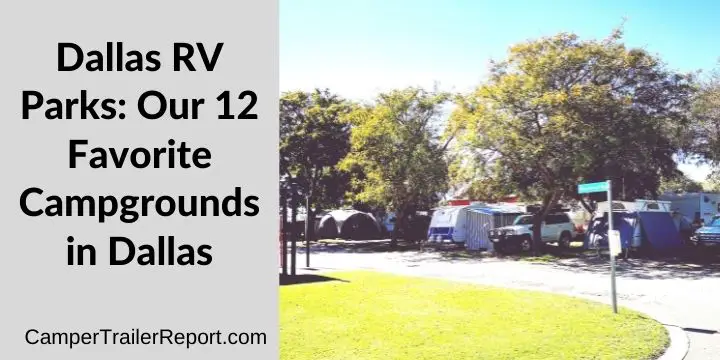 Dallas RV Parks: Our 12 Favorite Campgrounds in Dallas
There is no better way to explore the vast Texas state than through road trips. You can visit most of the attraction centers in Dallas while relaxing in your favorite RV parks.
Parking of RV and other oversized vehicles in the streets is limited to 24 hours. Therefore, you will require a campground to enjoy your vacation in Texas.
The price range for RV camping is $25-$60 per night, and as long as you can pay, you can spend here all year long. Some RV parks offer discounts, and you can enjoy a good time in Dallas for as long as you want.
Completing your RV vacation will be complete when if you consider these 12 campgrounds.
1. Bear Creek Campground
With its outstanding facilities, this campground has individual campsites, a camping pavilion, a boat launching, nice restroom with showers, among other things.
You can enjoy natural features like prairie above the lakes and the wooded hillsides. The campground is also surrounded by attractions like the zoo, botanical gardens, the cultural and museum district, and more.
You can enjoy recreation at Beer Creek from April through to September while enjoying wildlife viewing and boat launching.
Video overview: Tour Bear Creek Provincial Campground, Kelowna British Columbia
2. High View Campground
Placed strategically on the western of Bardwell Lake, the hill view parks an ideal place for camping, hiking, hunting, fishing, and boating.
The park offers campsites with water, electric hookups, picnic sites, a full-service marina, covered swimming pools, least to mention.
It is surrounded by nearby attractions like cultural and historical attractions, recreational facilities, and natural features.
Video overview: High View CoE Park Ennis, Texas
> You may also like:45 RV Accessory Must-Haves for Your Travel Trailer<<
3. East Fork Campground
The East Fork Campground is a famous hiking and camping place for people living in Dallas.
This campground offers RV, equestrian, and tent campsites.
Some of the recreational activities you can engage in here include fishing, hiking, horseback riding, and boating
Common facilities offered include sites with water and electricity, tent-only sites, and a dump station.
Video overview: East Fork Campground – San Juan National Forest
4. Traders Village RV Park
It is one of the friendly places you can camp in Dallas. The RV camp is located near a few attractions that you can visit.
The camp is clean, tidy, and well-maintain. What is more, there is a flea market nearby every weekend. This allows you the opportunity to interact with the vendors and shop for fresh supplies while camping.
Video overview: Traders Village in Grand Prairie
5. Dallas NE Campground
This campground is strategically placed between Dallas and Greenville. Lots of natural and beautiful attractions surround the camp.
It is also family-friendly with several recreational and amenities like playgrounds, fishing spots, basketball courts, and pet walking areas.
It has an in-ground pool that makes it popular, especially during winter.
Video overview: NE Dallas Campground
6. Texan RV Ranch
The Texan RV Ranch is the best place to be if you are considering the Cowboy's games in AT&T stadium.
The park is surrounded by various amenities like bars, local restaurants, and movie theatres. Therefore, no dull moment while you stay at this campground.
It has a ranch house where various campers socialize, play games, and enjoy other activities like cooking.
Video overview: Big Texan RV Ranch; Amarillo Tx.
> You may also like:Worst 5th Wheel Brands to Avoid <<
7. Sanger / Denton North KOA
This is a campground that you can consider home while vacationing in Texas. This RV park has sites with hookups and with the proper electrical supply.
Be assured of cable TV hookups as well as WI-Fi all over the campground. An enclosed dog park is available where you can take a stroll with your pet at your convenience.
You can also enjoy several recreational and mind-captivating activities with family and friends. For instance, there is basketball.
Video overview: Sanger/Denton North KOA Campground – RV Park Review | Full-Time RV Family
8. Lakeview RV and MH Park
As the name goes, this campground is placed nears the shores of Lake Arlington. It has a breath-taking view of the lake and is surrounded by several amenities.
The campsites are secluded, vast, and quiet because bushes separate them. It is ideal for your rental RV.
There are excellent outdoor activities that you can enjoy while camping here, like golfing, fishing, and boating.
Video overview: RV PARK IN LOUISIANA | Lakeview RV Park Eunice LA Review
9. Clear Lake Campground
This is a shaded campground ideal for photographers, anglers, and those who like watching birds.
It is situated northeast of Dallas. The campground offers 23 sites that are well served with water and electricity.
It can accommodate up to 200 people, and it is surrounded by natural features, recreational centers, and other nearby attractions.
Video overview: Drive-Through Tour: Clear Lake State Park, Kelseyville CA. 4x4CampingCorps
10. Hidden Cove RV Park and Marina
It is another excellent plug for RV camping in Texas. This place is famous for its clean showers and restrooms.
You can enjoy barbecue grills, fire rings, and picnic tables while camping here.
Some of the recreational activities include kayaking, canoeing, swimming, playing basketball, among others.
Video overview: Thousand Trails Hidden Cove RV Resort | Worth the trip! | Review and Tips!
11. Lewisville Lake Park Campground
This is a campground that is huge and family-friendly. You can drive to this place from Dallas in less than one hour.
The camp is also surrounded by several waterfront parks, social amenities, and natural reserves.
Camping here will also grant you access to water and electric sites. You will also find coin-operated dry cleaners, so no stress with your laundry.
Video overview: Lewisville lake park in Texas||weekend vlog||picnic spot||krithika vlogs
12. Wind Point Park
It is one of the most extensive campgrounds in Texas. It is packed with waterfront sites being enough to accommodate RVs of different sizes.
You can clean and freshen up quickly due to the availability of facilities as laundry, showers, and restrooms.
You can park your RV and enjoy dinner outdoors with comfort from the fire pit areas.
At Wind Point Park, be sure of several recreational activities for individuals and groups.
Video overview: Aerial view of Windy Point Park park
Wrap-up
RV camping in Texas is exciting because the prices are fair, and there are several campgrounds that you can tour. Most campgrounds are surrounded by what you want to see and the comfort you may not experience in any ordinary campsite.
> You may also like: Least-Visited National Parks: Why They're Worth a Look<<