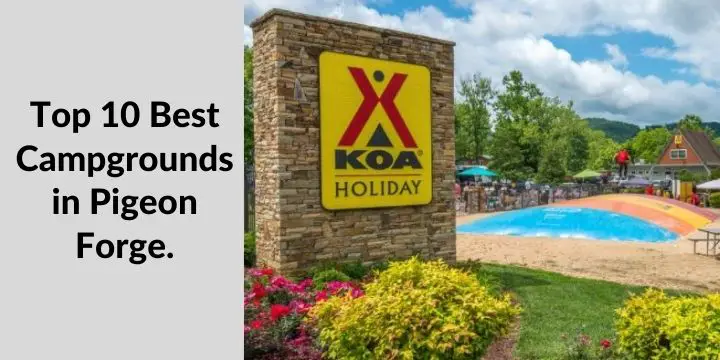 Top 10 Best Campgrounds in Pigeon Forge.
Pigeon Forge is one of the popular areas in Tennessee. This place is all about landscape rolling, many dining options, and shopping, and great views of the Smoky Mountains.
Often, visitors opt to explore this place by camping in the Pigeon's Forge many campgrounds. Since it is a mountain town, the place is peaceful, idyllic, and scenic. To have a good experience in this place, visit your favorite campgrounds. Here are the top 10 best campgrounds in Pigeon Forge;
1. Clabough's Campground
Clabough's Campground lies in the heart of the Pigeon Forge. It is owned and run by the fifth generation Clabough. It was started in the early 1880s. Today, it has 320 campsites together with rentals for visitors. In addition, its campsites are found in open, shaded areas having a fire ring with picnic tables.
Video Overview: Clabough's Campground Pigeon Forge, TN
2. Gatlinburg KOA
Being one of the best campgrounds in Pigeon Forge, the Gatlinburg KOA stands out from the rest. Its waterfront campsites are available and also bikes for renting. Thus, if you are a bike rider, the Gatlinburg KOA campground is undoubtedly your choice. Besides, you will also enjoy your playtime at Kamp K9dog park.
Video Overview:  Update: KOA Pigeon Forge / Gatlinburg, Tennessee NEW POOL, Lazy River, and Hot Tub
3. Riverbend Campground
You can easily walk to the shows in town while in Riverbend Campground since it is within walking distance. As its name says, it is at the edge of the water. While coming here, pack your kayaks or canoes for floating.
Video Oveerview:Riverbend Campground Pigeon Forge TN
4. Gateway to the Smokies RV Park & Campground
Here, campers get to select primitive, premium, or standard. It offers picnic tables and fire rings. Also, you can buy discounted tickets to Dollywood and Splash Country.
Video Overview: Gateway to the Smokies RV Park and Campground review in Pigeon Forge, Tennessee
> You may also like:  Why America's Most Popular National Parks Need to Be on Your Bucket List <<
5. Camp Rivers Landing
This is an RV park, where you can rent an RV slab. The milk House and Farmhouse rentals are available if you prefer to stay under the actual roof. Here, you get to have a home away from home in this place.
Video Overview: Camp Rivers Landing Pigeon Forge Tennessee
6. Foothills RV Park & Cabins
Found outside the Smoky Mountains National Park, the Foothills RV Park is among the highest-rated Campground in pigeon forge. Unlike other campgrounds, Foothills is opened seasonally from 1st April to 1st November.
Video Overview: Foothills Campground Pigeon Forge TN
7. Jellystone Park
This is also one of the best camping destinations. You are guaranteed the luxury of home you deserve while enjoying the beauty of nature of their outdoors.
Video Overview: Yogi Bear Jellystone Park Campground in Pigeon Forge Tennessee Smoky Mountains
8. Alpine Hideaway
Apart from Alpine Hideaway offering slabs for rent for an RV, it also rents the RVs. The RVs that are rented are superb and contains everything required for a better stay. Found between two mountains, the Alpine Hideaway campground has enough shades during summer.
Video Overview: Alpine Hideaway Campground Pigeon Forge Tennessee
9. Walden's Creek Campground
The Walden's Creek Campground has rental cabins and also tiny houses. You can have fun activities like creek fishing and swimming. Besides, you can also relax at night in from of the fire pit.
Video Overview: Mill Creek Resort & Campground Pigeon Forge TN
10. River Plantation RV Resort
This is a popular campground near Sevierville. The resort has approximately 300 sites with full hookup sites. Furthermore, it has pools, a dog park and a playground for kids.
Video Overview: River Plantation RV Park
> You may also like:  15 Most Underrated National Parks in America <<
Related Questions:
Is it better to stay in Gatlinburg or Pigeon Forge?
Many people get confused on whether to stay in Gatlinburg or Pigeon Forge. Gatlinburg and Pigeon Forge are located five miles apart, and each place has its goodies.
Gatlinburg is not only a mountain town but is also found on the edge of the Great Smoky mountains. Here, you can sit and talk, or your meal. Gatlinburg is a place for mature adults even though it has many things to keep the children entertained.
The easier place to navigate
Traffic can be a nightmare in both cities. Gatlinburg has ample spaces to park your car and walk around, but pigeon forge has many side roads for easier bypassing of traffic, but you have to risk the trip. Pigeon forge is the best place to stay since it is easier to navigate.
The place with the best shopping outlets
Pigeon forge has many shopping outlets with cheesy tourist shops, while Gatlinburg has unique shops for easier shopping.
Pigeon forge is the best place to stay since it has many shopping outlets.
How much does it cost to camp in Pigeon Forge?
The cheapest option may be tent camping in a campground. It can cost can range from approximately $15-$20 a day. But, for the expensive option, the price can range from $50-$80.
Is the KOA in Pigeon Forge Open?
KOA in pigeon forge is open and also taking the reservation. If you want a reservation in KOA, book as soon as possible. There are high amenity levels for your comfortable stay.
Does Dollywood have an RV park?
No, it does not have an RV park. But, you can set up your RV at the theme park or the hotel is choose to stay there.
No matter the season, there are many campgrounds in pigeon forge that serves well for vacation. The above are the top 10 best campgrounds in Pigeon Forge, and deciding to visit them is undoubtedly a great idea.
> You may also like: 12 Best Waterfront RV Campgrounds: You Need to See. <<