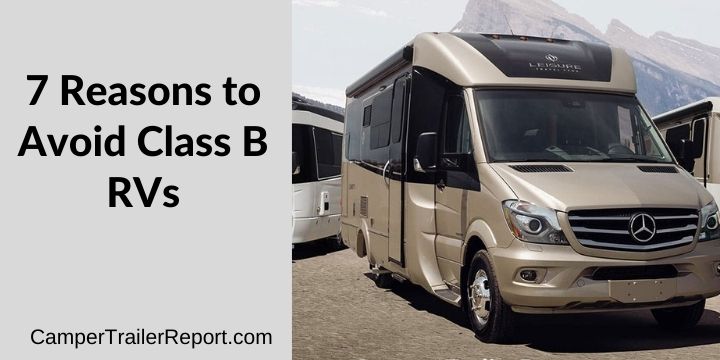 7 Reasons to Avoid Class B RVs in 2020
Are you thinking about Class B RV? There could be a lot going on your mind during 2020, but you might be thinking if it's the right time to get a Class B RV.
You should know whether it's a good idea or not! You should know some of the possible reasons to avoid it! It can become a lot easier to consider whether it's a viable option for you or not. If you are still not sure and thinking about a Class B RV, then consider the following:
#1. Can Be Costly
It's possible that the Class B RV that you end up liking is costly! Obviously, there are many brands for you to consider, but what if the Class B RV you like is the expensive one. Finding the relevant cost in advance is always a good idea. You can easily know whether it falls under your budget or not.
#2. Small Bathroom
Considering the size of the bathroom, it might not be a viable option if you are investing in it as a full-time living! Plus, there are other factors to consider too such as for how many people are you considering the Class B RV, is it just you, or are you a couple!
> You may also like:45 RV Accessory Must-Haves for Your Travel Trailer<<
#3. Small Space
Since you are interested in getting the Class B RV, you might be aware of its small size. You might know that the small space but not be a viable option for you especially if you prefer enough room inside an RV. Plus, it also depends on your personal preference too.
#4. Not Suitable For Long Term Camping
It's possible that you might be investing in a Class B RV as you might be looking forward to long term camping in 2020. However, it's important for you to keep in mind that with Class B RV, you would be driving it everywhere for your personal use, and thus, it might be tough to use it for the long term camping.
#5. Not Enough Storage
Since it has a small space and size, the storage won't be enough. It's okay if you are a minimalist, but if you have important items to carry along then there won't be enough storage available for you.
Video Overview: 5 Reasons to Avoid Class B RVs
#6. Compact Kitchen
The size of the kitchen in the Class B RV is compact. So you have to keep that in mind! With not enough legroom, it might be tough for you! It's always better to look into what you are getting for yourself.
#7. Not Enough Features
It's possible that you might be looking for a variety of features. But it would depend on whether you are going for a family vacation or using it as a couple. It can provide you the basic necessities, but for features, you might have to consider other options. You can see what brands are available and what they have to offer!
Wrapping It Up
The year 2020 is quite surprising! Thus, if you are thinking to get a Class B RV, it's important that you consider your options and see if it's a viable option or not. Think about the 7 reasons to avoid a class B RV and decide accordingly!
> You may also like:Worst 5th Wheel Brands to Avoid <<