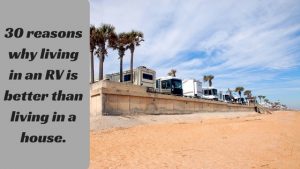 A recreational vehicle is that type of motor vehicle where you can find living space like a home.The people of different ages are taking this RV living home for the spent of vacation time or amusement.an RV living is as same as home living which includes bathroom, kitchen, and sleeping space.

Though it is the same home living, they enjoy that you are taking outside of the home that is really great.There are some special features that are AC, water heaters, televisions and a GPS tracking system.The lifestyle of RV living is really enjoyable who would like to travel and who would like to camp rather than living in one location as consistent as the vacation.
Some people are traveling in this RV in the winter time and come back to the home in the spring.A large number of full-timers are always available there and they are comprising with the other subculture on the RV lifestyle.Some people who want to stay out of the house several times and they trying to live as RV living in a different time in the site of the park or their targeted locations.
There are 30 reasons why people are living in an RV is better than living in a house:
Available in different states:
The RV is available in the 49 states all over America.The people of those states are taking the facilities of living outside the home along with it.
Enjoy breathtaking views:
Some people are taking the real natural feeling of going riverside and feel the breathtaking views out of the RV windows.
RV park wifi:
When you are outing for a few days with your RV, you are taking RV park wifi freely where can get free movie streaming, watching videos and some email checking or anything that you want.
Cooking experience:
When you are going for the time being and want to take different meals for your dinner or lunch. You can cook different types of food easily according to your desire.
Longtime drive:
Some people wish to drive a long time in different places and out with their friends.They can take advantage to go outside and here to thereby living in the RV.
New marriage couple matchup:
A modern marriage couple needs to match-up with each other.So, they need a vacation for the few days and they can try RV living where the small space can match-up with each other too fast.
Promoting outdoors:
The RV living is currently promoting outdoors feeling like boating on the canal side, take fresh air and something like that where the home living gives you only sitting on the couch and watching TV.
Video Overview: RV vs HOUSE // The TRUTH About LIVING in an RV with a Family
Little rent cost:
The cost is little when you are renting an RV.If you compare with the home according to the 1year of renting system of RV, you will find the exact answer to rent an RV and you want to take it more and more.
No additional bills:
There are no additional bills like utility bills or others when you are taking an RV for a living.
Make more dating and friendship:
You can make a trip with your friends and it will give you more and more enjoyable. When you are living in an RV, you will feel that more friends are taking a cup of tea with some gossip.
Teach to clean:
When you are living in an RV, it can teach you how to lead a safe and clean life. You will feel that like a mess. To lead a better life, make your RV clean properly.
Washroom facilities:
There is a washroom that will help you when you are outside of the home and live in the RV.Sometimes, you can do pee in your immediate case.
> You may also like:45 RV Accessory Must-Haves for Your Travel Trailer<<
Make special holidays:
It will make your holidays more and more enjoyable when you are using this kind of living.
Save cleaning time: 
It will save the time when you are cleaning your house.The cleaning system is more helpful when you are using a vacuum.
Video Overview: 8 Reasons to NEVER Full Time RV – RV Life
The cooking smell makes it great: 
When you are cooking bacon in the RV, the entire RV will the scent of a heaven and you will enjoy it.
Make oral communication with others:
When you are in the home, sometimes you are not able to speak with one another at different times easily.But, when you are living in an RV, you can communicate with your friends easily and sometimes family members.
Move outside easily:
When you wish to ride a bicycle in a field, you can move with it easily as you want.
Eat anything anytime:
You can eat anything when you like to eat different food with BBQ, some chocolate etc.
More travel and make money:
You can make travel with some of the diverse people and can take some money for a couple of months or years. You can earn money easily.
> You may also like:Worst 5th Wheel Brands to Avoid <<
Be a hoarder:
You can find yourself as a hoarder when you are living in the RV.No stuff will be available during your journey.
Make travel worldwide:
You can move with your RV all over the world by ferrying it.It will offer you more and more pleasure.
Don't spend more money during outing:
When you are located in the home, you will spend more money when you are eating.However, when you will travel, you can take junk food which is not more costly than home.
Sell your RV easily:
If you wish to sell your RV, you can easily sell it where you can't sell your home in the shortest possible time.
Feel the wood:
It is much more intense when you are living in an RV which is made of wood.When you are walking on the wood, you can feel it.
Don't be desirous:
You will be unable to desirous when you are an outing of the home and live in the RV.
Changes in the RV color easily:
It is very difficult to color hole house but whether it is so easy to paint the RV.
More comfortable:
It's more comfortable to live in RV cause if you feel bored, you can go out and see the nature via the window.
Instruct you to fix things: 
When you are outside of the town and you are required to fix the problem of your RV.Then, you should fix up and resolve it by yourself. You need to learn that first, before the outing.
Video Overview: Should I Live in an RV for the Rest of My Life?
Get more experience: 
When you are working with people and want to better relationship over work.You can make a tour and solve the work by living in the RV.
Conclusion:
There are a lot of advantages when you are traveling in the RV.The living of RV is more reliable than the home. Instead of buying a custom home, the RV lifestyle is more enjoyable and comfortable.
Related Post: First Time Travel Trailer Owner Tips, Beginner's Guide.