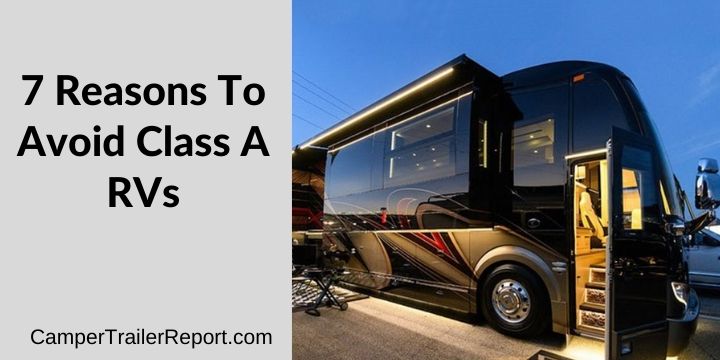 7 Reasons To Avoid Class A RVs
You might be looking to invest in a suitable Class A RV, but it's a good idea to evaluate the pros and cons. Maybe it's your dream to get one! Or maybe it's just something you are not sure of!
Life can be so much fun when you own a class A RV but wait! Consider the following:
#1. Too Expensive
Before you consider buying a Class A RV, keep in mind that it could be too expensive. It's a luxurious style so you can expect what it would be like. However, it's totally your choice since you are the one making the final decision. If an expensive RV fits into your budget and you don't mind the relevant expense, it can't stop you avoid a Class A RV. But if it's out of your budget and you are considering a loan or putting yourself in a tough situation then it might be better to avoid.
#2. Expensive To Maintain
Not only a Class A RV would be expensive to buy, but it would be expensive to maintain too. Think about all the accessories inside! It's luxurious and thus, you need to maintain the luxury and style to keep it in good condition. You would need to spend on the fuel too! Think about all this and then decide accordingly. You have to see yourself whether it's a viable option to consider or not. Plus, in 2020 it doesn't seem like a wise option if you are not ready for it.
> You may also like:Worst 5th Wheel Brands to Avoid <<
#3. Costly Repairs
Even the repairs of Class A RV would be costly. Not only that how do you expect to find a repair shop if it requires a repair in an unexpected location. In fact, when you plan on heading on a journey in Class A RV, check the route and see if there is a repair shop on the way. Plus, you can also check out the possible routes you can take and find out what repair shops are nearby or on the way. If you think it would be tough, you can think about your decision again.
#4. Difficult To Find Parking Spots
With Class A RV, finding a suitable parking spot might be a challenge. It would be tough to take it anywhere you like and thus, you have to find the parking area. If you plan to go ahead and get a Class A RV, make sure you are checking out the parking spots in advance too. It's always better to find the parking spots beforehand so that the journey can be smooth for you.
Video Overview: 19 Reasons to Choose a Class C and not a Class A RV!
#5. Depreciation Cost
As mentioned previously, a Class A RV would be too expensive. Plus, it would depreciate. Even if you are adding new items in the RV or adding the accessories, it would still depreciate. So always keep the cost of depreciation in mind when you are getting a Class A RV.
#6. Difficult To Maneuver
Let's say that you run out of gas or diesel and need to drive your Class A RV to the nearest place to fill up gas! It would be quite difficult to maneuver depending on what size you are driving. If it's a large and luxurious one, it can be difficult to maneuver.
#7. Tow Vehicle Becomes Necessary
Since you are quite aware that it's hard to find a parking spot when you are using a Class A RV, thus a tow vehicle would be important. It's important for you to keep in mind that you have to be aware of the relevant requirements when dealing with a tow vehicle and a Class A RV.
Wrapping It Up
In the year 2020, it might be a little tough to consider Class A RV keeping in view the reasons above. However, it's not that bad and it depends on your preference for what you like to do! Maybe in the coming years, you can consider it a viable option.
> You may also like:45 RV Accessory Must-Haves for Your Travel Trailer<<