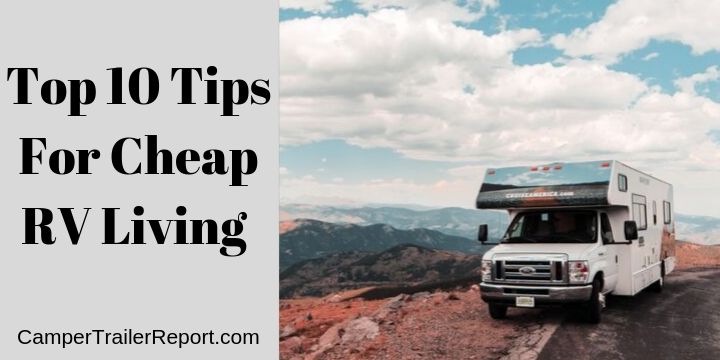 Top 10 Tips For Cheap RV Living 2019
We are living in an era of modernization and information technology. It appears as if people are becoming less interested in the traditional 9 to 5 routine. Work from home is taking up the new trend and it is making the life of travelers a lot easier.
You might have noticed RVs standing in different parking lots and could be wondering how to maintain cheap RV living. Below are some tips for cheap RV living 2019:
1. Find Free Parking Spots
You might not be aware of the free parking spots that could be available in the area you are planning to go to. Search for the free parking areas in advance so that you can save some money. Look for the truck parking areas and also look at whether Walmart is providing the free parking space. If you search for such spots in advance, you would not have to go through the hassle of searching at that specific place.
2. Save on Fuel
One of the most expensive things while traveling is fuel. If you want to save on fuels, it would be a good idea to stay at one particular place for some time. You would be able to explore the area and learn about it in detail. You would be able to see different places. Thus, if there is a place that you absolutely adore and want to understand it in a much better way, you can stay there for some time while saving money on fuel.
> You may also like:45 RV Accessory Must-Haves for Your Travel Trailer<<
3. Avoid Spending Too Much On Food
Eating out can be quite expensive. Usually, when people are traveling, the easiest option is eating out. However, you might end up spending too much on food. Try to make a budget and act accordingly. You would see that food is taking too much portion of your expenses. Try to eat healthily and try to cook the food in your RV.
Video Overview: Cheap RV Living on Private Land
4. Work from RV
You might be aware of the fact that work from home and remote opportunities are getting popularity. Many people are working as bloggers and freelancers. They are earning online and it would be a good idea if you do the same from your RV. If you have access to the internet, there is no harm in trying to work from RV. In fact, you might be able to earn some side income. However, make sure you are aware of the relevant tax rules and regulations.
5. Find a Job Nearby
If you plan to stay at a certain place for some time. Try to get a job in the nearby area. This would help you to earn a little extra so that you can bear your expenses. Extra income is always better than cutting down the expenses. However, if the expenses are too much, it is better to manage the budget accordingly.
> You may also like:Worst 5th Wheel Brands to Avoid <<
6. Save on Rents
If you are living in an RV and plan to live for some more time, you would be saving on the rents. But, if you are already paying the rent of a certain place and traveling in RV, it would be costly for you. Make sure you are aware of the relevant rules and regulations to act accordingly.
Video Overview: You can Happily Live in an SUV
7. Declutter Unnecessary Items
It is important to get rid of unwanted things in your life. If there is something that is of no use to you declutter it. You can donate the items you no longer use or you can sell it as well. There are different means through which you would be able to sell your items online.
8. Learn The Basics of Fixing an RV
Since you are planning to live in an RV for some time, it would be a good idea to learn the basics of fixing an RV. You don't know when you might need it. You can also help others and in fact, you might be able to earn something.
Video Overview: The Top 5 Cheap RV Hacks ? ? Full-Time RV Living ?? Best Travel Hacks
9. Maintain Your Health
Frequent visits to the doctor and medicines could be quite expensive. If you plan to live in an RV for some time, it would be important that you maintain your health. If you fall sick, it would be difficult to continue the journey. Make sure you are eating right, exercising, and taking care of your health.
10. Travel While You Can
Life is full of opportunities but there is a time limit for everything. Youth is the best time to explore as you have the energy required to travel. Thus, travel while you can! This is a common and wise saying. You should apply it in your life and make the most out of your available time.
> You may also like: 25 Best National Parks in the USA  <<