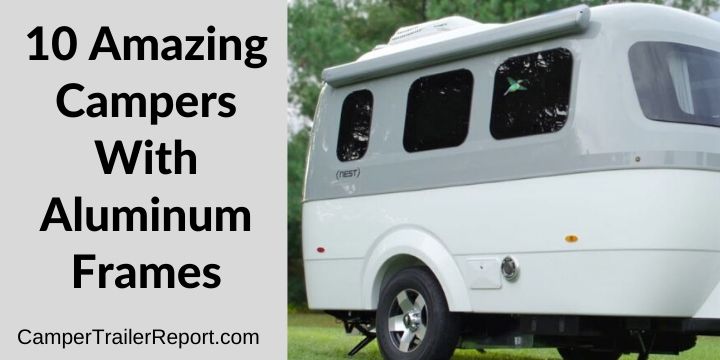 10 Amazing Campers With Aluminum Frames
Aluminum has become a very popular material that is used in RV's building material. Most of the campers and RV, a present in the market, are built using wood frames that are adding weight on a person's journey. Besides, Aluminum is very light and is very useful, especially when one needs to haul a given RV for long miles.
Moreover, RVs advertising ultra-weight and lightweight are trying conveying a trailer that is lighter and will thus end up saving your money, especially in gas, while you are towing it. Aluminum is currently the best building materials for the various kind of RV's.
1. Airstream Cloud Flying Travel Trailer
Airstream is a widely known powerhouse company that is defining the market of durable RV's and lightweight RV's. Besides, they have also been employing the usage of aluminum materials used in building and also in the process of manufacturing since the time they start. Additionally, the Flying cloud not 0nly is its Airstream trailer constructed using Aluminum. All the different Airstream trailers are manufactured using lightweight material. As a result, it has been regarded as the company staple for many decades.
Video Overview: Walk Through 2018 Airstream Flying Cloud 28RBQ Travel Trailer RV Camping
2. Lite-Aluma Travel Trailer
It is a travel trailer that was built to ensure it ends up lasting for an extended period. Besides, Aluminum frames are making RV to become more durable to ensure it will end up lasting for a long time as a person is desiring. More also, the travel trailer is regarded as being among the Holiday Rambler family. Additionally, it is containing interiors that are beautifully crafted and will thus ensure one is feeling at home.
Video Overview: Alumalite By HolidayRambler Bumper Pull Travel Trailer
> You may also like:45 RV Accessory Must-Haves for Your Travel Trailer<<
3. Lite's Livin' Camplite Trailer Travel
It is a product which is widely known as a result of its usage of Aluminum in many structures and also in the physical frame, which is present in the whole place. More also, the Campsite is offering a lot of versatile design options. Besides, there are many floorplans which one may consider choosing from. The product is coming in six different exterior color options which are including:
Black
Victory Red
Charcoal Grey
Light Pewter
Silver Frost
Video Overview: 2018 Livin Lite CampLite 21BHS | Travel Trailer | Java & Blue – RV Review
4. Crystal White Rockwood Ultra-Lite Signature Travel Trailer
The Signature Rockwood Ultra-Lite trailer travel is coming from the forest river, which is widely usually described as bearing an aluminum cage, which is six-sided. Besides, the excellent RV is happening in many forms. More also, you may end up getting it as a Travel Trailer and a Wheel.
Video Overview: UPDATED 2019 Rockwood 8329SS Signature Ultralite King Bed 2 Air Triple Slide Travel Trailer
5. Heartland 2475BH Wilderness
Similarly to most of the trailers, this product is Aluminum framed and light-weighted. The best thing concerning the design is the many different floor plans and the allegiance to the many specific parts present in a country. Besides, the item is containing styles and floor plans that are made specifically for the West coast.
Video Overview: 2017 Heartland Wilderness 2475BH interior tour by Kpthook
You may also like:Worst 5th Wheel Brands to Avoid <<
6. Grand Imagine Design Travel 2150RB Trailer
No rule is laid to sacrifice luxury while one is making the trailer end up being lighter. Besides, the various containers are proofing that. More also, there is an addition of the travel trailer through the use of Grand Design to the listing of the structures on an innovative aluminum trailer.
Video Overview: 2019 Grand Design RV Imagine 2150RB Travel Trailer
7. River Micro Lite Flagstaff Travel Trailer
This product is, in most cases, seeming as the ordinary RV while one looks at it from the outside. However, the product is modern and sleek while one looks at it from the inside. Additionally, the aluminum frame is making it among the trailer of the less non-wood-based frame all around.
Video Overview: 2020 Forest River Flagstaff Micro Lite 21 FBRS Travel Trailer with Brett at Total Value RV!
8. Forest Sonoma River
The design elements of the darker nature of Sonoma 22RBS are made by the Forest River, which is creating a feeling which is sophisticated for the sake of travel trailer. More also, the meticulously designed and high-end appliances are choosing to be a terrace, especially while one is buying the various necessities.
Video Overview: Forest River Sonoma Mountain Edition 167BH
9. Dutchmen Aerolite
Aerolite trailer travel is modern and comfortable and therefore ushering during the technology age. Besides, the item has ended up developing a system that is referred to as in-Command that is allowing one to consider using the smartphone to control various features on the trailer with inclusion on the outside awning.
Video Overview: 2018 Aerolite 284BHSL | Travel Trailer | Cool Springs – RV Review
1o. TANAMI Hybrid 10 Off-road Camper
It is a high breed camper that is coated with Aluminum. Following the assurance and quality, this product is assuring you that you will end up having a great experience while using it. More also, the trailing arm is independent and even light weighted and therefore, it will end up following the vehicle tow in all the places which you will need to explore.
Video Overview: Tanami X13 Hybrid off-road camper Walkthrough
Conclusion
You now have the ten amazing campers with aluminum frames. Therefore, it is now among you to consider the product which pleases you most. All the products are equally good, and consequently, you are going to benefit from the various items regardless of the choice you make.
> You may also like: Least-Visited National Parks: Why They're Worth a Look<<