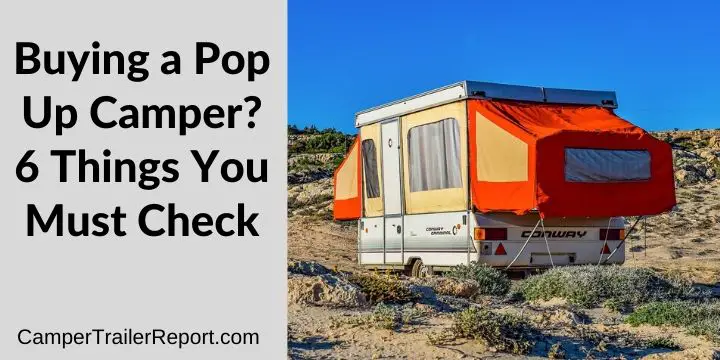 Buying a Pop Up Camper? 6 Things You Must Check
A pop-up camper is an essential part of an RV. It gives you more comfort than a tent. Pop up camper is gaining popularity nowadays, mainly because of their affordability and the freedom they provide to campers.
With a pop-up camper, you don't have to worry about its height when you are driving through low overpasses. Another benefit of pop up camper is that storing is easy and less expensive. Pop up campers come in different designs and styles and costs.
You can enjoy your camping experience as a couple or even a family. It comes with additional features like bathrooms. Choosing a pop-up camper is not an easy task, especially if it is your first time, we have some essential things you have to look at to make sure you make the right decision in choosing the right pop up camper that will offer you best value for your money.
Below are 6 things you need to check before purchasing a pop-up camper.
1. Price
The first important thing you have to check the price. The prices of pop up camper vary due to various factors such as the size, extra features, condition, either new or used ones. Of all the RV vehicles, the pop-up camper is the cheapest. You should choose one that has the best features and available at an affordable price
2. Material
The type of material used to make a pop-up camper is another essential thing that you have to check when buying one. We have soft-sided popup campers and hard-sided pop-up campers. Each type has its own merits and demerits.
A soft-sided pop-up camper if good when you are camping in pleasant weather, It has a window with screens the allow smooth flow of air in an and out. In case of rain, you can comfortably zip it and stay dry inside.
The only shortcoming is thru don't fare well on hard surfaces. On the other, hard-sided popup campers are have solid exterior Walls and come with extra features like bathroom, oven, microwave, etc.
> You may also like:45 RV Accessory Must-Haves for Your Travel Trailer<<
3. Time is taken to set up and tear down
The average time for setting pop up camper is 15 to 45 minutes, although this depends on the things you brought along to tow. Go for one that takes a very short period to set up and tear down.
4. Floor plan
Find out if the floor plan is suitable for you and your family as well as social needs.
5. Extra amenities
Not all pop-up campers are made the same. They come with different additional amenities; they are what dictate the Price. These extra amenities are what make you're leaving in an RV to be comfortable. Only go for one which you think has the extra facilities you need most. Don't buy one with an extra feature that you won't even use.
6. Storage
This is another important thing to check when buying a pop-up camper. Check if it has enough storage space for keeping your valuables when you are camping.
> You may also like:Worst 5th Wheel Brands to Avoid <<