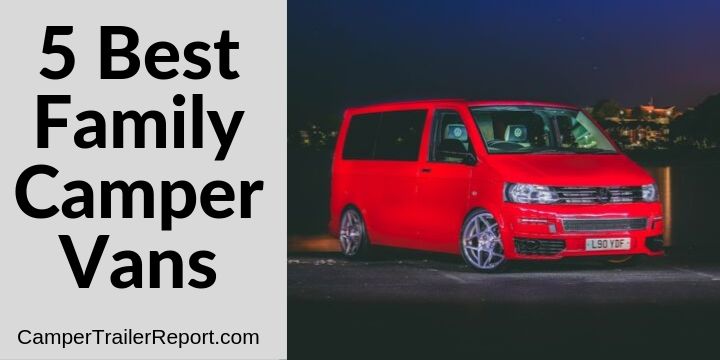 5 Best Family Camper Vans
If you are planning on joining the van-life movement, you will need to know all there is to know about camper vans in order to get the best. Camper vans are ideal for people who want to spend their weekends outdoors with their families on the open roads.
At times people can opt to get camper vans to change their routine of living from a conventional one to become fully-fledged van dwellers. Among the top camper vans suited for families are the following;
Ford Terrier M Sport
This camper van has front seats made of leather and enough space for people seated in the back seat to make a bed out of the seat. This camper van comes with all the necessities needed for a weekend in the wild which is inclusive of a fridge, a sink, toilet, hob, and a water container. This camper van has transit custom anew with a dual exhaust that is very advanced, making it very popular.
Video Overview: A very sporty campervan: the Wellhouse Ford Terrier MS-RT VR46
> You may also like:45 RV Accessory Must-Haves for Your Travel Trailer<<
Winnebago Revel Camper van
If you are an adventurous family, this camper van is the most ideal for you. It has a power lift bed and other luxurious home comforts such as an all-in-one wet bath. This camper van is a modern one, and it has an immaculate and spacious interior. The Revel gives you a very luxurious experience while you are on the road.
Video Overview: Winnebago Revel 4×4 Sprinter Van Tour!
Dalbury E Electric
This is the world's first campervan run by electricity. It is green and eco-friendly and a very stylish camper van. This camper van has solar panels with which you can charge your tech. If you want a calm atmosphere to enjoy with your family in the wild, this is the camper van to go with. This camper van is referred to as the camper van of the future because of its advanced features inclusive of an 80% quick charge in half an hour. It is simple yet very stylish and with very many hidden extras that will make your trip fun and cozy too.
Video Overview: Practical Motorhome reviews the Hillside Leisure Dalbury E
> You may also like:Worst 5th Wheel Brands to Avoid <<
Mercedes Benz Midwest RV Camper
If you simply want a cool camper van, this is what you should go for. This camper van has been made to be very luxurious with tech and other van necessities you might need. It also has built-in WIFI and a flat-screen TV for your entertainment. This campervan is simply a mansion on wheels. If you want to travel in style and have a luxurious trip, this is the camper van to go with.
Video Overview: 2020 Midwest Automotive Designs Passage 144 FD2 (13085)
Knauss BOXSTER 600
This camper van is an all-round classic for the entire family. The Knauss BOXSTER has a total of five beds. It is equipped with shower cabins and baths which are very spacious and astounding add-ons. Also, there is a pull-out table and rotating front seats that make it look like a real mobile family home. This camper van is among the best on the market as a result of these unique and amazing features. There are many layouts to choose from for this specific type of camper van.
Video Overview: KNAUS BoxStar Street 600 MQ | 2019
> You may also like: 25 Best National Parks in the USA  <<