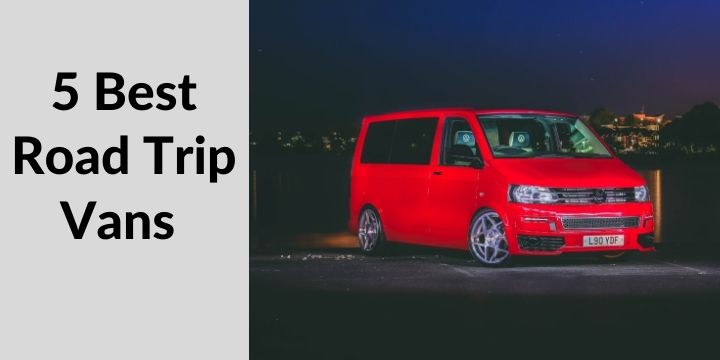 Are vans good for road trips?
A van is a great choice when traveling with your friends and family. Whether you are away from the hustle or partying in a new milestone of your life, you can never go wrong with a van road trip. It will give you the flexibility and freedom to go whenever and wherever you want.
Many people love this van because it offers comfort to everyone and withstands the abuse on the road. They have a lot of spaces in the boot that allows you to pack picnicking equipment, brim suitcases, spades for beaches, buckets, and sleeping bags.
What is a good van for traveling?
There is a wide range of vans and not all of them will be great for you and your activities. They range from small, medium-sized vans to high-top to pop-top vans. The choice is varied from Volkswagen to Ford to Mercedes. However, in this article, we are going to discuss some of the best vans for long-distance travel.
What is the best van for long-distance travel?
1. Mercedes Sprinter
The Mercedes Sprinter is considered the gold standard for van lifers because of several reasons. First, it is available in 9 different styles each offering varying lengths and heights.
Moreover, it has a 6-speed ECO Gear that contributes much to environmental-friendly driving. You get multiple safety features including ESP trailer stabilization, tire pressure monitoring, multiple airbags, and adaptive brake lights.
If you are searching for off-road performance, then Mercedes sprinter offers it.
You can choose to have interiors extras including rear parking cameras, Bluetooth, COMAND sat-nav although they can increase the price significantly. The biggest complaint from Sprinter owners is the high cost of repairs and maintenance.
Video Overview: 2021 Mercedes Sprinter review | Edd China's in-depth review | What Car?
> You may also like: 25 Best National Parks in the USA  <<
2. Ford Transit
The Transit model is one of the best Ford's choices for long-distance travel. It has efficient fuel consumption and it is also available in different lengths and 3 different roof heights. This makes it a bit roomier and taller than the Sprinter.
The van ESC stability control system is the most advanced giving drivers for long-distance reliability. In addition to that, it has a curve control system that activates whenever the driver corners too fast. The buttons are likewise a bit too much. Finally, it can be repaired by any mechanic.
Video Overview: 2021 Ford Transit review | Edd China's in-depth review | What Car?
3. Dodge Promaster
Similar to Transit and Sprinter, the dodge Promaster is accessible in various roof heights and lengths making it ideal for van life. It is one of the widest conversion vans with a 159" wheelbase version, making it wide enough to fit a full-sized mattress on the driver to passenger side dimension- a great space-saving feature.
Different from others, this van is a front-wheel-drive hence it will offer more traction during winter. What's more, it offers better fuel economy.
Video Overview: 2020 Ram 1500 ProMaster High Roof: Does This Compare To The Sprinter Or Transit???
You may also like:45 RV Accessory Must-Haves for Your Travel Trailer<<
4. Nissan NV Cargo
Although it is not a popular option, this van can be converted to 4×4 making it perfect if you are searching for an off-roading machine. This van is accessible in various configurations and it has a spacious cabin. However, it has less cargo room when compared to other competitors. If you are after head-room, this van has a high-roof and it can be a great choice.
Video Overview: 2019 Nissan NV 1500 Cargo Van SV With HVAC Adrian Steel Shelving – Nissan of Vacaville
5. Volkswagen Transporter
The main reason why the Volkswagen Transporter is a great choice for a road trip is that it has a bigger load capacity. It is available in two wheelbases, the LWB and the SWB. Ideally, this van is super quiet and smooth on the road, which makes it ideal when you want to read or sleep.
There is a 5-inch display for the interior that works with SD and USB cards for you to have an entertainment option. Transporter offers ABS braking, automatic post-collision braking, a lane change assist, Hill Hold Assist, and adaptive cruise control.
Video Overview: 2021 VW Transporter 6.1 review | Edd China's in-depth review | What Car?
Related Questions:
Which full-size van is most reliable?
Reliability is very essential to any commercial vehicle. Unsurprisingly, the iconic Ford Transit is one of the more popular ones when compared to others. This model has undergone regular refinement ensuring that its running costs, efficiency, and performance continue to be the best available.
What is the most comfortable van to drive?
Mercedes Sprinter is considered the most comfortable van to drive. It has more strength and power than other vans along with surprising comfort. Its smooth ride ensures comfort is paramount.
> You may also like:How To Insulate an RV Underbelly? In 5 Easy Steps.<<