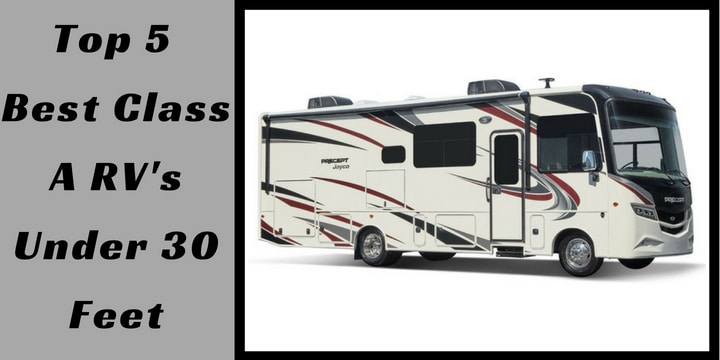 Top 5 Best Class A RV's Under 30 Feet
A lot of you might have heard about the saying "go big, or go home" but when you talk about motorhome especially those of class A, they actually go big and are home- a home on wheels. As far as their size is concerned, they are almost similar to conventional buses but there is entirely a new world inside.
You can refer them be the "Mansion of wheels Class A RV's are classified as the largest motorized RV's in the market. These are the luxurious kings which can offer you all the comforts and grandeur of the home. Let us take a look at the top class A RV's under 30 feet.
1. Winnebago Vista Class A Diesel-MSRP
An economical option that can fit into anyone's budget. It has a tremendous amount of space with a good-sized refrigerator and optimum sized wardrobe closet. It has all the necessary essentials with 32 inch LCD TV and 4 kW gas generator. Shower space is great. Also full marks on its floorplan quality.
Its exterior kitchen looks great for those splendid summer nights. Its MCD roller shades always draw attention. Anyone who is planning a journey in Class A must put his money on this masterpiece.
Video Overview: 2016 Winnebago Vista 35B Bunk House Class A Motor Home
2. New Coachmen 2017 RV Pursuit 27KB
You won't miss your home as this offers you all the comforts and has everything in it. It has additional sleeping space due to electric drop-down bunk. It provides a computer workstation and cockpit table as well U-shaped bench area provides additional space for seating. A 32-inch TV is mounted at the front which I table.
Along the roadside, there is plenty of storage in the rear bedroom with two wardrobes. It also offers luxuries of a pantry, microwave oven, refrigerator, and double kitchen sink. Definitely recommended RV to buy.
Video Overview: 2018 Coachmen Pursuit 30FW Full Body Paint motorhome
>> You may also like: First Time Travel Trailer Owner Tips, Beginner's Guide. <<
3. Forest River Class A FR3
It is one of the best RV's in the collection from Forest River. You will enjoy every feature of this RV from style to convenience. I am long and wide with immense floorplans. It's cherry cabinetry and ultra-leather furniture provide the best impression of the interior decoration. LED interior lighting is amazing.
You can relax on its king size bed in a private room. Its ford chassis and 320 HP engine will certainly draw your attention. If you are looking for a relaxed journey on RV then it can fulfill your desires for sure.
Video Overview: 2018 Forest River FR3 29DS Class A Motor Home
4. Thor Motor Coach Axis 24.1 Class A 2018
Although this RV is compact, yet it offers a broad range of functions It is designed for an active family's lifestyle. It provides exceptional comfort and has a splendid kitchen and full bathroom. It offers you a large refrigerator, microwave oven, and a 32-inch TV. For dining, you can use a removable pedestal table.
Three sets of seat belts ensure the safety of rear travelers. For extra space for sleeping, you can use the drop-down overhead bunk. It will ensure your weekend travels to be safe and convenient.
Video Overview: 2015 Thor Motor Coach Vegas 24.1 Class A RUV Walkthrough
5. New Thor 2018 Windsport Motor Coach 27B
This 29 feet Windsport 27B by Thor is one of the most comfort RV of 2018. This Motorcoach has to drop-down overhead bunk for kids or adults, dash workstation, and king size ultra-comfortable bed. It has a 40-inch LED TV and an overhead microwave. Its exceptional dinette provides a space for eight people to eat. t also offers a large wardrobe to hang up your clothes. Its rear bathroom features medicine cabinet, overhead cabinet, and a shower. You will not regret putting money on this lovely masterpiece.
Video Overview: 2018 Thor Motor Coach WINDSPORT 27B
Video Overview: Class A motorhome under 30ft Tour for full time living. Winnebago Vista LX 27N
You may also like:45 RV Accessory Must-Haves for Your Travel Trailer<<
Related Questions:
WHAT IS THE SHORTEST DIESEL PUSHER MOTORHOME?
Usually, these diesel-powered motorhomes measure less than 35 feet. What is the reason behind their length? It is all about maneuvering in tighter spots. Do you want the longevity of a diesel engine? You will come across some short diesel pushers in the market. From them, you will get power, luxury, and extreme reliability. While you have numerous options to choose from, Fleetwood Pace 33D is the shortest diesel pusher motorhome in the market.
This motorhome boasts of the raised frame design. What is the essence of this feature? It creates a Power Bridge chassis. In other words, it will provide you with improved handling and a better ride.
WHAT IS THE BEST SMALL MOTORHOME?
Do you like calculations and adjustments? If this is not your thing, then a motorhome is the best alley for you. Have you been looking for something you can park in a campground? You are in the right place.  As for now, Coachmen Galleria Class B is the best small motorhome. If you really like traveling in a grandeur, you can consider purchasing this motorhome. It is perfect for couples. In addition, it has numerous luxury features.
Video Overview: New 2019 Coachmen Galleria 24FL Li3 Class B RV
WHAT IS THE BEST CLASS C RV ON THE MARKET?
There is no doubt that Class C segments have enjoyed the consistent performance for the last couple of years. In fact, they are a solid choice for anyone who wants multiple amenities of a Class A. Coach House is the best entry into the market. What does it feature? It comes with swivel tray tables. This means that you can freely use it for dining and other activities.
WHAT IS THE BEST SMALL CLASS C MOTORHOME?
When it comes to the best small Class C motorhomes, Dynamax Isata is the most reliable. It is not only a fuel-efficient camper but also it has been manufactured with numerous features. In addition, it has adjustable steering columns.
> You may also like:Worst 5th Wheel Brands to Avoid <<