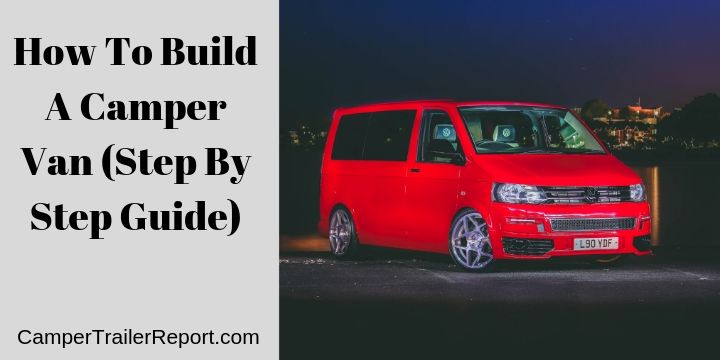 How To Build A Camper Van (Step By Step Guide)
Are you a camping enthusiast who is tired of spending too much money on camper vans for hire?
If yes, it is time to create your own camper van so that you do not have to spend money on a hired van. As long as you have a standard van, this quick how-to build a camper van (step by step) guide will go a long way in your DIY camper van project. So let's get started:
1. Buy the Necessary Items, Tools & Materials
The items, tools, and materials you will need for the project are as follows:
An RV solar panel kit with mounting and wiring accessories.
A solar power converter.
A drill.
An adjustable, universal wrench.
Ample plywood.
Plywood cutting machine.
Plywood screws.
Custom window covers.
Polyurethane substance.
An RV metal tool chest.
An RV Murphy bed/s (the quantity depends on the number of people that will use the van).
Video Overview: How to Build a Camper Van / Studio – DIY conversion (Step by step)
2. Start by removing all the seats at the back of your van, sparing the drivers and co-driver seats. To do so, simply grab your wrench and start loosening the bolts that secure each chair to the surface of the van.
3. After that, install the solar panel on the roof of your van, using the mounting accessories that came handy with your panel, which may include Z brackets, as well as mounting and fastening bolts. Simply drill a few holes on the roof of your van, using the drill to install your Z brackets before mounting the panel on them and fastening it with the bolts.
4. Once you have installed the solar panel, drill an access hole, still on the roof of the van, which you will use to run the cable connecting the panel to the power inverter. After drilling the hole, connect one end of the cable to the solar and the other end to the power inverter, running it through the hole. You can secure the cable using, using the cable tie-downs.
Video Overview: How to Build a Home Made Camper Van / Start to Finish DIY Off-Grid Conversion
Related Post: Van Life Beginners Guide: Everything You Need to Know
5. With wiring sorted, it is time to line the interior of the back part of your van with plywood. These include the roof and the two sidewalls. Use the plywood cutter to cut the wood to correct measurements before paneling each wall with each piece, using the drill and plywood screws.
6. Then you can now install your Murphy wall bed and place a few RV camping furniture of your choice on the remaining space. Murphy wall beds are quite easy to install, coming with a simple installation guide.
7. Then connect your lighting fixtures and electronic appliances to the solar power adapter to start powering up your camper van alongside the appliances.
Video Overview: How to convert a Van into an Off-Grid Camper in 17 Days!
Final Thoughts
You do not have to keep paying too much money for a commercial camper van every time you are going camping. If you have a standard van in your garage that is still moving, you can easily convert it into a camper van, by following my how to build a camper van (step by step) guide above. Every step is simple with the only expensive part being that of shopping for the necessary equipment, tools, materials, and accessories. With nothing more to add, good luck with your camper van building project.
Related Post: Why You Shouldn't Live in a Van? Why Van Life Sucks!