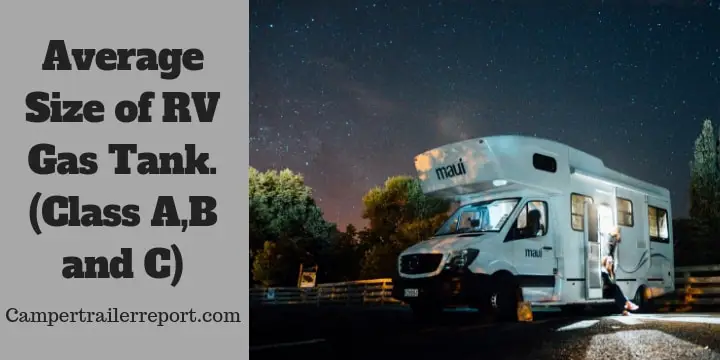 Average Size of RV Gas Tank In Relation To Mileage.
If you like to know the number of gallons that an RV gas tank can hold, then you are in the right place.
The size of the gas tank usually relies on the kind of motorhome of your RV.
It is fun to travel on your RV every adventure you love rather than traveling with other means.
The RVs will save you from high budgets such as buying food.
This is because you can cook inside the RV and enjoy with the whole family.
Despite the budgetary savings that the RV has, they require a lot of gas that cost a huge sum of money.
Therefore, it doesn't save too much. But when compared to other traveling means, its better to have your own RV because it saves something small. The average mileage of RVs is 20mpg thus needs more gas.
The average size of an RV gas tank is around 25 gallons to 150. This will depend on the kind of RV that you have.
> You may also like:45 RV Accessory Must-Haves for Your Travel Trailer<<
Class A RV being the largest of all the three types.
When you are preparing to go for a journey that is long, you require to have a checklist of some items.
Some of the items that you need are food, bathroom items, and clothing.
Among the basic things that you should not forget is the amount of gas that is required in the travel without requiring to refill another time.
Know the volume of the gas tank and the duration in miles that your RV when in full tank it can take during the long travel is essential.
There are very many things that affect the mileage of an RV when full tank such as terrains of the place that you are traveling too.
For example, there are other terrains that will require a lot of gas and a lot of repair due to tear and wear like mountain areas.
These are among the most comfortable kinds of RV gas tanks today. They are also costly.
Due to their big size, they are very powerful and their engine is placed in the front.
Their big size makes them accommodate 80 to 150 gallons of gas.
However, the size of Class A varies and also the brand. The volume of the fuel also keeps changing.
They are a bit less expensive when compared to Class A. The average volume of Class B is generally 25 gallons.
The gas tanks a big and therefore require to be filled the minimum number of times.
The size also varies as well as the manufacturer's year.
These Class C motorhomes are a bit lower in price. The motorhome usually has a cab that is attached to the RV.
They are also very comfortable as the other Classes. The capacity of the fuel that the gas tanks of this Class C are around 40 to 80 gallons.
> You may also like:First Time Travel Trailer Owner Tips,Beginner's Guide. <<
The average mileage.
The mileage of RVs is usually low in terms of gallons when compared to the cars.
The reason is that RVs are longer and heavier. Therefore the mileage of RVs will vary from type to the other depending on the length and size.
Another factor that affects mileage is maintenance. RVs that are maintained well usually give a longer mileage while a less maintained one will consume more fuel.
Finally, the overall mileage of RVs is as follows: Class A motorhome has a mileage of about 9 to 10 mpg, class B has a mileage of 14 mpg while the Class C will give 15mpgs. The mileage, however, can vary.
How can you lower down the RV gas costs?
To reduce the fuel cost of RV as the fuel is one of the factors impacting the RV lifestyle, the only thing which creates the difference when it comes to the affordable journey. So you have to come up with a cost-effective strategy to make your journey within
1. Take care of your RV engine.
Keep a check to maintain your RV and tune it regularly by a professional mechanic to urge most potency-some replacements like setting correct tire pressure help reducing the fuel feeding. A loose tire may end up in high gas consumption. And thus, you'll wish to have an optimum the tires pressure; neither too low nor too high.
2. The gas consumption depends a lot on the weight it carries.
You must understand this reality that you increase the mileage of your self-propelled vehicle, by reducing the load it takes. Take away reserve things from RV and carry solely the completely needed items. You ought to attempt to build your RV much lighter to get more efficient mileage.
3. Drive at a speed that is economical.
Driving at high pace would adversely affect the RV's mileage equally as driving too slow as it reduces the mileage. Try to keep an optimum speed while driving your RV to get more mileage at less gas consumption.
4. Plan for travels that are short yet adventurous.
Along with the campsites on the market virtually all over, you would likely not select long route unless you've got some specific situation. This can cut down your fuel prices and avoid wasting cash for journey hereafter
How many miles you can go on a full gas tank?
It primarily depends on the class of RV you have bought. For instance, if you have a Class A motorhome RV then with a 100-gallon tank filled, you can expect a distance of 1000 miles.
Similarly, a 25 gallons capacity Class B RV would give you 400 miles, and that of Class C with 25 gallons provides 450 Miles of distance without refilling.
This is an ideal assumption and can be varied for different people. It's recommended to have backup fuel to avoid a difficult situation.
You may also like:Worst 5th Wheel Brands to Avoid <<
Video Overview: RV Road Trip Planning – Ways to Cut Costs – Meals, Fuel Economy, and Boondocking
RV Related Questions:
What RV Gets The Best Fuel Mileage?
Itasca Navion-Motorhome is the best recreational vehicle in terms of fuel mileage. It is basically a Class C Motorhome with the mileage of 18-20 miles per gallon.
The towing capacity of the engine (5,000 pounds) has made this Mercedes diesel engine popular among the travelers.
The small size of this RV is a major factor that is responsible for high mileage. Itasca Navion-Motorhome is perfect for four to six people both in terms of space and fuel mileage.
How Much Does It Cost To Fill Up A Class C RV?
The cost of filling up a Class-C RV depends on a number of factors like the size of the recreational vehicle, storage area, flooring, high-quality appliances, entertainment center, and countertop.
The cost of filling the vehicle starts from $50,000 to $80,000. If you are having a luxury Class-C Motorhome mounted on heavy-duty truck chassis then the expected payment would be $85,000-$140,000.
What RV Gets The Best Gas Mileage?
Class-C RVs are always in the limelight when it comes about the mileage. The size and facilities provided in Class-C Recreational vehicles are the key factors in increasing the mileage.
The RVs are designed keeping in mind the basic requirements of the travelers. Class-C RVs are extremely popular and are fuel-efficient.
This class of RVs are not only energy-efficient but also saves your money from getting wasted unnecessarily on fuel.
Video Overview: Cummins RVTV: Mileage Comparisons
What Class C Motorhome Gets The Best Gas Mileage?
The best Class-C Motorhome in terms of gas mileage is Freelander from Coachmen. This Class C motorhome is built on several chassis and is in limelight from decades.
The mileage of this recreational vehicle is around 13 km per liter and is highest among all the gas vehicles.
The high mileage is an important factor that has helped this RV to survive in this competition.
Is A Diesel RV Better Than Gas?
Both diesel and gas RVs are exceptional in their domains but when it comes to select between them, travelers generally prefer gas RVs as they have the best mileage and the price of the fuel is relatively low. In a survey, it was found that the mileage of gas RVs is 10% more than the diesel vehicle.
Apart from this gas RVs are environment-friendly as the by-products are not so harmful.
Video Overview: RV Smackdown – Diesel vs Gas
What Kind Of Gas Does An RV Use?
It is always advised to check the user manual of the RVs to know about the gas that has to be used in the vehicle. Most of the RVs use only unleaded gasoline or unleaded gasoline which is blended with a maximum 15% ethanol. The octane rating of the fuel is an important factor which needs to be taken care of. The octane rating of 87 is recommended for RVs. It should be noted that fuel with an octane level below 87 can damage your vehicle.
How Much Does It Cost To Fill Up A Class C RV?
The cost of filling an RV totally depends on the size of the tank. The average tank capacity of a Class C RV is 55 gallon and costs around $545. The price also depends on the quality of gasoline you are using for the vehicle. Generally, the cost of gas is much less than that of liquid fuel and is beneficial for both traveler and environment.
> You may also like:How To Prepare Your Truck for Towing: 9 Important Tips<<