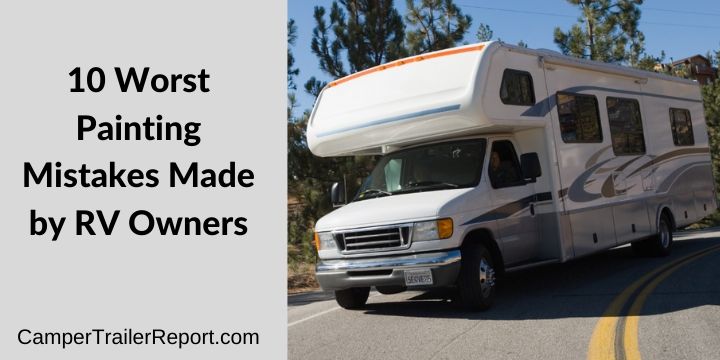 Mistakes made by RV owners while painting and how to avoid them.
Painting your RV should be quite a fun affair id done right. You ought to plan accordingly so that you have all that you need and get the job done efficiently.
The RVs walls and cabinets will undoubtedly look beautiful if painted right, and hence you ought to not rush while doing it so that you may have value for what you spend on.
The right painting makes you feel quite at home while inside, and hence proper preparation is required. As an RV owner, invest some good cash on your painting needs so that you will avoid mistakes done by others.
Some of the common mistakes done by RV owners while painting may include:
1. Wrong paint for a surface
If you do not choose the right pain on either your RV walls or cabinet, you will have cracks and flaking off. The right paint needs to match the surface so that as it dries, you will be left with a beauty to behold. First, get to know what the cover consists of and buy the paint from a trusted dealer who can advise you on that which fits the particular area.
> You may also like:45 RV Accessory Must-Haves for Your Travel Trailer<<
2. Lack of surface prep
Before you paint any surface of the RV, be it the walls or cabinets, you first have to prepare it one way or the other. This may be by removal if the previous paint using a sandpaper or a brush, then line the walls or surface. It enables you to paint quickly and not have lumps or peels once the paint dries off.
Most people assume its quite time consuming, and there is no need to prep the surfaces. However, in the long-run, you may paint the RV, but will it lust? Once you prep your surface, you are at least assured that the paint will serve quite a long time as you enjoy your stay in the RV.
3. Use of cheap brushes
While on the shopping hustle, most RV owners take a wrong stunt while buying brushes to paint. Yes, you may find a value pack that will have several brushes and thinks why not yet you will have several paints to paint?
However cheap is often expensive, and you may be buying into a low-quality pack that has weak bristles at the same price which one quality brush would have costed. Painting brushes ought to be of the right quality so that as you paint, the bristles will not fall off or stick to the walls or cabinets.
You may buy just two quality brushes and use them to decorate the RV as you may wash with the right detergents for subsequent paint use. While you fetch for the brushes, always go for quality and not quantity as it will guarantee you that the job will yield quality results.
> You may also like:Worst 5th Wheel Brands to Avoid <<
4. Lack of patience once painted
The RV is a fun vehicle, and hence some of its owners make mistakes of painting it today and want to hit the road with it as soon as possible. It may not be the best idea, however, as the paint may require a few days to cure or dry completely.
The fact that you are painting its inside components and walls, there is no enough sunlight shining inside, and hence you need to be patient enough so that as you hit the road the next time, your trip will be worth it. Let the paint dry off entirely and carefully check if you have accomplished painting successfully. If not, give it a few days as you want the job you did to be worth it.
5. Not testing the colors first
The other major mistake done is the fact that most RV owners do not test the paints first. They get it wrong by just a simple preparation step that would have saved them some bucks as they may end up redoing the job again.
Always at first, you should have a surface or wall where you may test the colors that you want to paint and see that it matches the decor of your RV. If the colors you choose are not in line, you may end up having more of a rainbow RV, which is not the best idea.
> You may also like: Least-Visited National Parks: Why They're Worth a Look<<
6. Skipping on the product instruction
If you are going to buy the primers or paints and get the job done, its quite wise that you read the directions before starting. Some primers do well on some surfaces, and on some, they do not. It hence means that there may be a particular paint or primer that fits right on a specific surface, and by reading the instructions, you will at least get the job done right and not destroy or have paint that doesn't last long on a particular surface.
7. Lack of use of sheen
The painting should go all the way till you use a polish. The paint used may be prone to dirt during touch, dust, or exhaust in traffic. Use of the gloss as a cover-up on the paint not only gives you RV an elegant feel but makes it easier to wash, unlike the paint. Sheen used should blend well with your paint type, and you can always ask for advice from your vendor.
8. Use of chalk paint instead of a reputable brand
There are times where an RV owner may be on a tight budget and has the skill to make homemade chalk paint. Yes, it saves you the hustle of buying paint, which may be relatively expensive, and from your experience, it may have worked on other furniture.
However, you have to know that it may end up peeling off after a few days or months and end up again, still doing the same job over and over. The way to go about it is to save some good cash and don't rush for the painting project. The best time is when you have enough money t buy a good brand of paint that will serve you in the long-run.
9. Incorrect mixing ratios
Incorrect mix ratios are quite common mistakes made while painting. You may want to use a particular brand of paint to cover your whole RV walls and cabinets and save on the cost of buying just one extra. It leads you to dilute the paint in such a way that yes, you will get the relatively lesser amount of paint get the job done, but will it lust.
After you get the job done, you may find peels on the surface and wonder what caused it, not remembering that your mix ratio was wrong.
10. Painting on hot or cold days
While you are painting your RV, make sure that the day's temperature favors you right. Extreme heat or cold may lead to lumps, bubbles, and discoloration after you have painted. The RV, too, may have an AC, which may not be wise to use to dry off the paint as it may yield the same results. Let the paint dry off by natural heat and let it not be extreme. Choose your painting day wisely so that you may not have to redo it again.
> You may also like: 25 Best National Parks in the USA  <<