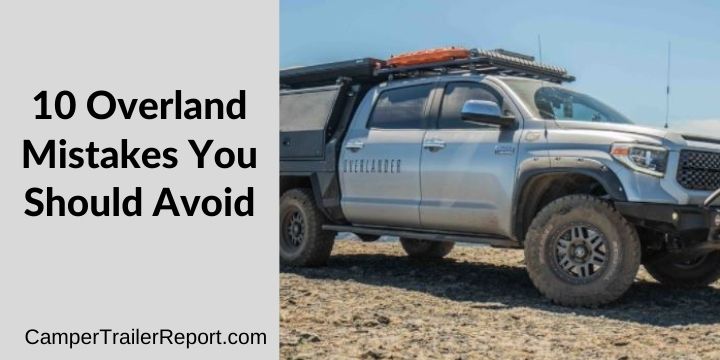 10 Overland Mistakes Every Beginner Should Avoid
There is nothing quite like going out on a 4×4 trip where it is more about the journey than the destination. When Overlanding, you tend to spend most of your time wandering through the remote backcountry and camping under stars.
Although the whole experience of Overlanding tends to be amazing, there are some common mistakes often done by newbies that need to be avoided. Therefore, if you plan for an overland trip experience, here are the top 10 overland mistakes every beginner should avoid.
Complexity is an enemy
First things first, always keep your car as reliable and simple as possible; by doing so, you will minimize the number of systems and variables that might fail while in the field. Therefore, you should adopt only as needed for your vehicle's performance while keeping in mind the environment and conditions expected while on the road.
Overloading
Weight is another significant factor you will need to keep in mind. Consider keeping your vehicle as light as possible by getting rid of heavy items that offer limited values, enhancing the car's aesthetic, or not in use. Your goal should be staying under 90% of GVWR.
> You may also like:45 RV Accessory Must-Haves for Your Travel Trailer<<
Performance of your suspension
The suspension system, along with geometry and handling your load, reflects a top-notch design. Ensure your car performs on the dirt as it does on the pavement. Suspension performance is critical as it aids in emergency handling, technical terrain performance, and load carrying.
Maintain engine stock
This is a common mistake among the newbies with lots of little modifications to the car's engine, such as changing headers, ECU, and cold air intake. These changes seem to be a great idea until you have to repair them in the middle of nowhere.
Video Overview: 10 Overland Mistakes Every Beginner Should Avoid
Isolating and minimizing all electrical modifications
Modern overlands use and require electronics to enhance the whole experience, such as GPS units, digital cameras, and navigation tables for navigation. However, lots of wiring, connections, and fuses lead to failures. Therefore, you should consider isolating all your household electrical systems from the primary harness and utilize a dual-battery system along with an auxiliary battery to offer protection to your starting voltage.
High-quality tires with appropriate tread patterns
When Overlanding, tire failures are a common occurrence as they are always in contact with the terrain. As a result, you should consider installing high-quality tires with appropriate tread patterns that will best suit the terrain you are planning on traveling on. There is nothing with owning a huge tire if the terrain is demanding.
Avoid loading items on the roof
Roof loading is a common mistake among newbies; packing their items, including the kitchen sink on the roof. Although there is nothing wrong with having a lightweight roof rack, having a roof tent along with a spare tire and other items can be dangerous.
> You may also like:Gas vs Diesel For Towing a Fifth Wheel?<<
Self-recovery
In most cases, self-recovery is overlooked; however, proper training and recovery equipment are vital. Most newbies tend to pay more attention to lockers along with suspension, forgetting about self-recovery. In fact, self-recovery should be your top priority when planning for an overland trip.
Securing your load
You should take ample time to secure your load; this should include securing all your soft luggage, particularly all heavy/hard items.
Design and quality over quantity
As opposed to what you see on the web, it is not all about the truck but the experience. You can enhance your experience through the design and quality of your track over its quantity. Therefore, you should consider using a high-quality vehicle designed for off-road rather than using a spacious car that tends to break down more often.
Final Words
As a newbie planning for an overland trip, you should consider adhering to the tips discussed in this article for a better experience. With that said, we hope that you have found this article beneficial.
> You may also like:How To Insulate an RV Underbelly? In 5 Easy Steps.<<