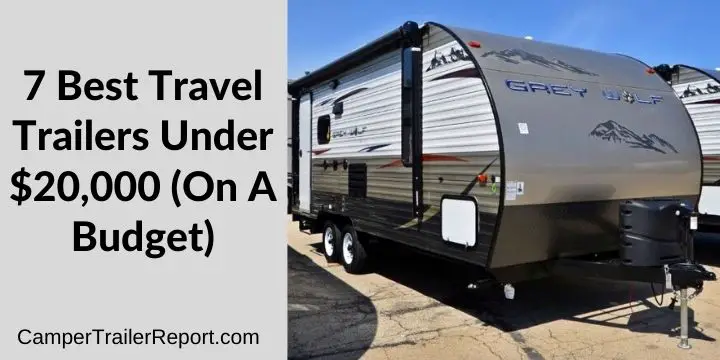 7 Best Travel Trailers Under $20,000 (On A Budget)
Getting a top travel trailer under $20,000 or on a budget can be a challenging task. That is because of the numerous choices you have. Also, you need to check the trailer in person before buying it.
Since you are concerned with budget, this post makes the process easy for you by providing the top 7 travel trailers on the market under $20,000.
Forest River Flagstaff
When doing research on budget travel trailers, you are likely to come across the Forest River Flagstaff travel trailer. That is because it has proven to be one of the best in different ways.
The fact that it is under 20,000 dollars means you are getting a discounted deal considering the many features it offers. With more than 15 floorplans and a variety of sleeping capacities, lengths, and weights, you are guaranteed to get your dream RV in this trailer.
Video Overview: 2019 Forest River Flagstaff Micro Lite 25 BRDS Travel Trailer Walk Thru with The RV Whisperer!
Coachmen Freedom Express
The Coachmen Freedom Express is one of the budget trailers known for offering excellent durability. It has at least 26 unique floorplans, and its length ranges from 20 to 36 feet.
It can accommodate up to ten people at the same time. Taking into account the floorplan, you can tow the travel trailer with an SUV or a tow truck. If you want some decent sleeping capacity and length, you should consider this travel trailer.
Video Overview: 2020 Freedom Express 279RLDS AZDEL Rear Living Half-Ton Coachmen Travel Trailer
> You may also like:45 RV Accessory Must-Haves for Your Travel Trailer<<
Livin Lite Camplite
A lot of seasoned travelers recommend Livin Lite Camplite for various good reasons. It is available in nine different models. The good thing about this trailer is that it maintains a lightweight towability and small footprint.
Some of the top features of this unit include overhead cabinets, double door refrigerator, slideout topper awning, and overhead cabinets. If you are planning to upgrade the trailer to a luxurious one, it can be done by adding some features.
Video Overview: 2018 Livin Lite CampLite 21BHS | Travel Trailer | Java & Blue – RV Review
Jayco Jay Feather
The trailer has a relatively larger weight that improves its durability. In this case, you get over eight floorplans and a massive sleeping capacity that can accommodate ten people.
Also, it has a 35-feet length, meaning you have adequate space to stay comfortable. With less than 20,000 dollars, you will be surprised that this trailer has features that may make you consider it premium. It offers marine-grade speakers, impact-resistant wheels, and tinted safety windows.
Moreover, it provides optional expansions and features. The good thing about this travel trailer is that it has a sheer number of floorplans. It also covers all you need from a premium travel trailer.
Video Overview: 2018 Jayco Jay Feather X17Z | Travel Trailer – RV Review: Camping World
> You may also like:Worst 5th Wheel Brands to Avoid <<
Keystone Hideout
The truth is that you will find Keystone Hideout having something in store for you. It is available in a wide range of weights, lengths, and sleeping capacities that make it a versatile trailer.
For instance, this trailer has been featured in different magazines as one of the best campers for winter. Some of the features of this unit include a 50-inch television, cell phone charging system, memory foam mattress, refrigerator, and a 50-inch television.
Video Overview: 2018 Keystone Hideout 175LHS Walk-around by Motor Sportsland
Cub Explorer
For many years, Cub has established its name in the camper trailer world. In fact, it has been in business for several years, manufacturing a wide range of travel and camper trailers.
Most of its trailers have rear-fold designs. This trailer is made from sturdy steel and comes with an offroad warranty. It has a standard 100Ah battery to optimize the alternator charge and a fridge box. The unit provides you with a 450 kg load capacity to carry your camping or travel gear to wherever you are going.
Video Overview: THE CUB EXPLORER – JUST $18,990
> You may also like:  15 Most Underrated National Parks in America <<
Bluewater Mitchel V1
This is a side-fold camper that offers various floorplans to suit your needs. It has a vinyl floor, bathroom, toilet, bedroom, and kids' room. Ideally, this unit provides you with ample living space.
It comes with two stainless water tanks that can hold up to 200L. With two 97Ah batteries, your unit can be powered, and the surround sound systems mean you are entertained at all times. You have a stainless kitchen for cooking delicious meals.
Video Overview: Bluewater campers – Lachlan setup video
The Bottom Line:
When purchasing a travel trailer on budget, you need to do extensive research and compare the prices of different dealers. However, if you want to know those that are available under $20,000, the above list is comprehensive. You have to ensure the travel trailer you purchase has features that are important to your family. Even after narrowing down based on your budget, you will discover that you have many brands and models to consider.
You may also like: Least-Visited National Parks: Why They're Worth a Look<<
Related Questions:
Q1. Which travel trailers are the best quality?
A. The following travel trailers have been noted to possess the best quality:
Airstream Classic Smart Trailer
Winnebago Micro Minnie
Jayco Jay Flight
TAB Teardrop Camper
Happier Camper Traveler
Avia Travel Trailer
Casita Spirit
Keystone Hideout
Forest River Alpha Wolf
Grand Design Reflection
Q2. What is the best 20 ft. travel trailer?
A. r•pod Travel Trailers and Expandable Hybrid Travel Trailers, it is! It has the lowest tow weight while at the same time contains a spacious interior that can accommodate the whole family.
Video Overview: 2021 Forest River R-Pod 171 – Travel Anywhere in this Teardrop Trailer!
Q3. What is the best camper for the money?
A. The Forest River No Boundaries, it is! It bears a rugged build, has higher ground clearance, and possesses a truly spacious interior that has the ability to accommodate many occupants and a huge load.
Q4. What is the best 25-foot travel trailer?
A. The Palomino Puma Travel Trailer. It has 43 floorplans while also capable of delivering the same luxury. Adding to these is the 2-4 sleeping capacity that is great for use by couples and persons who need some deep privacy.
> You may also like:Gas vs Diesel For Towing a Fifth Wheel?<<
Q5. What are the worst travel trailers?
A. When seeking a great travel trailer, be sure to stay away from these brands:
Hurricane – Past users have decried the extremely low-quality thanks to the use of cheap materials. As such, it is highly prone to frequent breakdowns while not really reliable in the long run.
Coachmen – Most users have complained that they just do not derive the sum total benefits from the trailers that this brand produces.
Jayco – Many have noted that the features that the trailer bears are too complicated to understand and subsequently make great use of. Only trained and experienced experts can comprehend it.
Coleman – It contains the poor structural quality that has left many clients disappointed with it. This has also resulted in frequent breakdowns and damages when deployed on rugged terrains.
Keystone – Contains lots of structural and technical issues that have left many disappointed. Indeed, many past users have had to spend too much to care for and maintain the items.
Winnebago – Its front walls as do the finishing have come under sharp criticism. These have posed lots of safety issues and concerns to the users considerably.
Fleetwood – When compared to other brands, its inner body tends to age faster. This pushes the users to spend too much to care for and maintain the items.
Q6. What are the best 4 season travel trailers?
A. Below are some of the best 4 season travel trailers:
Dutchmen Aspen Trail Travel Trailer
Jayco Jay Flight SLX Travel Trailer
Forest River Flagstaff Micro-Lite Travel Trailer
Lance Lance Travel Trailer
Livin Lite Camplite Travel Trailer
> You may also like:Worst 5th Wheel Brands to Avoid <<