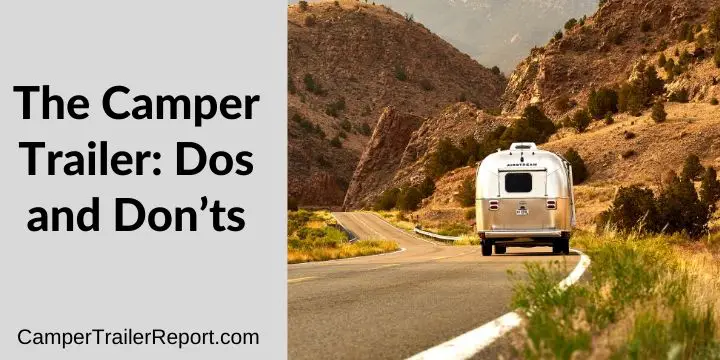 The Camper Trailer Dos and Don'ts
Whether you are a beginner or an experienced RVer, there are some things you should and shouldn't do. Camper trailers are ideal for vacations, traveling, sightseeing and experiencing the best of both worlds because you can set up at any location. Knowing the things you should and shouldn't do will help you make the right choices, avoid being stranded in the wilderness and improve your camping experience.
Camper Trailer Dos
1. Familiarize yourself with towing laws
Each state or region might have different road and towing laws. Therefore, if you are traveling from one state to the other, you should be aware of the towing laws to avoid fines or breaking any laws. Additionally, if you just bought an RV, be aware of the laws and regulations you are required to follow.
2. Check the condition of your tires
Whether you are embarking on a local or long-distance trip, you should always ensure that the tires (including the spare) are good to avoid inconveniences or having a flat tire in the wilderness or on the side of the road. To avoid this, have your RV serviced by an experienced mechanic regularly or before you start your journey.
> You may also like:45 RV Accessory Must-Haves for Your Travel Trailer<<
3. Carry the right equipment
You need to have the right tools and equipment for use while on the road. If you don't have any of the equipment, you should consider adding it to your budget. Here are some of the tools you should always have: a rear bar, tow ball, wiring connectors, tow bars, and safety chains. However, if you don't know the tools and equipment you should've, reading the manual or seeking help from a mechanic or experienced RVer is recommended.
Video Overview: Top 10 Beginner RV Mistakes (And How To AVOID Them!) || RV Living
4. Inspect your camper
You are required to carefully inspect your camper to ensure everything is in good condition. Some of the things you should inspect include the wiring, taps, batteries, gas connections, exterior and interior lights, etc. It is also important to ensure you have enough food supply, water, and backup generator or batteries just in case of an emergency.
> You may also like:Worst 5th Wheel Brands to Avoid <<
Camper Trailer Don'ts
1. Don't overload your camper
RVs have a weight limit and as the owner, you should know about this before or after you buy the recreational vehicle. With such information, you should not assume that your camper can carry heavyweight because of associated risks. You not only risk breaking down on the road but also breaking the law, lessening the lifespan of your RV, and putting yourself, your family, and other road users at risk! If you don't know the weight or towing limitations of your vehicle, consider calling the manufacturer for more information.
Video Overview: RV Mistakes! What not to do in an RV.
2. Don't camp in an insecure location
Although you might love spending time in the wilderness or secluded places, guaranteed security is important to avoid being attacked by thugs and animals. Also, you should camp in an area that accessible in case of an emergency. Remember, you are enjoying camping or going on a vacation but you still have people who love and care for you and you should not take unnecessary risks.
Video Overview: TEACH ME RV! Slide Rooms 101! Slide Maintenance, Dos & Don'ts!
> You may also like: Least-Visited National Parks: Why They're Worth a Look<<
3. Don't pick hitchhikers
The world is cruel and some people are out there pretending to be needy to rip others apart! It is advisable to avoid picking hitchhikers or spending the night with strangers because you don't know their plans or what they are capable of doing. It is good to be nice but you shouldn't take unnecessary risks especially if you don't have to.
Finally, remember to pack canned food and non-perishable food, enough water, and other essentials before you leave. Sometimes your plan might fail, get a puncture, and have to spend hours changing the tire and you will have to eat or drink water. Additionally, you should carry cash even if you have your credit card just in case you are in a remote place and you need to buy something or pay for a service.
Video Overview: The Truth About Owning A Travel Trailer
> You may also like: 25 Best National Parks in the USA  <<