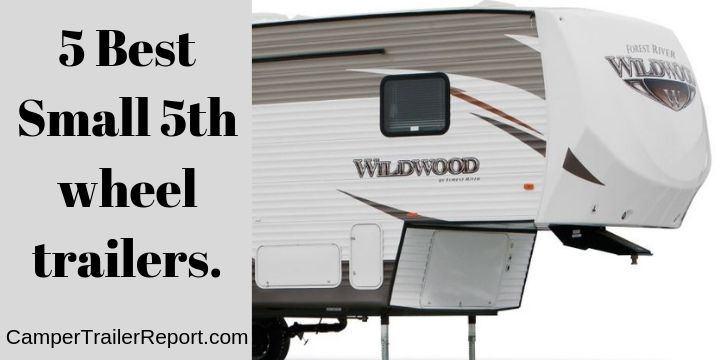 5 Best Small 5th wheel trailers.
It is no doubt 5th wheel trailers make great campers either for full time or for the weekends away from home. Sometimes, you may be looking for something small, enough to cover all your needs. This may be due to storage concerns, cost or you want a trailer which is easier to tow.
Regardless of the reason, there are a variety of fantastic small fifth-wheel trailers on the market which will leave you lost when deciding which one to buy. This article aims to crack down the overwhelming task and present you with the best small 5th wheel trailers available in the market today.
Forest-River Cider Creek Silverback.
This camper is among the best small 5th wheel trailers which ensure you get maximum comfort from your investment. It is best suited for hot temperatures environment and its strong suspension system makes it cope well in rugged terrains or on off-roads camping adventures.
It is equipped with a rear entertainment plan, triple slide outs, and a kitchen island. The locking beds and side shelves are purposely designed to create room for extra storage needs.
Video Overview: NEW 2019 Forest River Cedar Creek Silverback 35IK | Mount Comfort RV
Coachmen Chaparral-5th Wheel RV.
This trailer offers a great option if you have a bigger family and would want sufficient space to cater to your family's needs. With 40 feet (12.19 m) different floor plans, you will still have room left if you want to invite few friends.
Its key features include eleven distinct floor plans, solid hardwood cabinet faces and drawers, dual-zone thermostat controller and oversized bed storage among many other outstanding features. This recreational trailer is beautifully painted with ultraviolet treated and corrosion-resistant decals. This makes its presence create a spectacular sight.
Video Overview: 2019 Coachmen Chaparral 298RLS 5th Wheel
> You may also like:Worst 5th Wheel Brands to Avoid <<
Forest River Impression RV 5th Wheel Trailer.
The Forest River offers affordable luxury and space at the lowest towing cost in terms of weight compared to other competitors. This camper has a unique shape and sturdy construction which makes it easier to handle and maneuver in any kind of terrain.
The exterior is painted gray with unique designs on it! The storage compartments are made of diamond plate metal which prevents objects from sliding. It has a kitchen section meaning you will be home away from home as you can cook your favorite meals.
The torsion axle system has been upgraded which makes this camper more comfortable than campers equipped with traditional leaf springs.
Video Overview: Forest River-Impression 5th-28RSS
Rockwood Ultra-Lite 5th Wheel.
This camper weighs just 2800 pounds (1.27 tons)! Apart from ease of towing, Rockwood is environment-friendly as it consumes less fuel. Only a few words can be used to describe this small 5th wheel trailer—a combination of traditional design and modern amnesties which bring you the best camping experience.
Its key features include a dual solar system that keeps you power 24/7, a Wi-Fi ranger, locking Murphy bed, water serving technology and an anti-slam door with a keyless pad so you won't be worried about sleeping outside when you lose your keys.
Another feature that you will not fail to notice is the large windows and a toilet mounted at an angle to give you extra bathroom space. It also has a 12V TV which can run on an inverter or power directly from the batteries.
Video Overview: 2019 2650WS Rockwood Ultra-Lite 5th by Forest River
> You may also like: 25 Best National Parks in the USA  <<
5th Wheel Co Dreamseeker.
Lastly, this fifth wheel is a British made which fits a small 5th wheel trailers category quite perfectly. It is a 24 by 11 inch (27.94 cm) and manages to fit in a dining area with a sofa. You'll also have a nice sleeping space and a bathroom. Its interior decor will definitely leave you breathing a sigh of relief.
Video Overview: Fifth Wheel Dream Seeker luxury British RV
BOTTOM LINE.
Small fifth-wheel trailers are the best RVs option you have especially when you have a small family or want to hang out with few friends. These five will definitely take your adventure and fun to greater heights in 2019.