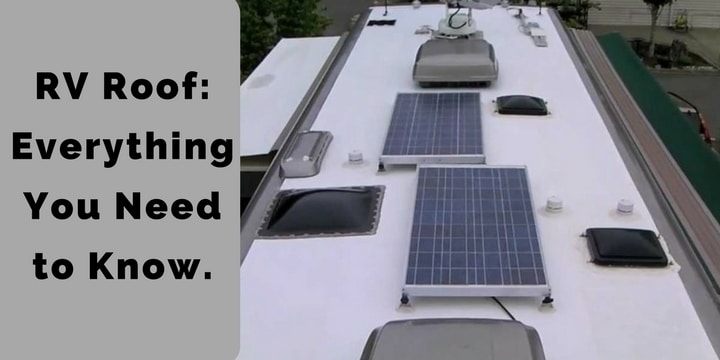 RV Roof: Everything You Need to Know.
The RV Roof provides for quality and energy-efficient low slope roofing solution that includes the ethylene propylene diene monomer EPDM and thermoplastic olefin TPO.
Since both have a single-ply membrane, it is very difficult to distinguish between the two.
The difference lies in the maintenance, durability, longevity, energy efficiency, ease of installation and cost. The EPDM roof is the most standard in the RV Roofing industry. It is mostly used in the small and lightweight RVs.
EPDM
The maintenance of the EPDM rubber roofing should be conducted every 3 to 4 months. This type of roof is a rubberized layer made of woven fabric that tightly adheres to.
EPDM is darker in color but is made to appear white by adding titanium, zinc, and carbonate. The whiteness brings about a cohesive appearance and is advantageous since it creates a reflective barrier that keeps the RV cooler during the humid days.
TPO
Although similar to EDPM, it is shinier and smoother. This rubber roofing is less porous in its finishing hence does nit absorb mold or dirt easily. It is also less slippery when wet which makes it different from EDPM.
The maintenance of the two rubber roofs is the same. The TPO, however, are long-lasting compared to EDPM that are prone to separation. In this case, the repair of the TPO roof is much expensive than EPDM. However, the cleansing of the two roofs is pretty much the same.
Video Overview: Determining whether your RV roof has EPDM or TPO
Video Overview: How to replace your RV or Motorhome roof EPDM or TPO
Fiberglass and Aluminum Roof
The aluminum and the fiberglass roofs are considered low maintenance. However, the two increase the RV cost and additional weight of the car significantly. Compared to the RV rubber roof, they are easy to clean and care for.
However, upon tear and weak, the repair of the two types of RV roof is very expensive. In this case, specialized cleaners are required to gently clean the roof. Inspection of the roof should be conducted regularly as well to identify any openings or breakages,
RV Roof Caulking and Dicor sealant RV Liquid Roof
The RV Roof Caulking and Dicor sealant are used in resealing the RV Roof sealants and seems. The RV Roof Dicor sealant Liquid Roof is characterized by the following:
Energy efficient
Resistant to acid and alkali
Waterproof
Heat reduction
Resistant to UV and Ozone
Resistance to freezing
Flexible and long-lasting
 In most surfaces' there is no primer needed
 Only an application of one coat is required
RV Roof Patch
Used in patching holes or tears on the roof, the RV Roof Patch is applicable in all types of RV roof: rubber, aluminum, and fiberglass. The market price of the RV Roof patch ranges between $20 to $40.
RV Roof Covers
RV Roof covers are durable and water-resistant. They are flexible and can be adjusted to fit nicely on the RV roof. The RV Roof Cover in the market range between $188 and $230
RV Roof Air Conditioners
Although found in all the RVs, the air conditioners are not much known as other RVers. Depending on the quality and specifications, a typical RV Roof Air Conditioner ranges from $115 to $710 from Amazon online store.
The RV Roof air conditioners are small in size and durable. However, the challenge is that they go through much wear and tear. To acquire high longevity of the air conditioners' lifetime, maintenance and vigilance are key. There are three areas that require proper maintenance which include: condenser coils, condenser fins, and air filters
RV Roof Fans
RV Roof Fans are the aftermarket accessories people use on their campervans, caravans, truck campers, pop-up campers, or other RVs to keep the interior cool. They provide easy access to air throughout your travel.
An RV roof fan also reduces the choking atmosphere by keeping the temperature inside the car within the human tolerant level. Some of these RV roof fans' models can also be used as ceiling fans. The transformation requires closing the lid only so that it can circulate the air within the congested area.
The following one is the most popular RV Roof Fans according to Amazon Reviews: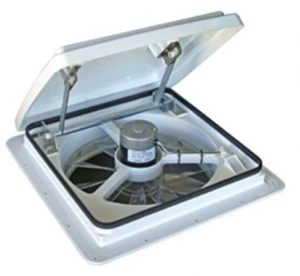 RV Roof Racks
RV Roof Racks are a type of kits that help to haul weighty equipment on your RV rooftop. They are used to protect your skis, surfboard, bike, bikes, kayaks, or such bulky things when you'll be traveling through uneven paths at a high speed.
But be sure to fasten the attachment of the roof racks with your RV roof strong. Reaching the destination in secured and good condition also includes installing them properly. And since it's very straightforward to mount these kits, RV owners themselves can do so without facing any complexity.
The following one is the most popular RV Roof Racks according to Amazon Reviews: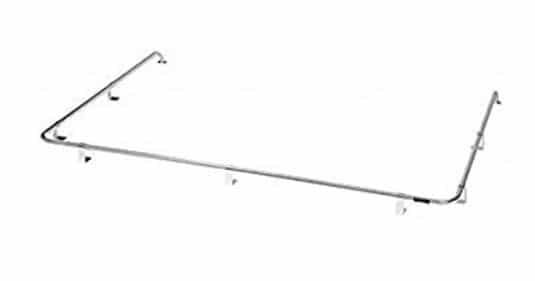 Check the price on Amazon
RV Ladders
RV Ladders are the stair-like equipment that's attached to the side of an RV. These ladders are used for climbing the RV roof. Foldable options are available. They are, in fact, designed to match RVs with any height. You just need to cut them accordingly.
For better access, four stand-offs may come with them. Installing takes very few minutes with the included mounting hardware. Locking feature ensures your safe climbing. Multifaceted use includes access to home-rooftops, cargo as well as office and large buildings. Just make sure you collect the ones that are enduing and immune to corrosion for better performance over the years.
The following one is the most popular RV Roof Ladders according to Amazon Reviews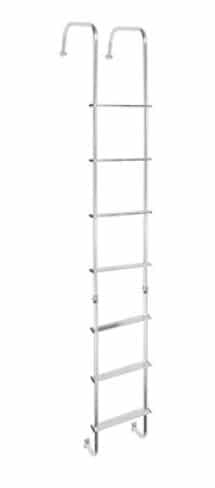 Rv Roof Membrane Kit
RV roof membrane kit is a kind of accessory that covers the RV roof and helps to fight external forces. It is mainly used to save your RV roof from getting torn or cracked and discolored or punctured over the years. Since you can't change your RV with the arrival of every new year, the simpler solution is to use an RV roof membrane kit.
They'll save your RV roof from the rough usage during your traveling in different weather conditions. They're easy to install and you can maintain or repair them with little to no hassle at all. After installing it keeping all the air out from beneath the layer, you're ready to go on a ride having the peace in mind thinking that the thick rubber roofing material will keep guarding your RV roof against outward aggression.
The following one is the most popular RV Roof membrane kit according to Amazon Reviews: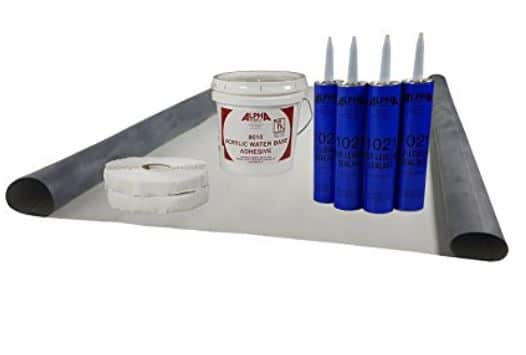 RV Roof Coating
RV Roof Coating is a kind of protecting layer that keeps your RV Roofs rejuvenated and waterproof. The RV liquid roof coating saves your RV from getting damaged by the sun's UV rays as well as rainfall and debris, without peeling off like the rubber coating.
They expand easily and remain well-connected with the roofs. They are reasonably priced and lightweight, but rubber coating requires more attention for long-term service than an aluminum or fiberglass roof.
So, in order not to experience cracking on the RV roof, use RV Roof Coating and prepare the roof to tolerate the negative forces of weather changes.
Video Overview: How to Repair and Seal a Rubber RV Roof – 1998 Bounder Motor Home

The following one is the most popular RV Roof Coatings according to Amazon Reviews:

What type of sealant to use on the RV roof?
In the present time, people are mostly using a sealant for their RV roof for the safety of their homes from the cruel weather.
For that, you need to check your roof after applying the sealant. For this, you need to get a good quality sealant for making your house safe.
There are several brand sealants are available in the market with high quality. You need to select the best amongst them which will give you top-notch service.
Video Overview: Choosing The Right RV Sealants For Your Vehicle
What is the best way to clean a rubber RV roof?
Generally, Rubber roofs are made from EPDM (Ethylene Propylene Diene Monomer). Most of the RV manufacturers prefer this EPDM.
These rubber roofs have a long life but it requires frequent repair and cleaning.
For maintaining a long life of your rubber roof you need to clean it in every 3 months.
These rubber roofs have its own process of cleanings because it has less oil resistance and solvent and you need to follow the steps while cleaning. Some of the manufacturers are also offering a warranty so you can consult them for the cleaning process.
Video Overview: How To Spot Seal Your RV's Roof
How long does the rubber roof last?
The rubber roofs are very much longer-lasting. But the age of the roof depends upon the exact layout of the rubber.
Some of the roofs have a single piece layout whereas some roofs have a double piece layout. A properly installed rubber layout can last for a longer period i.e. more than 50 years.
How much does it cost to install a rubber roof?
The EPDM rubber roofing installation process is a bit costly as compared to other kinds of roofing systems.
The average installation cost will be $6,000 to $9,000 for 15 square flat roofs or $4 to $6 per square feet.
It also varies as per the brand manufacturer and type of rubber you choose.
The cost also varies as per the insulation layer, cost of existing roof and number of required penetration for the flat roof.
How much does it cost to put a new roof on an Older RV?
The replacement cost is very high because these are truly labor-intensive. Generally, the repair shops charge the cost of replacement in terms of the linear foot. So the total cost includes labor cost and required materials. If you use older RV in your new roof it may cost you a little cheaper. It is approx. $300.00 for every linear foot.
Can you paint over a rubber roof?
Yes, of course! You can paint your rubber roof because it can not only protect your home from sun rays but also make it cooler and give a fresh and new look to your home.
Video Overview: How to fibreglass an RV roof
What is Eternabond?
It is one of the best solutions to repair building products like RV, canoes, sheds, tents, tarps, etc. It will provide a virtual bond between all surfaces permanently.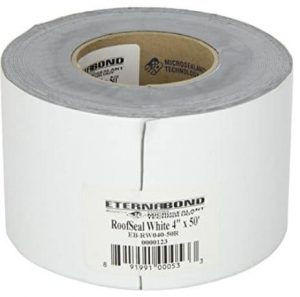 What is the best material for a flat roof?
When you are planning to cover a flat roof, the options are quite expansive and limited. There are different options are available in the market for the flat roof like TPO. PVC, EPDM rubber, etc. You need to choose among them as per your budget and requirement.
Related Post: 45 RV Accessory Must-Haves for Your Travel Trailer