5 Best RV covers for the roof only.
When you buy an RV, the feeling is like you've added a new house to your family. You want to use it, have fun in it, spend time in it and try to make it your second home. If you want all of the things we've described to last, one of the main things you have to do is to take care of your RV.
And the essential part of taking care of your RV is preventing natural phenomenon like rain or snow or wind to cause any kind of damage. In order to manage that, one of the most useful purchases for your RV's protection is cover.
What does RV cover for the roof only do?
During winter, it stops snow or ice getting through to roof and damaging it. When it rains outside, RV cover will keep your vehicle dry, or at least dryer than it would be without it. When it's windy outside, it protects from tree part, branches, leaves or dust, and in the summer it keeps the sun out, so your paint would not suffer.
Video Overview: review ADCO RV roof cover 290 36042 – etrailer.com
Video Overview: RV COVER TIPS to Make It EASIER
We've selected three different types of covers and you can read about them in the rest of the post.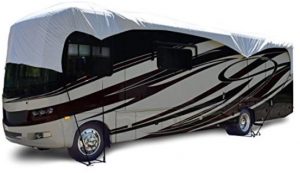 If you are looking for a cover that will protect only your roof and nothing else, ADCO is if not the best, then the only choice you have. This product is constructed using Dupont Tyvek, which should provide UV resistance and maximum duration. Because it is water-resistant, it will keep your roof safe from rain or snow and prevent it from being damaged. Also, it is said that it shouldn't interfere with anything mounted on the roof, like horns, AC, satellite antenna…
The size of it varies, so you should measure your RV's roof size to find the one that will fit perfectly.
Video Overview: RV COVER HOW TO
Alternatives RV covers 
Considering the fact that ADCO is the only one who produces roof-only covers, if you want specifically those, you'd have to go to them. But, there are few alternatives.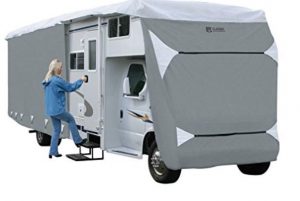 This product is not roof-only cover, but it doesn't cover the whole RV.
It weighs around 15 pounds, it also comes in different sizes and should fit without any problem. This triple-ply PolyPro 3 cover is thick, but it should easily prevent rain or snow coming through to your vehicle.
It also has single-ply sides protection against snow, dirt, scratches, and it also helps during hot summer to keep it cool. It has zippered panels, so you could access your RV's doors and engine.It comes with stuff sacks and has a 3-year warranty.
Video Overview: Camper Outdoor Storage: How to protect your roof with a tarp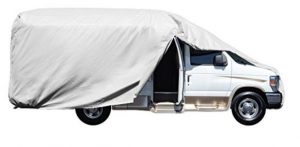 Another alternative is this cover made by EmpireCovers. It is not "roof-only" cover, but it comes with zippers who allow total access. It is made from 300 denier polyester, and, as it is pointed out on Amazon, should be completely waterproof. It also has a Durable Water Repellent coating, so it should keep all of the possible moisture outside. But, its triple layered SFS top will allow your RV to breathe.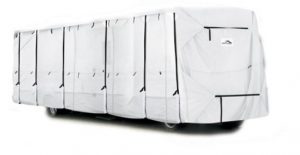 CAMCO UltraShield Class A Cover Pros:
It is made from is made of  polyester and it is considerable for hot climates
Has vent flaps that decrease billowing
Integrated with heavy-duty zippers for easy access to storage and doors while easily securing in place.
CAMCO UltraShield Class A Cover Cons:
Some people have complained about the design especially in the mounting process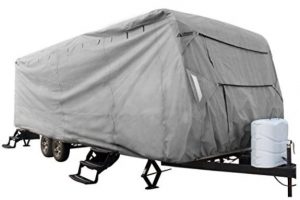 Leader Accessories Travel Trailer Rv Cover 

Pros:
Tough water repellent material inhibits mildew and mold
Adjustable rear and front tension panels
Zippered panels enable access
Leader Accessories Travel Trailer Rv Cover 

Cons:
You cannot utilize the roof vents as a means of reducing humidity.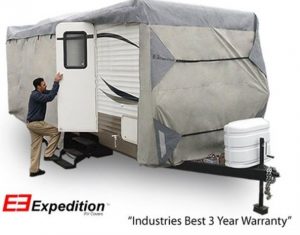 Expedition RV Trailer Cover 

Pros:
They have an Ultraviolet finish to aid to reduce UV damage
These covers contain propylene and include a zippered entry side
They have zippered panels that allow easy access
They come with a 3-year warranty.
Expedition RV Trailer Cover 

Cons:

The material is not so good, it can be very easy irresistible damaged.