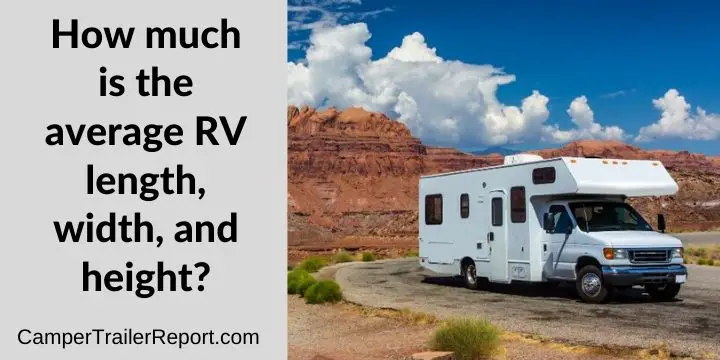 How much is the average RV length, width, and height?
Recreational vehicles (RV) are trailers or motor vehicles designed for accommodation. There are several types of RVs, such as campervans, caravans, fifth-wheel trailers, truck campers, motorhomes, and popup campers. These Recreational Vehicles are perfect if you often travel long distances for an extended period. Usually, these vehicles are mobile and useful since they provide a comfort zone just as your home does. However, not all RVs are equal in size and they vary in size from one model to another. Additionally, for you to drive them, you have to acquire a driving certificate as well as a license.
How much are the average RV length, width, and height?
The average RV length, width, and height depend on the size or rather, the measurements of your vehicle. How small or big your motorhomes is will determine how many things you will be able to fit inside it. Nevertheless, the first thing you to do is to approximate how many people you will be journeying with you to create a comfort zone too.
The three major classes of RVs are:
> You may also like:45 RV Accessory Must-Haves for Your Travel Trailer<<
Class A RVs
You should understand that RVs measurements vary from one another. However, the average size of your class A Recreational Vehicle should have a length of 33, a height of 12ft- 13ft with a width of 9ft. You need to note that these measurements vary from one model of a vehicle to another. Additional, always have a measuring tape to get the correct measurements of your motorhome. In case your motorhome is large, then you will need a class B driving license to certify your qualifications for driving heavy machines. Therefore, class A RVs averagely weigh 30,000lbs- 33, 000lbs hence, as a driver you should have enough skills and knowledge on how to handle your bulky motorhome.
Video Overview: What is the Ideal RV Length for RV Living?
Class B RVs
It is the smallest motorhome and has a resemblance to a big sized van and it usually has an average length of 20ft, with 8- 9ft wide and a height of 7-9ft. Moreover, this type of vehicle is common in the market industry since they are small, and it is easy to maneuver in tight areas. In case you would prefer something more comfortable to drive and does not have much wait, then make class B RVs your number one choice.
Class B motorhomes weigh 10,000- 20,000lbs, but the weight differs depending on the model and make of your vehicle. Furthermore, this kind of Recreational Vehicle does not necessarily need a special certified license, hence you can decide to make use of it as your means of daily transport, driving in the streets as you carry out your daily errands. Nonet less, make sure you know how to park it well according to its size, and you can go as far as making trips to a place of your choice.
Video Overview: RV Size Limits for State and National Parks
Class C RVs
It is the second-largest Recreational vehicle and has a length of 28ft, the width of 9ft as well as a height of 10ft. Additionally, it is usually big with a perfect comfort zone that accommodates 6- 8 people. This makes it more convenient for you and your entire family to go on a trip.
This RV usually weighs from 12,000- 20,000lbs. If your vehicle weighs above 26,000lbs, especially in the United States, then you will need to have a special commercial license for class B to certify that you are fully skilled in driving a heavy machine. This aims at reducing the causes of accidents on roads. For those that do not weigh much, still, you are required to have enough skill to handle your machine properly. Average length, weight, and height play a very vital role in your RVs; therefore, try as much as possible and own a measuring table to acquire a correct dimension of measurements.
Conclusion
If you are a traveling enthusiast either as a local or tourist, you should then consider buying a Recreational Vehicle is a fantastic option for you, your family and friends. Based on the above-average length, width, and height of the three classes of RVs, it is upon you to make a suitable decision that best suits your needs and demands. Consequently, you will get to enjoy your trips and have memorable moments with you and your family inside your RV.
> You may also like:Worst 5th Wheel Brands to Avoid <<