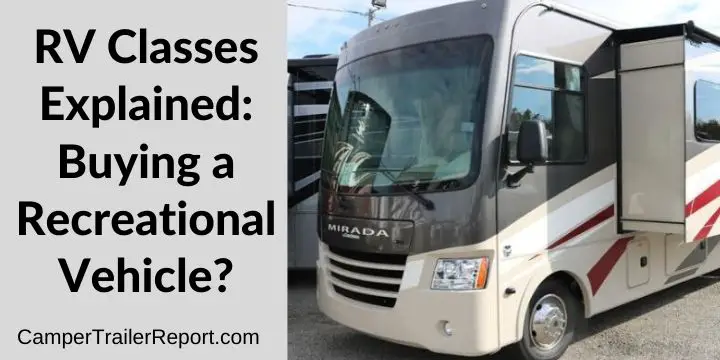 RV Classes Explained: Buying a Recreational Vehicle?
Are you planning to buy a recreational vehicle? RV can be of good essence for you. What ought to be in your mind is the type of RV that you should be going for. It makes much sense if you go for something that can meet your needs. Going to the market for the RV without knowing what you are going for.
It is good to note that RV comes in different classes. Every class is very different, and so it is ideal that you learn all the classes so that you make a well-informed decision. You ought to know which class of RV can go to where you need and the comfort to expect. We have, therefore, explained the different RV classes to help you make a decision. Have a look at the classes.
1. Class A motorhomes
This is the first class of RV that the market will provide to you today. It is the most massive coaches that run the gamut as much as an extravagance can go. Most of the coaches in this group range from 26 to 45 feet built on a single chassis with two or three axles. The overall weight of class A motorhomes ranges from 13000 to 30000 pounds, which promises you to carry maximum luggage.
Class A motorhomes are as luxurious as an average house, and at times they might be better. If you use this RV class, you are likely to enjoy the tour than other types of RVs. It can be fantastic to spend time on your journey without realizing that you are in transit. If you work online, you don't have to go to the office. You have to work one of your duties while in transit. It is very stable.
> You may also like:45 RV Accessory Must-Haves for Your Travel Trailer<<
The spacing that you are going to have is just extravagant. The living room has wide spacing that you can use to stock all manner of property. If you feel you need more space, you can even use the space underneath the camper for more storage. Its engine can either be diesel or gasoline. You, therefore, can choose what can work best for you, but then diesel can give you a better towing experience. Taking a class A can serve best if you decide to have a mobile lifestyle.
Video Overview: Super Luxury on Wheels! The Entegra Cornerstone Class A motorhome!
Video Overview: 5 Reasons I Regret Purchasing Our Class A Motorhome
2. Class B motorhomes
This class is majorly known as a campervan. They are relatively smaller than the class A with their weight ranging from 6,000 to 8,000 pounds. They are also as long as an ordinary vehicle measuring about 17 to 19 feet. At an external view, you can confuse then with regular vans, but they are different since they have camping machines. This is why a good number of those who use it are campers.
Within the class B RV, you are most likely to have a marine shower toilet. Its kitchen is relatively smaller than the class A but has a sink, some small counter space, and a cooktop. For the bedroom, you might get a different provision. Some of the RV features foldable sofas that you can use for sleeping while others have a queen size mattress suspended over the cargo area. When buying one, you can consider which option can work best for you.
Class B RV is more suitable for those who want to use it majorly for camping. It can also serve those who wish to spend less money on camping, especially if they are to have few people on board. Even if you go in a small number, it is critical to note that there is a need to carry small luggage that can be supported by the RV towing capacity.
Video Overview: Buying your first Class B or C RV? Watch this first!
> You may also like:Worst 5th Wheel Brands to Avoid <<
3. Class C motorhomes
I am sure you did not guess right when you thought that this is the lowest class of RV in terms of comfort and capacity. The class C is not something strange about this matter. It lies between classes A and B in terms of comfort and space. To avoid confusing it with the two categories, it can be easily identified by the cab, which extends over the cockpit. Generally, they range between 20 to 28 feet long and 10 feet tall. In terms of weight, they are known to be between 10,000 to 13,000 making them slightly more massive than class B but lighter than C.
Class C RV offers some privacy compared to class B since they have a private bedroom in the back. They combine the van feel of class B cockpit, but with spacing closer to that of class A. it comes with two foldable sofas, which can give more sleeping space. They also have separate chambers for toilets and toilets. Unlike class SA with only one door, class C has both the passenger and the driver door. Some of them will also feature shelves for television, a small washing machine, and a dining table.
Video Overview: The perfect Class C Motorhome! Check out this Concord 300TS!
> You may also like: 25 Best National Parks in the USA  <<