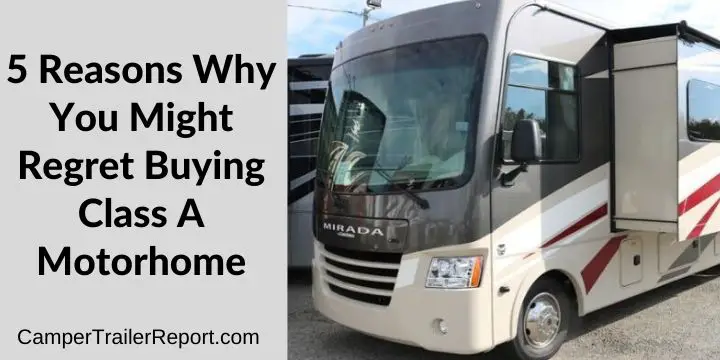 5 Reasons Why You Might Regret Buying Class A Motorhome
Although many people dream of owning an RV, there are some reasons why it can be a nightmare to some. Buying a class A motorhome is a good investment if you love camping and you wish to travel a lot. However, here are 5 reasons why some people regret buying Class A motorhomes:
1. RVs are expensive
The cost of buying a good class A motorhome is very high and to some people buying a house is a better option. However, if you are lucky to get a second-hand RV or buy at a discount, there are other hidden costs that you will have to incur in the long run. For instance, regular servicing and maintenance are required to avoid breaking down or fast depreciation. Additionally, you will have to include travel costs, fuel and other costs you will have to incur e.g. parking costs. Therefore, RVs are expensive and if you are not ready or have limited capital, you might end up regretting in the end.
2. RVs are not for everyone
If you have a serious health problem, you should not own or consider owning a motorhome because chances are high you will find yourself in a life-threatening situation. If you or your loved one has poor health, you will regret buying a motorhome because especially when you camp in remote areas or you have traveled far away from home. Traveling in RVs not only makes the condition worse but also faces other problems especially the vibrations and you have arthritis or back pains.
> You may also like:45 RV Accessory Must-Haves for Your Travel Trailer<<
3. RVs require hard work
If you are not handy, owning a Class A motorhome is not a good idea. To maintain, live and travel in an RV entails several activities like:
Loading and unloading before and after trips
Doing laundry
Handling maintenance and repair
Hooking and unhooking the coach when you arrive or leaving the campsite
Keeping both the interior and exterior clean
Regular household chores
If you are not ready to deal with such kind of chores now and then, you will regret buying an RV. This might get worse when traveling and you are tired or you have other occupants in your motorhome!
Video Overview: 5 Reasons I Regret Purchasing Our Class A Motorhome
4. Numerous hazards
When elderly people own and drive motorhomes, they are not only a danger to themselves but to other road users because they have hearing problems, impaired vision, and slow response. On the other hand, if you have children, roaming around the RV can be risky especially off-road and the list goes on. The RV can breakdown, you get hijacked or face wild animals among other hazards. Therefore, RVing is associated with numerous hazards and if you are not used to these kinds of problems, you will eventually feel bad you invested in a motorhome.
5. Lifestyle problems
If you are not used to living in the wild, you might find it hard traveling and living in a motorhome even for a few days or weeks. RVs have limited space and you will have to survive on limited supplies because of limited space. Therefore, if you are not used to such a lifestyle, you will either have to adapt or regret why you bought the RV every trip you make. Also, camping in some remote areas or camping sites can be a problem due to a lack of clean water or even electricity. Ergo, you will have to improvise or find other alternatives to survive. There are cases when some people go RVing only to go to a hotel because the conditions are unbearable! Brace yourself because RVing is not a walk in the park.
> You may also like:Worst 5th Wheel Brands to Avoid <<