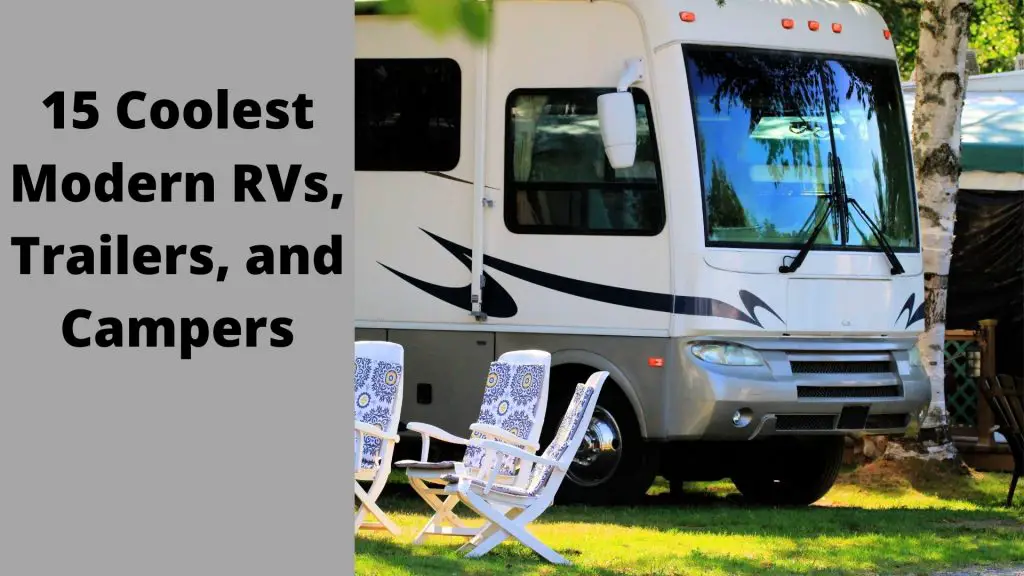 2022 Modern Camper RVs Trailers
RV (recreational vehicle) is a trailer designed for accommodation. They have in them a kitchen, sleeping facilities, and bathrooms. The first model of an RV was built in the year 1910 and ever since today, we have the coolest modern trailers.
The RVs that you get all the comfort you want wherever you are. In 2022 there are many modern RVs camp trailers developed to suit the demands of today's population using proper technology. Here are some of the coolest RVs.
Grand design 2500RL
The new design is one of the coolest RVs this year, especially the new modification. The 2500RL has been fixed with a removable ottoman to relax your legs and freestanding dinette in place. It has an LED television and a tri-fold sofa for relaxing and watching after hiking. It has a standard shower type, a water heater that is quick to recover, a double door refrigerator, and is spacious.
Video Overview: 2022 Grand Design Imagine 2500RL | Walkthrough
InTech Terra Oasis Rover
The RV is a self-contained travel trailer made from a fiberglass shell built on a durable, all-aluminum frame. InTech has added things like colorful LED lighting and a huge laminated glass panoramic windshield in the design. The Rover model has off-road tires, a slide-out rear outdoor kitchen, and a power awning, so the outdoor living space is just as functional as the indoor living space.
Fleetwood Discovery 36Q.
It is a class A type camp trailer that is 40 feet wide, which makes it spacious. The 36Q has modern touches like lighter interior colors, large televisions, a washer and dryer, and a dinette that converts into a desk or workstation.
Video Overview: 2021 Discovery 36Q Island Kitchen – Official Fleetwood RV Walkthrough – #Fleetwood RV
Black Series HQ19
The Black Series HQ19 travel trailer is custom designed for off-road camping and bumpy terrain, but its luxurious interior and diamond-plating exterior still help campers feel right at home in a campground. This travel trailer goes where traditional travel trailers cannot. On the roof, it is mounted with solar panels, an outdoor kitchen, and a shower. It is easy to enjoy your time either outside or inside the RV.
Winnebago EKKO 22A
The model is 23 feet from the front bumper to the rear bumper. It is an all-wheel-drive class C motorhome. The EKKO sleeps up to four people, with two twin beds that convert into a king-size. It has a full bathroom, kitchen, and two additional captain's chairs with a table for dining or working. In addition, it has a gear garage under the bed for your adventures.
>> You may also like: 25 Best National Parks in the USA  <<
Lance 2465
The camper lightweight trailer has been designed with a roof that is covered with energy energy-star-rated plastic polyolefin material. It uses anti-wicking materials for preventing moisture from transferring to the laminated walls. Comfortable seating due to the fact of having spring suspension with a shock absorber.
Video Overview: 2021 Lance 2465 | Travel Trailer – RV Review: Camping World
2022 Allergo RED 340.
This new model is smartly equipped and has proper road safety packages that protect you on your journey. It has two flat-screen TVs that ensure you are entertained while on the road. The kitchen is handcrafted with cabinetry storage. The bed is king-sized with a high-density mattress.
Airstream eStream
The camp trailer has been designed with aluminum exteriors, which makes it more recognizable. They feature leather seats and air conditioning. The 2022 eStream model can recharge in multiple ways from electric outlets at campgrounds. It has also been fitted with 180-watt semi-flexible solar panels.
The Internet is key in the modern world and that is why the model has been developed to have 5G connectivity, Wi-Fi, and screens for manipulating all onboard activities. The eStream can drive itself at low speed.
Video Overview: Airstream eStream Concept | Looking to the Future with Bob Wheeler and McKay Featherstone
Coachmen Miranda
The new Miranda design has a passenger computer workstation, which helps you conduct some crucial activities while on vacation. It also has a king-size bed, which enables one to relax after the day's activities. Stainless steel refrigerators and generators are some of the other components that you have for a smooth vacation.
Happier Camper Traveler.
The RV is a lightweight trailer made per your specifications. It has an adaptive modular interior, so you can customize it when you are out on the road for camping and guest quarters, in a matter of minutes. They have shower fittings, digital heaters, an iPad/tablet docking station, solar panels, and a lightweight air conditioner.
The modern RV sleeps five. One can pick the interior features that matter the most. The RV is made with a fiberglass shell and comes with all-season insulation, panoramic windows, and an optional solar package.
Video Overview: Join me for a quick tour of the new 2020 Happier Camper HCT
EarthRoamer
The Colorado design is durable and all-in-one packages with everything built right in, including the Ford truck that drives it. It is designed to handle tough, off-road adventures and is like luxury apartments on wheels that will probably make you never venture into a tent ever again. They have modern insulation and comfort seats.
Newmar 2022 New Aire.
Newmar Company has a solid reputation as an RV insider. Newmar 2022 New Aire has glass shower doors and a kitchen backsplash. It is made of smart appliances, which come with high-quality network connectivity.
>> You may also like:45 RV Accessory Must-Haves for Your Travel Trailer<<
The River Ranch 390 RL.
The River Ranch 390RL is a model with a large kitchen island with ample space for essentials, double sinks, a king bed, a residential refrigerator, and vast basement storage.
Video Overview: Palomino-River Ranch 5th-390RL
The Grand Design Reflection 311BHS.
Reflection 311BHS is an aluminum caged RV with a 60 by 80 queen-sized bed. The aspect of this design is its LED lighting throughout with motion sensors.
Oliver Legacy Elite II
The design uses a fiberglass construction technique. It has a good durability warranty and is of low weight. The model is longer and wider, thus having plenty of space for a family. The new model has been designed to have a 2-floor plan, the standard or twin bed floor plan.
In conclusion, the above RVs model designs have been upgraded as add-on taste and include the emerging needs of campers. RVs have made camping more comfortable, and even some have workstations for those who have crucial roles in their organizations.
>> You may also like:  Why America's Most Popular National Parks Need to Be on Your Bucket List <<