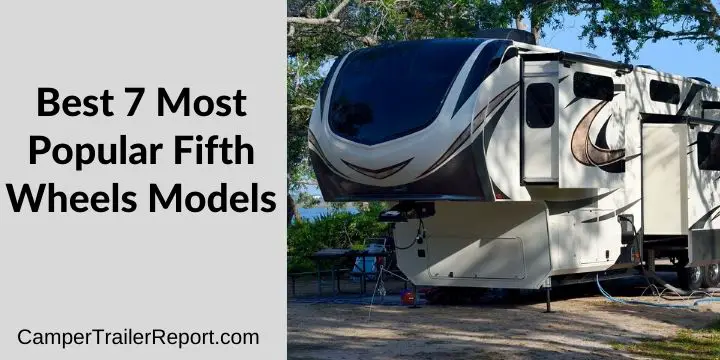 Best 7 Most Popular Fifth Wheels Models in 2020
Do you want an RV that will serve you on whichever trip, then the fifth wheel s model is worth an investment as they come with all necessary amenities that you will enjoy in whatever company you are with? You have to do your research and get what fits you. Look at some of the services and with whom you will want to use. Get the right type for yourself that one which is functional both on the road and in a camp.
When you are new into RV, you want to change from a camper or a trailer, and then one of these will meet your requirements. Why the fifth wheels model RVs a good investment. The manufacturer was very thoughtful when it comes to versatility; it can fit a family, couples, or any person who likes to travel alone. They are spacious with the essential that is why many people are moving to these models. They have all that you need for your trip and are significant, thus worth an investment for memorable and enjoyable trips. The following are the best 7 most popular fifth wheel s model of 2020;
1. Keystone Montana
Keystone is well known for its RV fifth wheels model. They are made in such a way that they fit your trip. This has all the amenities that you will require and the material and the outside look is splendid.
Features;
This vehicle is made of strong walls, and doors frame made of aluminum
A spacious storage section that you can arrange your items to fit well
The floor is made of DYnaspan
A well-designed kitchen with all the features you will need like a refrigerator, sink, a gas
This got all the basic and future models to keep on improving to make your trip even more enjoyable.
Video Overview: 2020 Montana 294RL or 295RL Full Time 34ft Keystone Luxury Fifth Wheel RV
2. Crossroads Redwood
This is the best fifth wheel model that this company ever produced. When you look at all its models, this is well built, and the exterior is on another level. This is so because this fifth wheel model RV bears the brand name; this is the best.
Features
The exterior and the interior is made from durable materials
Got all the required amenities a spacious kitchen, bedroom, storage, toilet and living room that are well designed
An enclosed underbelly to cup cold during cold seasons
This fifth model, RV, is mind-blowing as it has all the features and is suitable in all seasons. It is comfortable for any company. This can go a long distance, and you can stray on vacation with your family to up to 12 months; this is how versatile it is.
> You may also like:45 RV Accessory Must-Haves for Your Travel Trailer<<
3. Forest River Wildcat
Do you want to own a fifth model RV in 2020 that is versatile and affordable, then this will serve you well in your trip. It's a right RV for a beginner with all the features that will help you out camping or in your travel.
Features
Enough space
Has LED light with 12v and in addition solar inlet
Kitchen i is well put together with essential with spacious countertops, cabinetry, and sinks
The windows and doors are large enough to allow fresh air and natural light
A well-organized living room and bedroom with a TV
If you want to save your coins and get what you want, then go for this Forest River Wildcat fifth wheel model. As you enter this RV, you will feel the worth of it,
Video Overview: 2019 Forest River Wildcat T343BIK Video from Lazydays
4. Dutchmen Voltage
This is the RV of any trip when you are undecided about which one to invest in.
Features
Well design windows that are frameless
It has a Well-furnished interior with a large kitchen, a living room with all essentials.
Several rooms
This Dutchmen Voltage has all that you want as it has that living room that looks like that at homerooms to that your family members can enjoy and many more.
5. Grand Design Reflection
This is what you need for that trip as it has the following features;
A big living area with TV soft leather couches to relax on after a busy day
A spacious bedroom with a king-size bed with a comfortable mattress
Others include a well-ventilated toilet a vacuum system and many others
This is the RV if you don't want to spend a lot. It got all the vacation essentials that serve the purpose.
> You may also like:Worst 5th Wheel Brands to Avoid <<
6. Grand design solitude
This germ is the real one when it comes to credible amenities. It can be used anywhere, and it will serve you well;
Features
Full windows that allow you to have a great view of your surroundings
Big spaces like the kitchen, living area and toilet all with details and a good furnish
Made of durable materials that can tolerate all the challenges that come with traveling
Video Overview: 2020 Grand Design Solitude 380FL Luxury Fifth Wheel with Amazing Storage!
7. Jayco North point
This fifth wheel model RV is well known for its features that are on point, and it is affordable at some time.
Features;
A fascinating exterior made of large windows and doors
A splendid interior with amenities like that of a residential area
Well organize rooms that are big enough
If you are that person that likes to enjoy every part of a trip, then the above fifth wheel models will make you have memories and are a good investment.
Video Overview: 2020 North Point 387FBTS Front Bath & a Half Full Time Jayco Luxury Fifth Wheel RV
> You may also like: Least-Visited National Parks: Why They're Worth a Look<<