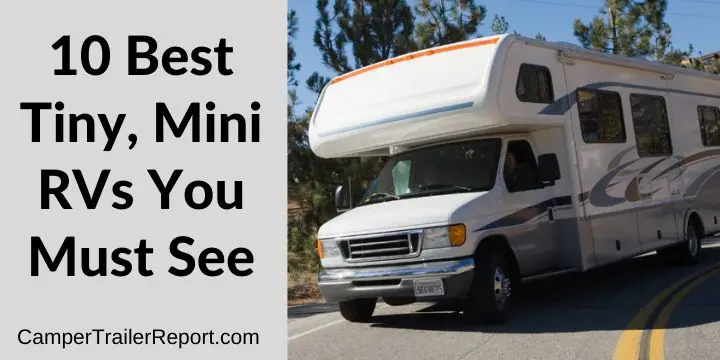 10 Best Tiny, Mini RVs You Must See in 2020
There are many RV models that are being made with the current technology, and in the soon near future, we are going to see the most amazing tiny, and yet mini RVs. There are the latest models yet to be released very small in size, which is meant to minimize resources. Below are these top mini tiny RVs which you should never miss to see in 2020.
1. Aero Teardrops HC Steel
It has a teardrop made of aluminum around 10 feet at the custom frame. It has an A storage frame and the roof rack plus a tent or the bunk of children's interior cabinets. It contains a storage compartment which is underfloor like the Bluetooth stereo system with LED lights.
Video Overview: Aero Teardrops – Pancho
2. Aliner Classic
It is made from Pennsylvania around mount pleasant with classic frame trailer which makes tearing easy and can be simply setup as well as broken down. It has the gallon carrying fresh water at the sink, tank, and the outside shower among other basic features. It has a microwave which makes your trip for camping luxurious and more comforting.
Video Overview: 2019 Aliner Classic & Ranger 12 Folding Trailers – Walkthrough Tour
3. Armadillo exteriorArmadillo
It is the building of two pieces trailer and has fiberglass shells from its rescued molds. It has been constructed using marine grade material and sealants. It also contains cabinetry with a radius corner which creates the tiny interior roomy feel. It has the outfitted kitchen together with a stove of two burners and the stainless steel sink with the refrigerator.
> You may also like:45 RV Accessory Must-Haves for Your Travel Trailer<<
4. Coachmen Clipper Express
It is another tiny division RV available and yet to be released in 2020. It has a unique trailer for a hybrid with some amazing features of these popup camper and trailers. It contains a furnace, air conditioner, Bluetooth, refrigerator, and the grills. It has a small bed that can accommodate two people with a V-package to dd the tires off the road with the roof rack. It has an available screen room that enables outdoor expansion of the living space.
Video Overview: 2020 Clipper 9.0TD Express by Coachmen – w/"The Air Force Guy"
5. Happier Camper HC1 RV
It is a trailer with double-hulled fiberglass which offers till 5 using the customizable interior and some happy modular campers furniture system. It has larger rear hatches that make hauling gear easy with some wide windows for offering panoramic views at the inside of the trailer. It has a power panel from contoured solar which off grids the RVs. It has standard multiple colors and HC1.
Video Overview: Happier Camper HC1
6. Little Guy MyPod
It is an RV latest in the market too very tiny in size with molded teardrop fiberglass and is found in different colors. It is known to accommodate all available creatures fully in smaller spaces like the entertainment areas, air conditioners mounted air, among others. The control solar powers it with the AC powers, among others. It also hs a screening room that is attached in it and the roof rack.
Video Overview: Going Tiny with a MyPod RV
7. Camp365
It is manufactured in Minnesota, and its width is 4 feet and has a surprisingly bigger living area. It contains a sleeping ceiling height of 7 feet and can accommodate up to 6 people for sleeping. The beddings can easily be folded and be kept at the shed or even in the garage. It contains a stove carrying two burners and a refrigerator of 12volts for air conditioning, heating, and cooling.
> You may also like:Worst 5th Wheel Brands to Avoid <<
8. SylvanSport Go
It is manufactured around North Carolina with a gear hauler which is ultimate in this trailer market. It can carry many bikes together, the boats, or even boards into the tow mode and also transform it towards the comforting trailer. It is rust resistance with a waterproof nylon fabric and sealed with the seam to make it dry inside.
Video Overview: Tour of a SylvanSport GO Camper Trailer with Frank
9. Timberleaf Classic
It offers a very insulated cabin that hs queen-size custom mattress with the cabinet interior storage. It has a rear hatch for pointing an outdoor kitchen with some sink, onboard gallons, and faucets with the electric water pump. The place has cooktop spaces, DC refrigerators, and all road packages.
Video Overview: Timberleaf Teardrop Trailers: Classic & Pika Models at Overland Expo West
10. Colorado Teardrops Canyonland
It is the small family business that builds the teardrops trailers for some years now. It is crafted at the off-road camps, and the frame is welded sing aluminum, the plate is full skid, and the torsion is heavy duty with the terrain tires. It also contains a package of solar power alternatively to extend the off the grid time.
Conclusion
The above RVs are known to be the tiny small ones that you must see and get the experience of using them. They are modern and surprising with excellent features.
>> You may also like: Least-Visited National Parks: Why They're Worth a Look<<