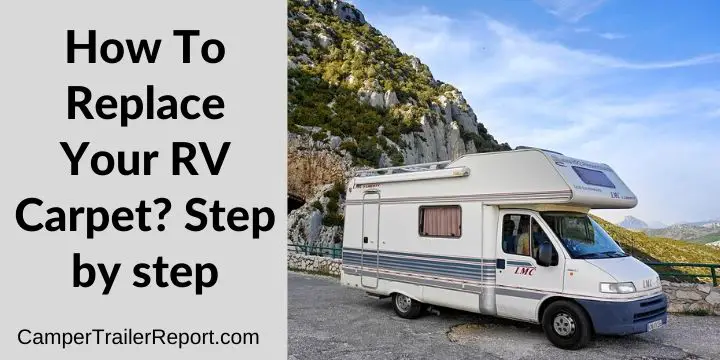 How To Replace Your RV Carpet?
The RV décor, style, and comfort can be significantly updated by making replacement of the RV carpet. Something that gets out with the most beat-up when someone is traveling is through carpeting; this is as you have probably been tracked in grime, mud, and muck at some point.
Replacing the carpet can be a good option before this excellent investment starts to disintegrate at large. Below is a step to step guide to accomplish this;
Take measurements of the new carpet.
Start by taking the actual RV floor space measurements. Ensure you be accurate at large when you take measures in the built-in areas and around each cabinet at large. You can, at the same time, if present, account for the RV slide out.
> You may also like:45 RV Accessory Must-Haves for Your Travel Trailer<<
Scrape, peel and get off the old surface
First, ensure you have well protected your eyes, nose, and ears using protective eyewear, a respirator, and a pair of gloves before you start up pulling up the old carpeting.
This is important as you will be saved from inhaling any present chemicals, mildew, or mold. You can also look for a pair of knee pads as they will help you a lot.
Make a pull starting from one corner. In case it doesn't come out freely, use a straight-edged knife running it around the ends so that it's lifted. After this is now the pad up if still gives you some difficulties, use a scraper or a small putty knife to get off the remnants.
Video Overview: How To Install New RV Flooring
Now buy a new carpet.
The measurements you took will guide you get your floor space total square footage. Head to a nearby store and purchase a large carpeting roll. You can buy a nearby wholesale if you are on a budget.
This is the place you will also have the chance to get a large remnant more affordably since you need no much carpet to fill up the RV space.
> You may also like:Worst 5th Wheel Brands to Avoid <<
Time to lay up the new RV carpet
At the edges of the floor, consider adding a layer of tack strip; this is what will help you make the installation of the new carpet much more manageable. After you have done so, roll over the RV carpet over the strip and get steps to tap into place.
Use a knee kick or even an automated stretching machine if you own one to make a stretch to the corners of that space. You are almost done; now, use a utility knife to trim the carpet.
Video Overview: RV Carpet Removal + Prepping for RV Flooring
Complete by adding carpet to the slide-out
When we talk about the RV slide out, the installation of the carpet is differently done at large. What is a slide-out? This is nothing other than a mechanized room. The room closes up when the RV is on motion and opens when stationary.
Use the same process to fit the carpet in a manner that it doesn't get disturbed by the slide-out constant movements. With this guide, you can take a step to give a try at replacing your RV carpet at large.
> You may also like: Least-Visited National Parks: Why They're Worth a Look<<