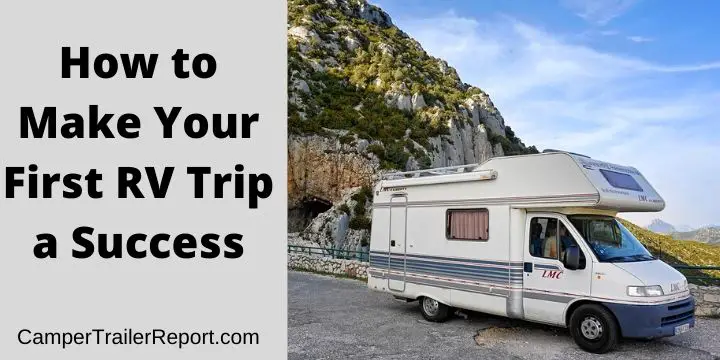 How to Make Your First RV Trip a Success
It is common for a group of friends or families to take an RV trip. However, to make your first RV trip a success, there are a few factors you should consider including:
1. Outfit your RV
Whether you bought a second hand or new RV, you need to make a few adjustments to make your trip a success. Besides making cosmetic changes, ensuring you have secured everything is essential.
You will soon realize that when the RV is in motion, things get displaced. Therefore, installing cupboard bars, fridge braces, cabinet locks, and drawers will keep things from shifting.
Video Overview: Before First RV Trip (Tips & Suggestions to help make your first trip a success!)
2. Make your RV more social
Sometimes RV owners focus on the interior to a point they forget about the exterior. It would help if you also customized your RV's exterior to provide a great outdoor living space and improve safety.
How can you customize your RV's exterior? Installing wheel skirts, sliding doors, and awnings are some of the ways to make your RV more social. It is difficult to find a shaded spot, but if you have installed the right accessories, this is a non-issue.
> You may also like:45 RV Accessory Must-Haves for Your Travel Trailer<<
3. Plan on how to accommodate the pets
If you own pets, ensuring they are happy and comfortable is crucial. Providing food and water to your pets is not the only way you can take care of your pet (s).
It would be best if you tried to clear out space in your RV for accommodation. Also, you can bring along their bed and favorite toys to make the place familiar, keep them entertained, and more relaxed.
4. Road tests
Before you embark on your first RV trip, take a few road tests to familiarize yourself with your RV. The test drives will help you understand how it handles, the driving position you are comfortable with, and the condition of your vehicle.
While taking the road tests, practice going up, switching lanes, down inclines, and accelerating on the highway. The practice drive will also help you understand how things move around when your RV is in motion.
Video Overview: First RV Trip Mistakes! (Newbie RVer's Guide to a Successful Maiden RV Voyage)
5. Get the RV ready for the road
Maintaining your RV and ensuring you have packed essential tools is very important. Before you embark on your trip, here are a few things you should do:
Have the essential toolkit on board
Ensure that all components and equipment are in an excellent working condition
Bring a spare tire just in case
Pack extra fuses and light bulbs
Ensure you have wheel chocks and leveling blocks
It would help if you packed flashlights, lanterns, and headlights
Bring heavy-duty jumper cables
Stock up filters, splitter valves, water pressure regulators, etc.
6. Ask for help if need be
If you do not like asking for help, you will learn that there are numerous benefits when you ask for help from other campers. No one knows everything, and for your first RV trip, there are a few things you may not understand. Therefore, be ready to ask for help or ask for opinions from other RVers.
Video Overview: Making RV Trip Planning Easy
7. Avoid driving at night
If possible, avoid driving or setting up at night because that is risky. Instead, plan driving and setting up during the day. It is more challenging to get help when you break down at night because garages, stores, and RV dealerships are closed. Additionally, setting up at night is difficult due to limited or lack of light.
> You may also like:Worst 5th Wheel Brands to Avoid <