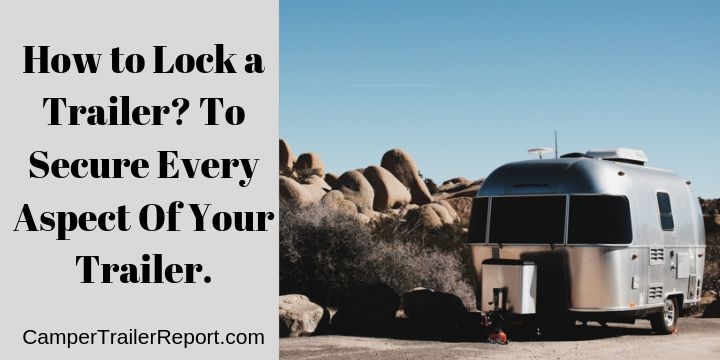 How to Lock a Trailer? To Secure Every Aspect Of Your Trailer.
It is a very common problem among the trailer owners that their trailer gets stolen frequently. Many people park their trailers on the street or outside the garage.
However, they face constant fear that their trailer can get stolen. If your trailer is unsecured and unattended then it is very easy to steal it and chances of the recovery of the trailer are very low.
Because unprotected trailers are easy to steal and sell. Therefore, you need to learn how to Lock a trailer due to the high chance of being targeted by the trailer thefts.
And once it is stolen, there are very low chances that you will get it back.
Even if you found your trailer, your valuable cargo will be lost for sure.
> You may also like:45 RV Accessory Must-Haves for Your Travel Trailer<<
If you are wondering what you can do to prevent this situation. Then hitch lock can a perfect remedy for this problem.
The cost of the hitch lock is nothing in comparison to the cost of your trailer.
There are many other types of locks available in the market that ranges from affordable to outrageously overpriced locks.
In this article, we will discuss the types of locks, how to lock a trailer and possible ways you can protect your more trailers from getting stolen.
Different types of trailers are given below:
You need to choose the trailer lock that will be suitable for yours. So, we have included 4 main types of trailer locks that will be useful for you to prevent the theft.
It is very common types of hitch lock that looks similar to Reese lock. It uses the hoop lock method to protect your trailer. It is quite similar to the U-lock system of your bicycle and motorbike. It is very popular but not very effective against theft. These types of locks are also very affordable.
Hitch locks are also very common but it provides partial protection to your trailer. If the security setup of your trailer is removed then it can be stolen.
You must protect the whole trailer because there are many valuable things stored inside the trailer. Thieves can steal the content of your trailer instead of the entire trailer. You should use a padlock on the door of your trailer to eliminate any risk of theft.
It locked up your trailer to make it immobilize until it is needed. This type of locks protects around the tire or wheels of your trailer to make it immobilized and provide extra protection if another security system is failed.
There are many models of trailer locks available in the market but we have included some best trailers locks that will provide you protection against the thefts. Some of them are given below:
> You may also like:Worst 5th Wheel Brands to Avoid <<
Let's check them out:
Trailer Hitch Lock Pin by Bolt:
It is a very good trailer hitch lock that will provide you good protection against thieves. However, it is an expensive product but its superior quality and higher protection make it worth buying.
Wheel Lock byDealkoo:
This type of locks is good for those who want to add extra security to trailers. But it does not provide good protection. So, you should not solely rely on this trailer. However, you can use it as a supplement lock with another wheel lock.
"Hockey Puck" MT5+ TR 100 Mul-T-lock:
It is a puck style and shutter style lock that makes it nearly impossible to remove. It can provide your trailer maximum protection and security.
Wheel Lock by Brahma:
Brahma is one of the most popular leading brands in the lock and security industry. These wheel locks by Brahma is another example of excellent designing and quality engineering. It should be on the top of your list.
Trailer Lock by Proven:
It is a highly robust and sturdy lock with great design. That is why it has a high ranking on our list. There is no comparison between this trailer lock and other locks. It is the best trailer lock you can buy in the market.
You should consider some factors before buying the trailer locks:
Quality of lock:
You should look for the poor–quality metal in the product that you want to buy. If it has aluminum and zinc metal parts then you should avoid it because these metals are malleable and fragile.
Size of the hitch:
The size of hitch is also an important thing to consider because it should be perfect for your trailer hitch for maximum security. You should look for customer reviews of the particular model of lock, whether it is compatible with the model of your trailer.
Don't get distracted by the popularity:
It is possible that the most popular trailer might not be suitable for you or not even a quality product at all. Some brands sell cheaper products with low–quality.
People buy these products as a cheaper option but they compromise with the security of their trailer. So, it is better to avoid these types of product.
Conclusion:
In the brief, a good lock is necessary for every trailer owner because every trailer is at constant risk of getting stolen.
If you know about the different types and designs of the trailer locks and how to lock a trailer, it becomes easy to find the perfect product for your trailer.
While you want maximum security for your trailer then should not buy cheaper low-quality products but only high-quality trailer locks from reputed brands. whether you choose the hitch lock or wheel lock, it should be a robust and quality product.
> You may also like: 25 Best National Parks in the USA  <<