5 Best Trailer Hitch Locks on The Market.
Your trailer is very valuable to you both financially and emotionally. Therefore, it needs to be protected from any harm. Be it, thieves that want to steal it or accidental detachment, a good hitch lock will help keep the trailer safe. Here we look at the best options.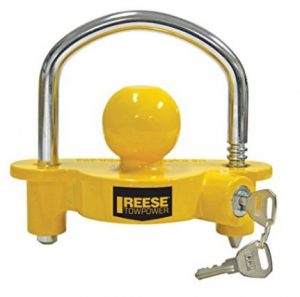 This lock's u-bar is made of pure steel which means it is very sturdy and will be serving you for a long time. It is not easily broken by heavy metal and will not be easily corroded regardless of the weather conditions. The yellow color is really lovely and screams safe' which will give you peace of mind.
This trailer hitch lock is compatible with different types of trailers and RVs. The installation process is very simple. The locking mechanism it has is the 11-position ratchet which is convenient and holds tight when locked. It is not easy to force this lock open.
Pros:
Highly rugged and durable lock
Resistant to rust and corrosion
Adjustable locking positions
Can never be broken by ordinary means
Accommodates different type of connections.
Cons:
Not as heavy as other locks.
Video Overview: Ramset vs. Reese Trailer Coupler Lock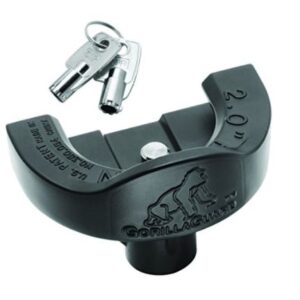 This lock not only has a unique design but great performance as well. Its working mechanism is very unique. The pin is inserted using the key after the lock has been slid into the hitch's tongue. The bar is made of solid steel which makes it very hard to cut through.
This lock offers maximum protection to trailers left unattended but for better protection use a wheel clamp.
Pros:
A single-action key for quicker and smoother access
Offers a reliable locking mechanism
Compatible with many 2-inch trailer couplers
Rugged and durable construction
Resist heat, cold, and moisture.
Cons:
Inserting the key on the lock is somehow difficult.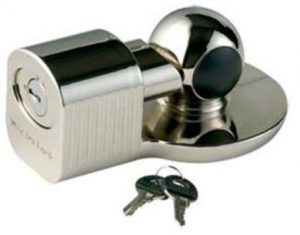 This lock has a nice chrome plating finish that gives its simple design a polished look. It can fit a wide variety of trailer sizes. It offers great support to trailers of different sizes thanks to its sturdiness. It can be used both when driving and when packing your trailer.
This lock is resistant to rust and corrosion. As for breaking and cracking, it will take a thief a lot of effort and time to open this lock. It is tough and very strong and will withstand high amounts of force.
Pros:
Resistant to thief prying and picking
Tough and rugged lock
Immune to rust and corrosion
Easy and smooth key access
Fits different coupler specifications.
Cons:
It cannot fit snugly to the socket (but it is still secure).
Video Overview: Best-Lock Ever for Securing Your Trailer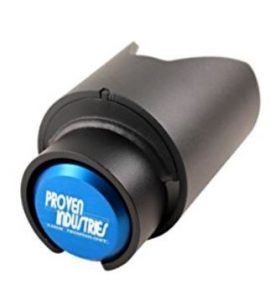 Among the most popular hitch locks in the world is 2178 by Proven Locks and that is not without reason. It fits in different kinds of boats and trailers with 2" and 1 7/8". It has great anti-theft capabilities. It cannot be cut through with a bolt and the strong steel construction has a black powder coating for beauty.
The lock is strong enough to protect the trailer from any damage while being gentle on the rim. It has a glove-like fit. As a plus, this coupler lock can be used to secure safety chains.
Pros:
One of the most rugged trailers locks today
Quick and simple installation
Provides a "glove-like" fit
Compatible with various coupler locks
Can secure your safety chains.
Cons:
No drawbacks except for its given expensiveness.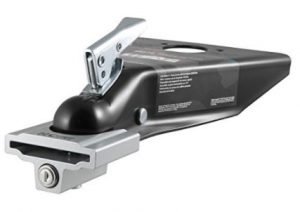 Strong aluminum material is used to make this lock and then a grey powder coating is used to finish it off. The lock looks good and is very sturdy. There are two keys that make using this lock very convenient.
With this lock, you will be able to keep a trailer, camper or boat safe when not moving it around. It will give it the anti-theft protection it needs. With this on your valuable trailer, you will have peace of mind.
Pros:
Industrial-grade aluminum body for maximum protection
Powder-coated for weather resistance
Accommodates both rolled lip and flat couplers
Impressive locking power
Prevents trailer ball from messing the connection.
Cons:
The installation process is a tad bit difficult.
Video Overview: Proven Industries Couper Lock Test, Best Trailer Lock
Related Post: 45 RV Accessory Must-Haves for Your Travel Trailer