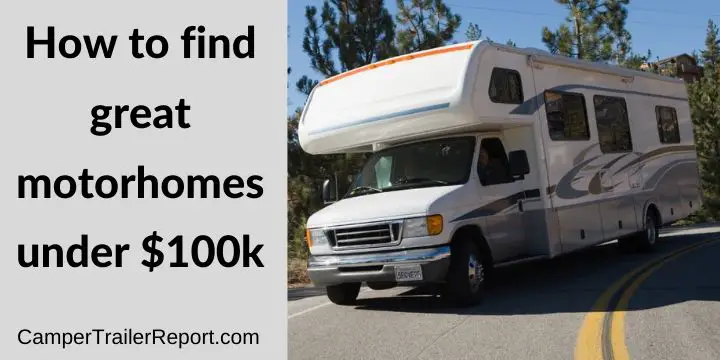 How to find great motorhomes under $100k
#1 – What is a motorhome?
A motorhome, commonly called a motorcoach, is a type of a recreational vehicle which offers living accommodation combined with a vehicle engine. It is like you're driving away with your home.
Owning a motorcoach is a big advantage. When traveling, you'll never have to worry about where you'll stay for the night.
Many people try to get out of their comfort zone and buy themselves a motorhome for traveling, and even for daily living. However, not everyone is willing to pay a lot of money for their first motorhome.
In this case, we will discuss how to find great motorhomes at an affordable price. And still, them to reach the requirements and all the features you need.
Video Overview: What is a Class A Motorhome?
> You may also like:45 RV Accessory Must-Haves for Your Travel Trailer<<
#2 – How to find great motorhomes under $100K?
There are two ways you can try on: online research or directly go to a specialized storefront. If you are located near to a specialized storefront, I suggest you look around. It's not necessarily to buy something from it, but you can take the experience of first-looking at motorhomes.
Another great thing about going to a storefront is that you learn about your preferences in this category. Most probably, you'll develop a preference for a certain class, size, or even color. Much more than that, you'll get a personal assistant to lead you to the best offers.
If you want a motorhome that's under $100k, he will show you all the deals he has. If you are lucky enough, you can even get a discount ( that's if you like a certain motorhome that exceeds your budget ).
The other method is to go online. After all, the Internet is the greatest resource when it comes to buying and selling. Here's where the magic happens.
A few common websites to search for a motorhome are RV Trader, RV Camping World, RV Universe, and General RV. Besides those, you can check websites that sell second-hand motorhomes and other extra features ( such as Gumtree, pplmotorhomes.com, and even eBay ). However, I guess a second-hand motorhome is not on point for a first-time buyer.
Luckily, these websites allow you to add filters. Which means you can see only the motorhomes that are under $100k. And so you can choose the color, the size of it, and anything that fits your needs.
> You may also like:Worst 5th Wheel Brands to Avoid <<
#3 – Top 3 motorhomes in 2020 that are under $100k.
After reading reviews and seeing what customers voted for, I can assume those are the best 5 motorhomes under $100k.
Coachmen Mirada. This one costs about $99,995 and is a class A motorhome. It has nice colors on the outside, and it is very well organized on the inside. It has an 8-person capacity. Unfortunately, you won't have space to dance in it.
Winnebago Vita. This one costs about $99,462 but you can find a greater deal if you look deep enough on the Internet. It has a smaller capacity than the other one, meaning you can only sleep 5 persons there.
Jayco Melbourne. This one costs $57,988 and is a class C motorhome. However, comfort and style are sure to be found, and you can make a sleepover of up to 6 people.
Video Overview: Coachmen Mirada 35LS – From The World's RV Show
Video Overview:  2020 Winnebago Vita 24P #33381 with Timothy Kerver!
Video Overview: 2019 Jayco 24LP Melbourne Prestige Diesel Class C Mini Motor Home
> You may also like: Least-Visited National Parks: Why They're Worth a Look<<