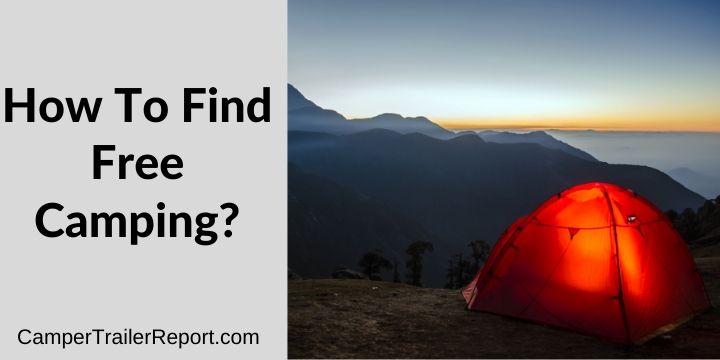 How To Find Free Camping?
A holiday is a time for adventure where people explore new places they had never visited before. During holiday vacation, you may end up spending too much on camping as some campground resorts may charge as much as $200 per night.
However, you can save all that money by looking for a free campground that will suit all your needs and still have a fantastic vacation. You can also find a free campground with ample space with amazing views and nearby natural beauty.
How to find free camping?
Basically, you should understand that not every spot is for free camping and therefore you should take caution before putting up your tent.
After you have discovered a public land that allows free camping, you should take note of the following things.
First, you should know the rules that govern the area. Most free campgrounds in the US allow a maximum of fourteen days camping on one spot. You should also pay strict attention to litter collection as your compound should ever be clean.
> You may also like:45 RV Accessory Must-Haves for Your Travel Trailer<<
When on free camping, some of the basic necessities like water, sewer, electricity, and bathroom may not be available as the camping spots are mostly in the undeveloped areas.
You should also consider the road to the campsite, some roads to free campground are extremely muddy and impassable for heavy RV. However, some small RV may manage some of these muddy roads, and therefore you should consider the way in relation to the size of the RV you are using.
You should call the regional office once you identify a bureau of land management spot where you can camp. The reason for calling is to be sure if they allow free camping and anything that may concern you as if the RV you use can fit.
Video Overview: How to Find Free Campsites!
Different types of free camping.
There are several types of free camping that you may consider the available and the most convenient one for you.
1. Public land camping.
Public land camping spots may include national forests, BLM among others, this is the best type of free camping as they allow all types of campers as far the law is observed. Public land camping may allow RV campers and tent campers to camp for free, which makes the camping more fun experience.
> You may also like: 25 Best National Parks in the USA  <<
2. Parking lot camping.
This may be applicable for travelers who want an overnight stop, and it may, therefore, be all about a single night before proceeding with the journey. Parking lot camping may include truck stops, rest areas, store's parking, among others. You should always seek permission from the relevant authority before you park your RV and spend a night at the campsite.
3. Free camping at wineries.
When traveling with your RV, you can spend a night at wineries for an overnight before proceeding with your journey, for the United States residents it is advisable to join a camping program that goes for only $44 per year. By being a member, you are allowed to camp for a night at different wineries in the US.
Never fail to go out for vacation due to inadequacy of funds, there are better alternatives for free camping that are all enjoyable and good as well.
> You may also like: Least-Visited National Parks: Why They're Worth a Look<<