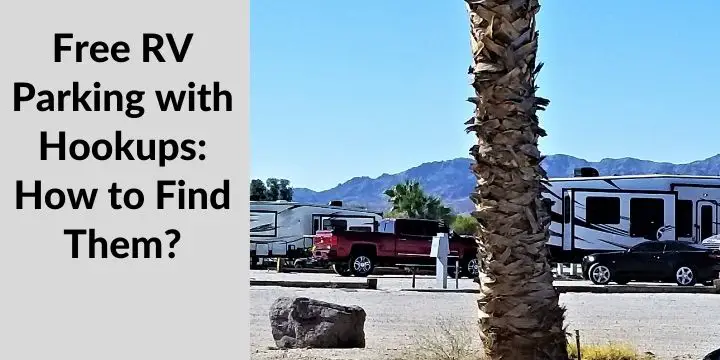 Free RV Parking with Hookups: How to Find Them?
RV camping is always fun and freestyle, being able to carry everything you need for camping and move from one place to another without hitches. All you need is a well-maintained and equipped RV, fuel, food supplies, and then hit the road.
While we have numerous RV campsites in the United States, finding one with free hookups can be daunting unless you know how to look for it. Some camping sites or campgrounds offer partial hookups, that is, water and electricity supply. Others provide full hookups such as sewer services, telephone lines, and television cable, especially in the deluxe parks. It all depends on the number of days you plan camping, your hookup requirements, and the location of the RV campsite.
In this case, if you want to know how to find free RV parking with hookups, here is your ultimate guide.
Research Before Hitting the Road
As stated earlier, finding free RV parking can be challenging, and searching for one while already on the road might be more frustrating. Therefore, before starting your trip, do your homework and search for campsites in your area or the area you plan to visit. Shortlist all those free campgrounds with hookups and call them to make sure they still operate this way.
You will find that most free RV parking comes with partial hookups, which you must consider if you are not ready to pay for additional amenities. However, it is better than nothing, being able to cool your RV during summer camping for free.
If you plan to stay for more than three nights, you might have to pay for hookups such as sewer services since the built-in holding tanks in your RV need to be emptied occasionally. Some campsites also limit free stays to one night only — confirm such details when you call them.
Video Overview: How We Find Free Camping, Free Water, and Free Dump Stations * Full-time RV Living *
Most-Likely Spots
In most cases, it is easier to find free RV camping at county parks and city parks — mostly found in small towns along highways rather than interstates. The main reason is that these towns want to draw as many visitors as possible for an economic boost. The visitors may have access to the RV campsites with free hookups, but they will also spend money on businesses in town — it is a win-win ending.
You will also find that most of these county and city parks are situated strategically near downtown business areas. While you will not be forced to buy anything from these businesses, the strategy works for any RV camper looking for free RV parking with hookups. Therefore, search for county and city parks in your area of interest — it will not take long before you find a free RV campground.
> You may also like:45 RV Accessory Must-Haves for Your Travel Trailer<<
Go for Casino Camping
Just like city and county parks, numerous casinos offer free RV camping for van campers and RVers. Free casino camping means you spend money in the casino while enjoying free RV parking. The only downside is that some casino campgrounds do not have hookups and other amenities, which calls for boondocking.
However, you may be lucky to find a casino with free partial hookups. For instance, most tribal casinos in remote areas and small towns offer these for free. Again, take your time and research before you play yourself, spending money on a casino only to rely on boondocking against your expectation.
Video Overview: What you need to know about FREE RV CAMPING at CASINOS
Other Alternatives
Suppose you do not mind the shortfalls of boondocking. In that case, you can opt for dispersed camping in fairgrounds, natural forests, store parking lots, or stealth camping. Some may have free hookups, especially water and electricity — however, this is rare with dispersed camping. It may not be the best deal, but it comes with free RV camping.
If they do not have hookups, choose any site with at least portable water and fill up your tanks. And if they have free dump stations and trash services, dump all your waste and trash accumulated to make your RV camping more contented. Take advantage of whatever amenity is provided for free, even if you cannot find free utilities. It is all about being creative and have fun while at it.
Video Overview: Free RV Parking with Full Hookup
Wrapping It Up
We will mention it again that finding a free RV camping with hookups is not a walk in a park. However, if you look at the right place, you might find some and enjoy your RV camping at a free campsite with hookups. The country and city parks are the best places to look, while casinos, parking lots, and dispersed campsites work well for boondocking.
> You may also like:Worst 5th Wheel Brands to Avoid <<