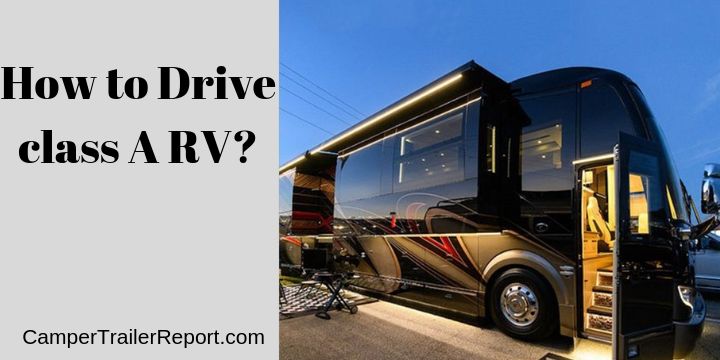 How to Drive class A RV?
A class A RV is a type of a motorhome built using durable heavy frames. It's also very long from front to the backside. It's a luxury vehicle that is designed especially for going out for camping since it still acts as the shelter.  As discussed in this article, here are some of the things you should know about an RV:
Driving in the mountains
There are some essential things to keep in mind, especially when you're driving a class A RV down a mountain like:
You must break the vehicle before you make a turn in a mountainous area. It is because the motorhome is more likely to roll over when it makes a turn at high speed.
You should also apply brakes properly when you're descending a hill. It helps to prevent your brakes from overheating, which will result in the brakes not working correctly.
You should expect weather change anytime in a mountainous area. When you are starting to ascend a mountain, it might be sunny, but as you get higher, it suddenly gets cloudy and stormy, so you have to drive slower with your light put on.
Keep a distance when following other vehicles
When you're driving a Class A Motorhome it's crucial to keep a distance with the vehicle in front of you so that in case of emergency braking, you might not collide with the car ahead of you since an emergency brake on a Motor might make the vehicle to roll over the cause of the weight on it
Don't be in a hurry while in traffic
During a situation when you're driving in a road with vehicles congestion, it's always important to keep a safe distance with the vehicle ahead of you since being too close to it may lead to an accident as other cars try to overlap you.
> You may also like:45 RV Accessory Must-Haves for Your Travel Trailer<<
You should know your side mirrors
You should first figure out what's the size of your RV. It will make you then adjust the mirrors of the RV so that they can show the expected view. There are convex mirrors located at the sides that make objects seem too far than they're actually in real sense. By using both side mirrors, you'll have an accurate view of the behind of the Motorhome hence helping you learn what's going on in the background as you drive your Motorhome.
Master how to use breaks
Class A RV uses airbrakes. Some of the things you should know when using this vehicle are:
The airbrakes take time to apply effectively. It may take you up to half a second for the air breaks for them to be effective following the depressing brake pedal.
For you to stop Class A RV it will take you a long time. Due to the weight of this vehicle, it cannot stop at once. Hence, the air breaks take time to stop the motorhome.
Air brakes sometimes leak. When a lot of air gets lost on the brake system, it automatically leads to brakes applied. So it's dangerous especially if you're driving at high speed can cause an accident
> You may also like:Worst 5th Wheel Brands to Avoid <<
Backing up a Class A RV
Another challenging thing that worries new drivers when it comes to operating a Class A RV is how to perform the backing up. Here is a step by step on how to accomplish this:
First, you should have a reflective tape as well as a tape measure.
On the front side of the pivot point of your Motorhome, measure 8 feet. The pivot point usually refers to the center of the Motorhome.
Having two sets of wheels whereby the front wheels are the ones that make up the pivot. Another name for the back wheels is tag wheels.
Conclusion
Do you need an answer to How To Drive A Class A RV? Well, you should be very keen when learning on how to drive a class A RV since they're very complicated vehicles according to how they've designed them. You should also acquire relevant licenses so as not to fail into problems with regulatory authorities.
> You may also like: 25 Best National Parks in the USA  <<