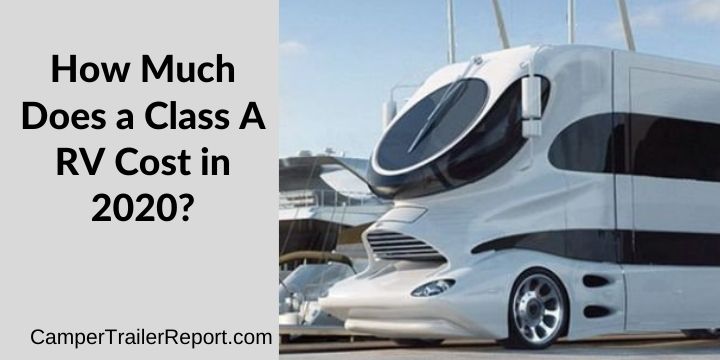 How Much Does a Class A RV Cost in 2020?
With COVID-19, there have been so many people that are looking for safe ways to vacation. An RV is perfect for this kind of travel. You can literally stay in your own bubble while scouring the country for sites you have never visited. Many people want to travel in luxury if they are RVing, and this is why they go for Class A. In the following article, we will be exploring how much a Class A RV costs in 2020 so that you have a better idea about what you're looking at.
Renting
Some people cannot afford a long term purchase. Others are just needing to rent to try out the vehicle first. When you're looking at renting a Class A, it can cost $175 to $225 a night. This is about the price of a good hotel, so people might see that the cost is worth it. Also, you can actually drive to your spot with an RV, so you will save on plane fees. Additionally, you will not put mileage or wear and tear on your vehicle if you simply rent. This is why many people opt for this.
> You may also like:45 RV Accessory Must-Haves for Your Travel Trailer<<
The Big Purchase
It's true that an RV is a major purchase. When you're looking to buy an RV in general, it can cost $10,000 to $50,000 a purchase. You can get used RVs too to help to downgrade your costs. A real luxury RV though that is Class A can actually be upwards of $300,000. For example, the Forest River Inc. Berkshire XLT Diesel 45A Class A Motorhome costs $280,041. This is literally almost the cost of buying a condo.
Video Overview: The CHEAPEST Class A Diesel Pusher You Can Buy in 2020
Doing Life in an RV
It's true that some people live in RVs nowadays, but you might find that if you want to make one an abode, then there are additional costs. For instance, the site that you park the RV on will cost money. In America, many Walmarts let you park in the lot overnight for free. However, do you really want to live your daily life out of a Walmart? Also, you will have to be worried about security if you leave your vehicle behind for any reason. Also, RVing means that you will need a source of water and to pump out your sewage. For this reason, many people opt for RV parks. The rent here is an additional fee, but you will get the amenities that you need to live.
Conclusion
If you are looking for Class A, expect to pay for it. You will pay the price that some people pay to buy new condos, or even higher than that. If you live in a specific state, you should also be aware that there could be license endorsement fees for your RV. However, expect that you will have comforts like TVs and beds in these. They can be quite cozy and a worthwhile investment for someone that can afford to have the luxuries that life presents them. Most people will have to settle for a lower class, but Class A's exist because people are buying them.
> You may also like:Worst 5th Wheel Brands to Avoid <<