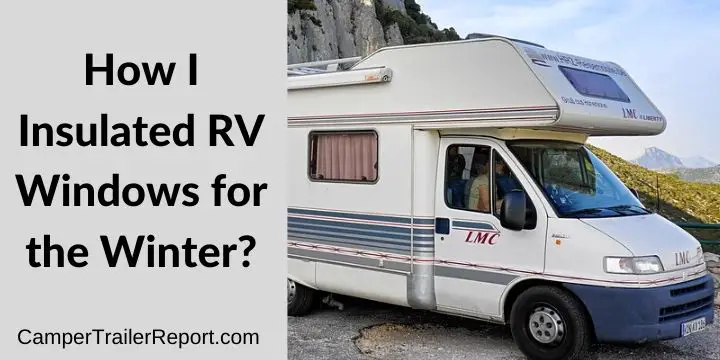 How I Insulated RV Windows for the Winter?
There is nothing as unfortunate as having poor insulation, especially during the winter season. Therefore, it is appropriate that you insulate your RV windows for the winter.
Many homeowners who have the RV usually ensure that they have a heater as well as an a/c unit; this means you have well-armed yourself for whatever will come around, be it winter or summer, you will still be comfortable. Note that when you insulate your window, it will enable you to have a temperature of your own choice in your RV.
Therefore, below are some practical ways on how to insulate your windows; these are:
Use reflectix
So, what is a reflectix? Well, a reflectix is a layer that has two reflective layers with polythene bubbles in between, which is a heavy-duty material. Before installation, make sure you cut it to ensure it properly fits the window, after that, make sure you add adhesive Velcro to its outer edge as well as around the window.
This will enable you to either move it down or up smoothly without any issues. The main challenge that comes with this kind of insulation is that no light will be able to penetrate in your RV, so you will be forced to make good use of your interior lights.
On the other hand, in case you need to either relax your body or have a nap, then the type of insulation is appropriate since it gives you that dark environment you need that particular time.
Video Overview: RV Living – Window Insulation REFLECTIX – How To Stay Warm in Winter
Mix and match
You can use a mixture of different materials until you come up with what suits you properly, either through the use of tutorials on varying projects. You can decide to use cardboard, reflectix, pillowcase, and a pillow; with this, you would have managed to get a thick insulator that will help you to maintain your temperature at a stable point.
If you cannot come up with something of your own through the implementation of creativity, you can as well purchase the ones which are already made. There are numerous companies, and all you are required to do is to send the companies your RV dimension, and they will have that fixed for you.
Note that this is going to be costly on your end compared to when you would have done it yourself, although it's an alternative in case you are held up, or you cannot manage to come up with something creative.
> You may also like:Worst 5th Wheel Brands to Avoid <<
3M window insulator
This is something that is already made for you, but you can fix it on your RV to save on cost. This insulator comes along with a tape, which is double-sided and plastic sheeting. So, first, you have to place your tape around your window, and after you are done, carefully stick your plastic sheeting on it. Please make a point of ensuring that you shrink your plastic sheet to enable it to tighten by the use of the dryer.
You may also like: 25 Best National Parks in the USA  <<
Bubble wrap
This is the cheapest method of insulating your RV window before you commence, make sure you cut your bubble wrap to the size of your window. Find a spray bottle, fill it with sufficient water, go ahead and spray your window and on the side of your bubble wrap. Afterward, press your bubbles wrap on your window and be assured it will stick on your window for as long as you would need it there. With this kind of insulation, you can get natural light in your RV that if you use a transparent bubble wrap.
Video Overview: Rv Window Insulation | How to stay warm and keep the cold breeze out of the RV
Styrofoam
You can use this type of insulation if you are careless about your RV appearance. They vary in thickness, making a difference in the level of insulation you achieve, but it all depends on your necessity. It comes with the challenge of being unable to let the light from out inside your RV.
Conclusion
Based on the above information, you now know how to insulate the RV window for winter. Therefore, it is appropriate that you try this out on your RV with the necessary knowledge mentioned above. It is not as difficult as you may imagine. Therefore, I hope this article will be of benefit to you, keep being informed, cheers.
> You may also like:45 RV Accessory Must-Haves for Your Travel Trailer<<