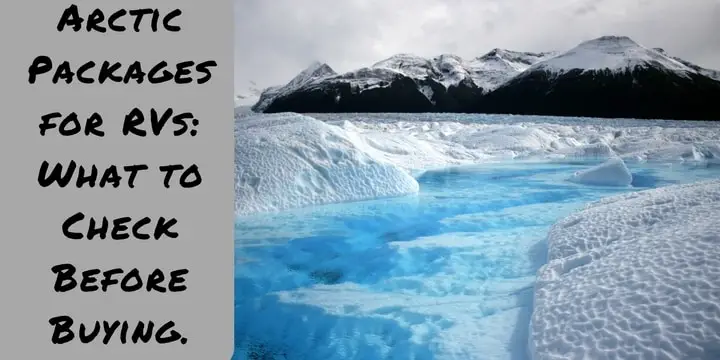 Arctic Packages for RVs: What to Check Before Buying?
It goes without saying; having an RV out during the winter is not as easy as during warmer climates. It is for this reason that most people, at the onset of winter, choose to do one of two things: winterize their RVs and store them for the season or head out south.

The third option is set aside for us snow lovers who easily and happily succumb to the charm of cold weather. Winter camping can be a handful, to say the least, and those who have tried it know this all too well. For starters, you need a four-season, all-weather RV that handles the cold of winter, the heat of summer, and everything in between.
An online search of "four-season, all-weather RV" will result in a lot of motorhomes, campers, travel trailers, and toy haulers. And there is no saying with certainty that all those results deliver on the claims the manufacturers make. As such, it is important to do your homework properly before purchase, lest you regret that decision for the rest of the winter.
Below are tips that will help you choose the best RV with an arctic package.
1. Manufacturer
You only have one shot at this so you should try your best not to go wrong. Generally, manufacturers are of two types: the reputable, and the less reputable.
As a first step, you should do in-depth research on the manufacturer. Go to their website and read through, checking reviews of people who bought the same brand. This will give you some form of certainty that you are purchasing a good product.
Here is the list of the most popular RVs that include arctic packages:
Video Overview: Forest River Hyper Lite: All-Weather Winter Package Floor Insulation
2. Features
This, like any other lifetime investment, is something that you need to check out physically and in person. You should physically inspect it, in and out, looking for features that may disqualify it as four-season RV.
3. Insulation
Insulation in an RV should not be taken lightly. Make sure the RV is more than adequately insulated. Everything should be insulated from floor, walls, and ceiling to tank warmers. If you find the insulation on one of these is missing, move on to the next manufacturer. There is no provision for error.
Video Overview: 2019 Ice Castle 17 RV Hybrid with Hydraulic Lift and Arctic Package!
4. Insulations' R-Value
The R-value is the level of thermal resistance that the insulation offers. It increases with an increase in insulation. For winter camping, you should ask the manufacturer for these details before making a decision. Most sleek-looking RVs have relatively low R-value.
5. Warranty
Continuous exposure to cold may contribute to having your vehicle fail. To save yourself a lot of effort, time, and money, your RV should come from a reputable manufacturer. For example, Starcrafts includes in their artic package a limited warranty good for 2 years. My recommendations are that you should also have a general warranty for your RV that covers the following:
Plumbing trouble
Mechanical failure
Axel breakage
Blown tire
Related Post: How much does travel trailer insurance cost?
6. Underbelly
Having an underbelly that even is slightly exposed could freeze you out. Since it is part of your arctic package, you should ensure that it is there.
If you already have an RV with an unsealed underbelly you should buy woven, waterproof underbelly material.
7. Accessories
Even though the possibility of still feeling cold after using the above six steps as your checklist is almost nil, there is no denying it. You should stock your RV with additional accessories such as:
RV skirt – It is a special material that you can wrap around the RV including the wheels
Dehumidifier – Prevent dampness and moisture to get in the RV.
Electric space heaters in case you need them – which can warm up every room very fast.
Video Overview: RV Test 8 Hour Arctic Cooler, Will It Work?
Final words
The arctic packages vary from brand to brand. Some brands throw in some extra perks, while others do less. As such, following this checklist will ensure that you have the best RV for your wintry adventures.
Related Post: 45 RV Accessory Must-Haves for Your Travel Trailer
Arctic packages Related Questions:
What is the RV Arctic package?
These are RVS that come equipped with what is known as an arctic package which includes heated basement compartments, sizable furnace wall insulation, and floor and dual pane windows, for starters. Some manufacturers made out to add some important facts that are additional and bring more comfort to the user while traveling while others May throw less.
These recreational vehicles with an arctic package have at least heating pads on the water and holding tanks and sewage drains that turn on automatically without a touch of a finger when the temperature gets below freezing.
Video Overview: How ARCTIC FOX 5TH WHEELS and TRAVEL TRAILERS Are Made ?! | FULL FACTORY TOUR
Can you add an Arctic package on RV?
Of course, yes, you can add an active package to your recreational vehicles since it just entails equipping your recreational vehicle with a sizeable furnace, heated basement compartments, wall and floor insulation, and pane windows, for starters.
It's just as simple as that, and if recreational vehicles become more comfortable and attractive for her picnic, you can imagine going out with your recreational vehicles in cold weather. Now it seems much easy as it has its regulated temperatures.
What is an extreme weather package on RV?
Extreme weather package includes 35000 BTU furnace which is heated and enclosed underbelly. I've got black fabric-type material under plastic cardboard and no insulating value for the recreational vehicles with the extreme weather package. The RVs have got shiny bubble wrap and a furnace duct blowing into them. When choosing a recreational vehicle or while at the market, you have to consider the weather conditions of the places you will like to visit.
What is the best RV for cold weather?
The Windjammer 3008w travel trailer is one of the best travel trailers to use during the cold weather, all for extreme winter camping. The campus is also good for beginners and both experienced ones. Windjammer 3008w travel trailer has got enough room that can hold up 25 campers thanks, it never disappoints.
Features that make it be the best include the floor the ducted furnace, heated mattress in the master bedroom area, electronically controlled heated holding tanks, 45-gallon freshwater tank, fireplace upgrade, thermopane window upgrades, insulation across the whole trailer, vent cover, and Maxi air ventilation fan, 45-gallon black tank and a 75-gallon tank.
Video Overview:  2013 Forest River Rockwood Windjammer 3008W travel trailer walk-around tutorial video
Is there a 4 season RV?
Of course, there are four seasons always in the market. This fall season, recreational vehicles have better sidewalls and roofs, enclosed and insulated holding tanks, and ceiling insulation. Insulation is the most important feature that you will consider when choosing a four-season recreational vehicle since it keeps the vehicle warm all through the winter season.
One could be asking themselves what or how does the four-season trailer look like. The trailer has pex pipes, hatch cover wall and ceiling insulation, wood furnace, heating ducts heated enclosed underbelly thanks.
What is the best 4 season RV?
Four-season travel trailers seem to be the best option for you if you are willing to secure one for the family. The four-season trailer means that it's an all-weather season trailer. Lance travel trailer is one of the best four-season trailers that you may consider. It is a great brand for beginners and for those who are experienced with travel trailers.
The recreational vehicle has got dual pane windows and also advanced ducted heating. A water heater is contained by the ducted heating together with a winterizing valve.
Furthermore, the recreational vehicle has insulated hatch covers and heated holding tanks that bring out hot water when needed. The water heater keeps the valves, system, and the pex lines warm all through.
Related Post: 7 Best 4 Seasons Travel Trailers Under 6,000 lbs