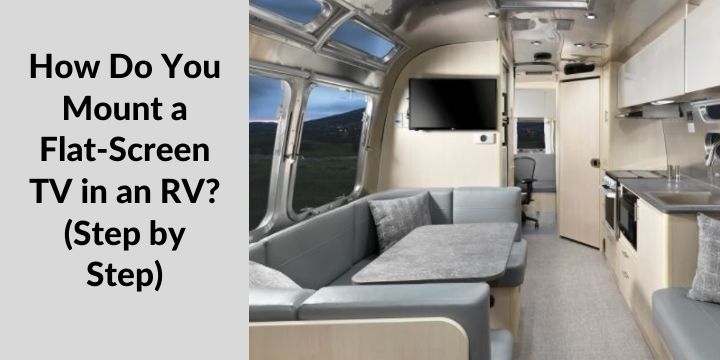 Mounting a Flat Screen TV
Now that you have bought that new TV you always aspired for, how do you plan to mount it on the wall? It is best to find the right place to mount your TV before immersing yourself in watching your favorite shows and movies.
Mounting your TV comes with a lot more benefits.
Improves picture visibility
Saving space
Enriching home décor
How Do You Mount A Flat Screen TV In An RV? Step By Step Guide
Mounting a TV on a wall is highly dependent on where you want to mount it.
Here is a synopsis of the whole process:
Find a good position for your TV on the wall.
Locate the wall studs
Drill the pilot holes
Install the mounting bracket on the wall
Connect the mounting plate to the back of your TV
Connect the mounting plate to the TV mount
Lastly, hook up your TV to a satellite dish or the RVs antennae
Video Overview:  How To Install a Lockable TV Mount in an RV ? Quick and Easy RV TV Mount
Can I use any flat-screen TV?
Flat screens are slimmer, lighter, show clearer pictures, and consume less power. Most flat-screen TVs are less prone to noise and distortion, have bigger screen inch sizes, and have better screen resolution.
So is there any way you can use any flat-screen TV? Yes and no. You need to consider certain factors if you want a unit that lasts long and that is compatible with your RV. Here are the elements:
Type: Specialized RV TVs have strengthened internal parts that ensure they are firmly secured to the mount and reduce vibrations damage. It is critical if you happen to pass through bumpy roads, which occurs at times. The TVs can handle vibrations, shock, and extreme temperatures.
Size: RV interiors have scarce space. Therefore a huge TV may seem out of place. It is always good to constantly pick and measure the potential spot for your TV before purchasing one. We recommend you prefer an RV TV-sized between 19 and 40 inches.
Power consumption: The types of TV you buy should fit your power options. For instance, purchasing a 12-volt TV is convenient than a 120-volt model. It is because the former can plugin with no external hardware.
Weight: The overall weight is a crucial determinant when you are choosing a TV for your RV. RV's studs are not made strong to support heavier TVs. It is essential to prefer a flat-screen TV that is light in weight.
> You may also like:45 RV Accessory Must-Haves for Your Travel Trailer<<
Can You Use A Regular TV Mount In An RV Or Camper?
You can make use of a regular mount that is well-suited with your TV. It would help if you always kept in mind that some options perform best under factual circumstances. There are different types of TV mounts. They are as listed below:
Fixed mounts: They take up the least space since they have a loser placement on the walls. They are a good choice if you are sitting directly in front of your TV.
Tilt mounts: They provide vertical angle adjustments. Most models tilt between 8-20 degrees.
Adjustable mounts: These mounts permit you to expand them outwards for a comfortable view.
How Big Is The TV Backer In RV?
If you are all set to mount your TV, you may wonder about the size of the TV backer plate. Size varies. A TV backer will usually be 12" by 12". Sometimes, they are a little bigger to 18' or 24".
> You may also like:Worst 5th Wheel Brands to Avoid <<
Is It Safe To Mount A TV In A Trailer?
Mounting a TV on your trailer can be possible, like doing it at home. However, the mounting requires you to be familiar with the wall materials, width, and the type of studs within the walls. It is because most wall materials do not support the weight of a TV.
In such a scenario, use hardware recommended by TV manufacturers.
Video Overview: How to Install a TV Mount on a NEW Travel Trailer Camper with Paper Thin Walls + Thought Process
What Is The Best Way To Get TV In A RV?
There are three options that you can use. You may prefer to use a cable satellite or antennae.
You may also use a combination of these methods depending on your budget and travels.
Can You Put Screws In RV Walls?
It is pretty risky to try and install nails or screws on RV walls. Why? RV walls are designed to be thin, and hard to know where to hang items. It is also best to avoid hanging heavy objects on your RV walls.
How Much Weight Can An RV TV Mount Hold?
RV TV mounts can hold a maximum weight of 30 pounds.
> You may also like: 25 Best National Parks in the USA  <<