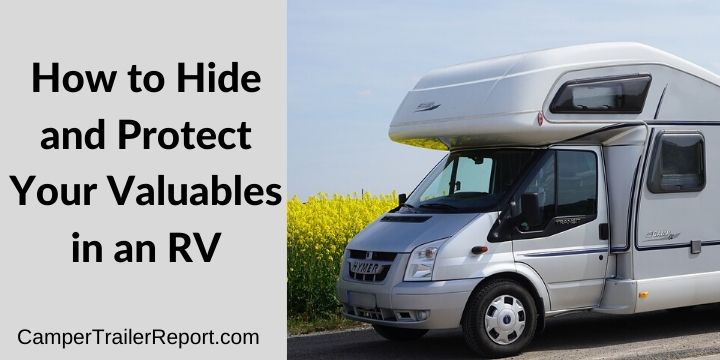 How to Hide and Protect Your Valuables in an RV
In less than 30 seconds, a thief can break into your RV and go away with your valuables undetected. RV has a relatively weak deterrent lock that makes it easy for anyone to break in. It is, therefore, necessary to take extra measures to keep your valuables safe in an RV.
How can you safeguard your valuables in an RV? You might be having significant money, your watches, jewelry, or relevant documents on your trip, are they safe?
The first thing that comes to your mind is how you are going to protect them from theft, fire, and even water damage.
Protection from potential theft
If you aim at protecting your valuables from any form of theft, we have various ways to employ, we have a reliable idea and high places share you can protect your treasures. Here are the best trinkets and methods to hide your valuables in an RV.
1. Locking RV safe
A traditional RV safe is your first choice if you want to have a common deterrent that has a locking mechanism. It is one of the best ways to secure your RV from the wall of the floor. It is 7" wide and 20" tall with a small footprint and with enough space to hang all your closets.
> You may also like:45 RV Accessory Must-Haves for Your Travel Trailer<<
2. Hallow book safe
This is the oldest way to store your valuables in a book. This trim works up to these days. A book is perhaps the last place a thief will look. In most cases, they don't think you might hide your valuables there.
3. Stash hairbrush
You can keep thieves keep wondering where you have stored your valuables by storing them in a hairbrush. A hairbrush is a perfect way to store your valuables; it comes with an open compartment that is accessible on the end where you can confidently store your valuables.
4. Candle with compartment
Candles are the most important accessories for any room. A plain sight stash Candle has a storage compartment where you can confidently store your items. It can be accessed from the bottom.
5. Canned goods
You can also store your valuables with canned goods to keep thieves guessing. A thief will not spend a lot of time searching through your canned peaches and beans. A hollow can that has a screw off bottom offers a perfect place to hide some goods in your pantry.
> You may also like:Worst 5th Wheel Brands to Avoid <<
6. Bottle of water
Nobody will be bothered to still a bottle of water. You can crack the seal of your bottle and leave your water bottle half empty. We have special designs of water bottles that have a screw of bottom that exposes the upper part section under that storage label.
Protection from fire and water
Apart from thieves, water and fire outbreak are the other things that can destroy your valuables when you are on an RV trip. You can protect your valuables against fire and water by;
Briefcase RV safe
This is a small briefcase style safe; that is the best option for protecting your valuables against water and fire.
These are the ways you can use to hide and protect your valuables in an RV.
> You may also like: Least-Visited National Parks: Why They're Worth a Look<<