Best RV Covers: What to look for when choosing an RV cover.
When parked after the holiday season is over, your RV needs to be protected against damage from the harsh weather elements which might damage it. Given their sizes, it is almost impossible to store an RV in your garage together with your personality so chances are it will most likely have to be parked in your driveway.

Some people opt to leave their RVs uncovered but this exposes them to dirt, rain, and sunshine which deteriorates the conditions of the RV, its lifetime and will require a more thorough cleaning and preparation for the next use tarpaulins which are cheaper than RV covers but are abrasive and since they are meant to be used to cover RVs, they will scratch and damage the RV's exterior.
Video Overview: How To: Protect Your RV During The Winter With an RV Cover
Furthermore, they trap in air moisture that can lead to rust and a moldy exterior. For the best protection for your RV, you should use an RV cover.
The best RV covers are specifically designed to protect against rain damage, dirt, and paint peeling or fading. There are universal RV covers but you have to know the length of your RV so they fit snuggly.
Here are the best RV covers on the market today.
1. Classic Accessories Pro 3 RV Covers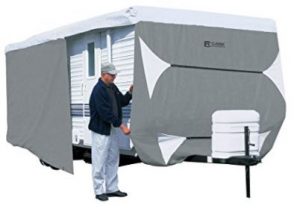 The OverDrive PolyPro 3 made by Classic Accessories is a luxury RV cover suitable for both travel trailers and toy haulers of length between 8 meters and 10 meters (27 feet to 30 feet) and a height of up to 3 meters.
Made from a sturdy material, this travel trailer cover is well ventilated to prevent moisture and air build-up and comes with reinforced elastic corners for durability and a snug fit.
The package includes fasteners to secure the cover onto the RV and a warranty of up to 3 years.
The PolyPro 3 has three layers of weather-resistant protection cover for your RV and comes with zippers for easy entry into the RV when parked.
RV owners have the option to upgrade this cover with additional accessories such as wheel covers and a tongue jack cover for an additional 31 dollars.
Video Overview: RV COVER HOW TO
2. ADCO Aqua Shed RV Covers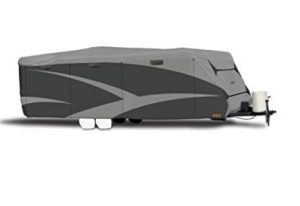 The AquaShed RV cover from ADCO comes with triple layers for extra protection against UV damage, paint degradation, rusting, and weather degradation.
It's recommended for those who want to protect their RVs against moisture build-up which leads to molding and the exterior of the RV fading. This prevents the formation of black streaks. Featuring zipper panels, this cover allows the owners to access the RVs interior and engine without much hassle.
The AquaShed is built with sufficient ventilation which allows wind to escape and stops billowing. It comes with a warranty of two years and is suitable for RVs of 10 to 11 meters in length and 2.5m in height.
Additional wheel covers come at an extra cost.
Video Overview: RV COVER TIPS to Make It EASIER
3. Classic Accessories PermaPro RV Covers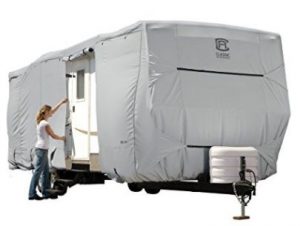 This is a top-of-the-range luxurious TV cover and a contender for the best RV cover for those who value style with extra layers of protection.
The Perma Pro series features a reinforced fabric for added durability and is water-resistant while still breathable to allow for proper air circulation and comes with a warranty for life.
Quite light than other RV covers in this list, the Perma Pro is packed in a portable bag and has straps for secure fastening of the cover onto the RV body.
This cover is penalized for easy entry into the RV. Additional accessories such as wheel covers will set you back another $50.
Video Overview: Good or bad idea to use total RV cover in hot summer months?
Related Post: 45 RV Accessory Must-Haves for Your Travel Trailer
RV Covers: Related Questions:
What is the best Class A RV cover?
If you are shopping for the best Class A RV cover on the market, you want to choose the ADCO Designer Series cover. This cover comes in six sizes and is machined from non-woven fabric, DuPont Tyvek material to protect your RV even in the toughest conditions, including ultraviolet rays, wind, water, debris, and dirt.
Are RV covers worth the money?
RV covers are worth every coin. They are great in protecting your RV, especially if you don't have a garage or any coverage to protect your RV against tough weather. And because they are affordable, it is good to buy one for your RV.
Video Overview: SHOULD YOU USE AN RV COVER?
What should I look for in an RV cover?
Quality is the number one factor to look for when shopping for an RV cover. A good cover features vents that ensure they are resistant to trapped air and wind, which may cause tears. Another important factor is fit. The cover should fit your RV enough to protect it from hard weather conditions.
Do RV covers cause damage?
RV covers may cause damage to your trailer or RV if they are not tight enough. They may flap in the wind, letting Moisture penetrate underneath or cause precipitation in different parts, eventually damaging your RV.
>> You may also like:How To Insulate an RV Underbelly? In 5 Easy Steps.<<
Do RV covers cause mold?
Not necessarily. Most high-quality RV covers are waterproof but still designed to breathe. If it condenses under the cover with no escape, Moisture provides the perfect condition for mold to breed.
Video Overview: Why you should not cover an RV with a blue tarp
Should I cover my RV in the summer?
It would be best to cover your RV against sun damage in summer using a waterproof, breathable, anti-ultraviolet cover. This will protect your RV from harmful UV rays and prevent seal damage. Interior temperatures can go up to 27 degrees Celsius, and repelled sunlight translates to cooler interior and exterior.
> You may also like:How to winterize RV without antifreeze? <<