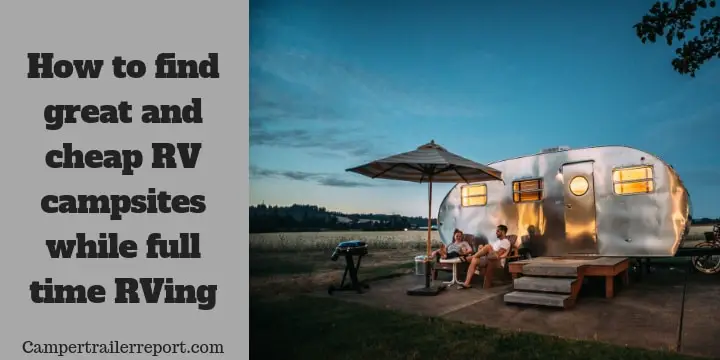 How to find great and cheap RV campsites while full time RVing
Finding cheap and stunning RV campsites is additional happiness when traveling in an RV full-time. RVing makes you see nature at first hand and interact with it.
Whether it is those sandy beaches, clear view of desert sand dunes, mountains, and other natural landscapes, you will have access to different campsites.
However, finding the best one can be overwhelming. Also, you may find that some of them have no amenities as they are operators are advertising them.
That's why we are here to assist you in finding stunning and cheap RV campsites when you are not on the road.
Resources of finding the perfect RV campsite
After determining your length of stay, proximity to resources, budget, and your style of camping, you can access the best places that suit your needs. You can get suggestions from friends or people who used
the services before. But how do you get strangers to share their experience? Find out more below.
RV websites
Search for campgrounds, resorts, parks and more from different websites: the compendium, good sam, casino campers among others. Just search "RV websites" on Yahoo, Google or Bing to find out more about their services.
RV Clubs
There are many affordable and amazing clubs that you can join a little annual fee. They also have great parks and discounts for their members. You can search for them online, and you will be guaranteed full satisfaction
that will give value to your money.
RV app
There are numerous RV apps that you can download to use with your smartphone. Choose an app that not only gives you the best RV campsite but also shows you its location with an interactive map. Most famous apps are easy to use and can be found by searching on Google.
> You may also like: 20 Best RV Apps for You <<
RVer Chat groups
There are different people who share their experience with social media camping group members such as Facebook.
It gives you a platform to talk to real people giving helpful information on different routes and campgrounds.
Sharing of videos and images is also allowed which makes it easier for personal decision.
You may also like: Which RV Memberships are best to Join? <<
Tips on how to find a stunning and cheap RV Campsites when full time RVing
It is obvious that the online adverts and sellers may offer inaccurate information – leading to disappointments. The best way to have confidence in the service provider is to do the following:
Call ahead
Almost every dealer will give contact information. Use the traditional call method to discuss your requirements and other details.
This opens an interactive session of questions and answers to guarantee you the best accommodation and other facilities. It also makes them preserve your booking and plan for your stay.
Learn from the Reviews
When you get an appropriate RV campsite, search their blog posts and learn more. You can read the customers feedback and scroll through pictures to have a clue.
Make a reservation immediately
There are high chances of getting expensive and less attractive campground when traveling in an RV.
The best thing is to make your reservation as soon as possible since finding a vacancy is still critical. Additionally, inquire whether there is a refund policy in case the place is unappealing or too crowded.
You should not assume that most parks, resorts, and campgrounds will be as pleasing as they appear in images; and that you are guaranteed your money back. However, if you follow all the above tips, you will have access to the best RV campsite near you. Happy RVing!
>> You may also like:Gas vs Diesel For Towing a Fifth Wheel?<<
Related Questions:
Free RV camping books
Before you can book a campsite in America you must first have arranged a number of other things. First of all, you must, of course, have booked a 'recreation vehicle' (RV) or a camper. After all, your departure and arrival point will determine a large part of your route.
Of course, you can outsource the complete organization of your camper trip, including booking campsites in America, to the travel organization.
Return and pick up your camper
The best RV parking in America book
Determining for which RV campsites in America you book are the pickup and return address of your camper rental. After all, they determine the route you can drive.
You do not always have to hand in your camper at the same address where you picked it up, but that costs extra.
Only then is your route more flexible. You can book a motorhome in America at WorldWideCampers, Travelhome, Tenzing Travel, ExperienceAmerica and America plus.
You also need to know what type of camper you will be getting on your motorhome trip through the USA.
Many RV campsites have special locations for long, extendable motorhomes, or for smaller motorhomes.
You also need to know which power connection your camper has: 30 Amp or 50 Amp. That's what it's good in the booking information for your camper.
The size of the camper is also important because on some campsites in America you can only book a 'back in' place.
For example, this is often the case on smaller campsites in national parks. You often have to park backward in parking places on the camping sites between the trees.
That does not always happen with a camper that is more than ten meters long. At campsites, with 'pull-through' places you can simply drive straight up and down your motorhome.
>> You may also like:Worst 5th Wheel Brands to Avoid <<
Tips for booking a campsite in America
Rent a camper with navigation or take one from home. Always take a road map with you.
Request ESTA declaration
You must also request an ESTA statement in time. That is electronic permission to enter the country. The American Customs and Border Protection itself speaks of a 'permit'.
Normally you get that permission within 72 hours, but if you are rejected, you can always apply for a visa. Only that will take a week or six quickly, so submit your application in time. Without an ESTA statement, you simply will not enter the country unless you are an American citizen. In fact, you probably will not even take the plane to America. Finally, you must have a credit card, because many American campsites must be paid in advance or even prepaid. But without a credit card you can not start much during a camper trip in the US anyway, so you do need it anyway.
RV campsites in national parks
Once that has been arranged, searching and booking of campsites in America can begin. If you are planning a trip during your camper trip, take a look at the recreation.gov site.
On that government site, you can book 'campgrounds', the best RV apps but also excursions in National Parks and National Forests. You can book individual campsites in America. But via the 'Build a trip' tool you can also compose a complete round trip via a drag-and-drop menu.
Camping in State Parks or National Parks often means only water supply or no facilities at all. So make sure you have everything with you. Also, cash, because in many parks you have to register at the entrance by putting money in an envelope and putting your name and license plate of your camper.
Do you want to go to Yellowstone or one of the National Parks than pre-booking is not a luxury because there are a limited number of places where you can camp permanently? By buying a parking pass at the first National Park that you visit allows you to enter almost all other national parks. Also read: In 48 hours with the camper through Yellowstone National Park.
Campsites with cities in America
For campsites in or near cities in America, you can type in a search directly in Google, for example, 'RV campground Salt Lake City'. The omniscient search engine then spits out a ticket with all the campsites in the city or state you specified.
The rating is also included. You can then book directly at the campsite. First, use the handy Streetview function from Google. You can then take a virtual look at the campsite, although photos may be outdated.
There are campgrounds in America that mainly house long-term campers and permanent campers. And let's be honest, you do not want to end up on the American version of Fort Oranje. So read reviews before you book.
> You may also like:How To Prepare Your Truck for Towing: 9 Important Tips<<