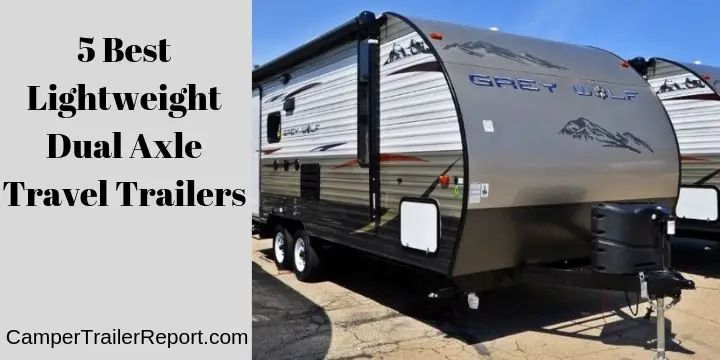 5 Best Lightweight Dual Axle Travel Trailers
If you are thinking to buy a lightweight travel trailer then you should ensure that the weight of the travel trailer should be under 5000 pound Gross Vehicle Weight Rating because there are many trailers available that come under the 5000-pound category but it is dry weight and when you add cargo on them.
The overall weight will increase. However, you can still choose many lightweight dual axle travel trailer that comes under 5000 GVWR range.
Let's check out the top 5 best lightweight dual axle travel trailers available in the market.
1. KZ Sportsmen Classic Travel Trailer
The floor plan of Kz sportsmen is very lightweight especially sportsmen 150BH and sportsmen 130 RB. You can also choose from 7-floor plans. Despite lesser length in comparison to RVs, This trailer doesn't compromise. It includes power awning feature, air conditioner(8000BTU),furnace(20000BTU),and 6.5"*2 speakers. You can add more stuff to it.IT is a feature-loaded product that makes a top choice lightweight dual axle travel trailer.
Unique features:
7 varieties of floor plans are available.
It comes with a 12-year warranty
Alum tough roofing
Air conditioner (8000BTU)
Furnace (20000BTU)
Solar prep
Speakers2. Forest River R-Pod travel trailer:
2. Forest River R-Pod
It is one of the most popular trailers available in the market. It's the super lightweight trailer that comes with 9 different layouts and an underweight 5000 pound GVWR. It comes from 18 to 20 feet long-range that provides users with maximum space for living and sleeping. It is suitable for 4 people.
Unique features:
9 varieties of floor plans
Electric brakes (self-adjusting)
CO, LO, and smoke detectors
Hardwood and ball-bearing drawers.
Speakers.
Safety glass tinted window
> You may also like:45 RV Accessory Must-Haves for Your Travel Trailer<<
3. Clipper Ultra-Lite travel trailer
Coachmen Clipper series is already popular among RVs lovers but if want a lighter version that can be towed very easily then the Clipper Ultra-Lite travel trailer is for you. It offers you plenty of space instead of being lightweight. It offers users plenty of features like walnut cabinetry, residential countertop,13500 BTU air conditioner,20000 BTU furnaces that maintain the temperature of a trailer in any season like summer or winter.
Unique features:
13 varieties of floor plans are available.
100% residential type linoleum
Furnace (20000 BTU)
Safety windows (tinted)
Skylight over bathroom
Rear and front diamond plat protection.
Video Overview: New 2021 Coachmen RV Clipper Ultra-Lite 18RBSS at Beckley's RVs
4. Keystone Passport travel trailer
It is a compact small travel trailer that allows users to travel with ease. It offers users all the features that any other trailer can offer in this list. You can upgrade it to a new level and add various new features. This makes it one of the best available small travel trailers in the market.
Unique features:
31 variety of floor plans available
Exterior pass (lighted) via storage compartment
Oversized sink with the cover.
Video Overview: 2020 Keystone Passport 2210RB | Travel Trailer – RV Review: Camping World
> You may also like:Worst 5th Wheel Brands to Avoid <<
5. Stream Vista Cruiser travel trailer
If you want a long trailer but with a very low weight then this one is made for you because it offers users the best weight to length ratio. It is well equipped and constructed .you can also add 3 burner oven, home theatre, LED T.V and other stuff as an expansion.
Unique features:
10 variety of floor plans available.
Safety widow (black tinted)
Laminated countertops
Power Awning
Medicine cabinet with the mirror.
LED lights on every door bottom line: In the brief, lightweight travel trailer is very easy to handle and affordable for users. That is why it becomes the first choice of RVs lovers who wants to travel with ease.
Video Overview: Can-Am RV Centre – Gulf Stream Vista Cruiser 19RBS
Lightweight trailers are now available with exciting features that make them more attractive.
If you want to buy one of these trailers. You should first think about your needs and demands and then try to choose the best suitable lightweight trailer for you.
Related Questions:
What travel trailers are the lightest?
One major factor to weigh upon while in the market for an RV is the weight of the unit. Although purchasing a travel trailer will automatically warrant the purchase of a tow vehicle, it is not much of a necessity.
There is some lightweight Dual Axle Travel Trailer available in the market that features ultra-lightweight characteristic for users who would like to use their current vehicles to tow their camper or those who would not want to spend a lot hiring a tow truck. This category of trailers include:
TAXA Outdoors Tigermoth travel Trailer
Forest River Rockwood Geo Pro
Joyco Hummingbird
Forest River Flagstaff E-Pro
Aliner Ascape
Can you add a second axle to a single axle trailer?
If you want to add a second axle to a single axle trailer, you can do so, but there are a few things which you should consider.
Adding a second axle will double the axle capacity of your trailer, but the frame and the coupler will remain with a single capacity, and this will cause an imbalance in the functionality of your trailer.
Confirm with your trailer engineer if the frame in your trailer has the ability to support the extra load.
Video Overview: Single axle or tandem… Whats the best trailer for your Jeep Grand Cherokee
Is a twin axle caravan easier to tow?
Typically, a larger and heavier twin axle caravans are easier to tow because they are more stable than single axle caravans.
Maneuvering them when returning to storage or when pitching a site is the real task. The shape and size of the trailer will also factor in.
You may also like: 10 Best Travel Trailer Towing Tips <<
Do trailer axles have a bend?
Trailer axles typically have a bend which helps to compensate for the vertical load that they bear so that they can still have the proper wheel chamber.
This ensures that whenever weight is loaded, the axle flattens out and the wheels are correctly aligned.
What is the most expensive travel trailer?
It goes without saying that the most expensive trailers also more than worthy of being described as premium travel trailers.
Today, luxury travel trailer shopper are spoilt for choice since there are very many available in the market.
The most expensive travel trailer at the moment is the Grand Design Reflection Travel Trailer.
If you can open a dictionary right now, this travel trailer fits the definition of grandeur.
It features a total of five-floor plans to choose from, an unloaded weight of almost 9000 pounds and a sleeping capacity of up to ten people.
This series travel trailer is an excellent example of the combination of style and substance.
Video Overview: This Luxury Travel Trailer Is Nicer Than My House!
What is the average weight of a 24-foot travel trailer?
In average, a 24-foot camper trailer weighs approximately 5,200 pounds or 2, 350 kilos. This is dry weight meaning that it is the total weight of the trailer when it has no gear and when its tanks are empty.
It is expected to add approximately 1,500 pounds of both water and gear to get the real-world weight.
> You may also like: 25 Best National Parks in the USA  <<