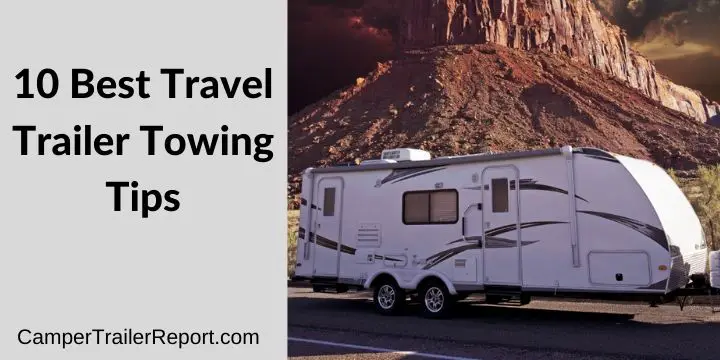 10 Best Travel Trailer Towing Tips
If you are one of those people who are looking for travel trailer towing tips then you are at the right place, below are ten best travel towing tips to help you out.
Get prepared
You should be able to know everything about travel trailers, know all the essential things required for a good trip, have a list of things you are required to have so that you don't forget. Don't overload it trying to carry a lot of items from home yet you can buy or on the way.
It won't be fun, especially when a small container having things cluttered at the floor, park 2 to 3 days before your first trip so that you can organize thoughts into a permanent spot.
Plan meals with a lot of non-perishable foods as possible, carry canned goods with you and as you pack, remember that heavy items like bags and a generator should be below and towards the front of RV.
> You may also like:45 RV Accessory Must-Haves for Your Travel Trailer<<
Hitch your vehicle
Ensure that before you travel your car is fastened well for safety purposes, ensure your hitch is on, locked in and cables connected and working correctly, check whether your car is balanced if you find that tow vehicle is tipping towards hitch or away from it shows that y are not well balanced.
Also, please pay attention to its weight distribution, and the only way to it is by checking your truck scale and having m measure weight on all tires.
Check your visibility
When I talk of clarity, I mean that you should be able to see the rear end through both side mirrors and if it's not visible as required, you should buy side mirror extensions as this will give you a full angle view as well as standard mirror view.
Check your breaks and brakes controller
Before you travel you should always check the state of your vehicle's brakes, ensure your brake controller is configured correctly; you should never forget to check on this.
A break controller turns on trailer breaks when tow vehicle brake is activated, and it consists of a setting that controls how hard it applies trailer breaks
Know your height
Knowing your height matters a lot, it is essential to know how tall your trailer is to avoid destroying it by doing something that doesn't add up like; driving it under a bridge that is too low.
You should find out your height and add afoot to be sure, avoid passing through routes marked with a lower clearance than value. A height of 10 to 11 feet allows most travel trailers to go under bridges and overpass with ease.
> You may also like:Worst 5th Wheel Brands to Avoid <<
Know your route
You should be well conversant with your route that you are going to use. Of course, you don't want to be confused over where you are going while driving, your ability to move skillfully in traffic, especially on narrow roads.
It is recommended that you have a navigation system that includes a trailer as this will steer you clear of low bridges and likes.
Driving
At this point you should be able to drive a trailer, it is not difficult to drive, when you drive forward will follow you so long as your car is rated to tow your trailer, you will find it easy going up hills or do most of or things you would normally do while driving.
Turning
It is not as hard as you might be thinking since it will follow the path of your tow vehicle when moving forward, also note that the longer your trailer is, the more full you want to turn.
Longer trailers may end up cutting corners that were close to a vehicle, keep your turn as full as roadway permits and you should be okay with any right-angle turn, curves, and roundabouts.
Don't make a turn sharper than 90 degrees because that would be an issue; you can avoid m, and If you can't take m as wide as possible.
Backing up
It's a bit difficult and challenging and bigger trailer; you should at least practice it before trying it out. Backing up needs serious practice until you get used to it, take it slow and steady, and you should be fine.
You should always avoid situations where you need to back up under pressure, avoid doing it in roadways If it is possible since pressure and stress make it harder and increases the chances of making a great mistake.
Hills
Passing through hills and valleys is challenging, it is a bit stressful to push boundaries of tow ratings. Still, it's not a big deal when you know how to do it, the main thing is to keep to the right of you are going to be slow going uphill and whether you are below the speed limit, turn on hazard lights to alert or drivers, be careful while coming down mountain because it is dangerous.
You may also like: Least-Visited National Parks: Why They're Worth a Look<<
Related Questions:
Before you tow a travel trailer for the first time, you need to know how to do that safely. The more tips you learn about it, the more confident you will be when you take it on the road. Below are ten tips for you to use and answers to some of the questions you may have about using a travel trailer.
1. Is Towing A Travel Trailer Difficult?
If you are wondering how difficult it will be to tow the trailer, then know that it is fairly simple. As long as it is hooked up well and you have the right vehicle to tow it, you will quickly get used to it. Try driving around on a flat road for a while before you take it on a long trip.
2. How Fast Do You Tow Your Travel Trailer?
Another question you need to have answered before you take the trailer out is how fast to go with it. You will not want to exceed sixty miles per hour. Somewhere around fifty-five is the best speed.
3. What Should You Do When Towing A Trailer?
Learn what it feels like to tow the trailer by practicing a bit. Make the turns slowly and remember that the trailer is hooked up. Be careful about switching lanes and drive cautiously.
Video Overview: Top 5 Best Tips: How to Safely Tow Your Trailer
4. How Do You Tow A 30 Foot Trailer?
Get the right vehicle. You can only tow a large trailer if you have the right truck to haul it. Get it hooked up well to a powerful vehicle, and you will be ready to go.
5. When Towing A Trailer Should You Use 4 Wheel Drive?
No, it is not a good idea. For most towing, use 2 wheel drive. If the road conditions are slippery, then switch into 4 wheel drive.
6. How Do I Stop My Trailer From Swaying?
Make sure there isn't too much weight in the trailer. Keep it at a little over 50 percent of the load it can handle. Don't drive too fast.
> You may also like:How to winterize RV without antifreeze?<<
7. How Can You Back Up?
You need to practice backing up. It's not easy, but it can be learned. Make sure you have enough space when backing up.
Video Overview: How to back up a trailer like a pro – EASY TO LEARN TRICK!!!
8. Is Going Uphill Difficult?
It can be. Drive slowly and go to the right when going uphill. Put on flashing lights to let others know when you are going slow.
9. Where Should You Drive?
Take the travel trailer down familiar roads. Don't try to drive too fast. Know where you are going and stick to the route.
10. What If The Trailer Is Too High?
Know how tall the trailer stands. Keep track of bridges and overpasses on the route. Make sure the trailer is not too tall to pass under them.
> You may also like:Worst 5th Wheel Brands to Avoid <<