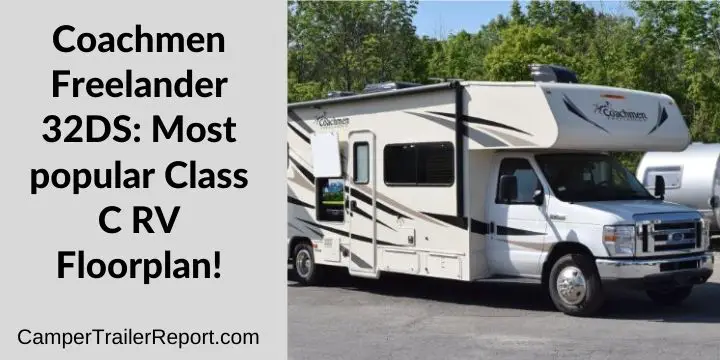 Coachmen Freelander 32DS: Most popular Class C RV Floorplan!
This beautiful and well-made coachmen Freelander 32DS RV features two slides with an exceptionally spacious living room and a wide sitting place. This Coachmen Freelander 32DS RV.
has both the premier family-friendly and Freelander packages that are composed of azdel fused sidewalls with well-molded fiberglass in the front wrap. With it comes with stainless steel wheel inserts, dark tinted windows, and metal running boards to enhance security and durability.
It has a solar panel connection port that connects to the LED outer tail, thus distributing its power to patio awning using this LED light strip together with other running lights. Apart from the patio awing, the interior, too, has LED lighting that connects to the towing hitch using a 7-way plug.
> You may also like:45 RV Accessory Must-Haves for Your Travel Trailer<<
For your entertainment, while you are resting, Coachmen Freelander 32DS RV comes with a touch screen dash radio and backup camera for security purposes.
For easy cooking for your family members, roller bearing drawer glides,1-piece countertops, burner cooktop with oven, and upgraded flooring. The hardwood doors, cabinet, and drawers are all made to last as long as you continue using your coachmen Freelander 32DS RV.
Video Overview: 2019 Coachmen Freelander 32 DS Walk Thru With Brett at Total Value RV!
During the construction of this RV, the engineer did not forget about your child. They came up with child safety harness and glass shower doors that are incredibly safe.
While out in the woods, the temperature change is always an issue. That is why; the RV has an even-Cool A/C ducting cooling system that works with a water panel using a tank flush. The RV is made in such a way that it can accommodate a jack and a TV antenna, thus giving a chance to watch your best TV channels while you are out.
> You may also like:Worst 5th Wheel Brands to Avoid <<
If your solar panel is not working, this coachman, Freelander 32DS RV, has a 4KW generator that you can use for lighting and heating. The roto-cast outer storage chambers also help you in keeping heavy equipment like a bike if you own some. The RV also has a coach TV and roadside assistance that can help you safely stay if you want to rest a bit.
It also has air-assisted rear suspension with all the two power vent fans using MaxxAir covers. Additionally, it a child safety net that is combined with an upgraded mattress that has a slide-out awning topper.
The coachmen Freelander 32DS RV also can have additional options included. Some of these additional features include; dual recliners, passenger and driver swivel seats, which are made in a very comfortable way. Other additional features include a folding cockpit table that has upgraded and well-molded countertops.
At some fee, you can also get an upgraded A/C that can pump water using a heat pump. So, what are you waiting for, order this coachman Freelander 32DS RV and request for additional features like heated tank pads, exterior windshield cover, side-view cameras, Equalizer stabilizer jacks, and a well equipped exterior entertainment center? Lastly, this RV has a Wi-Fi ranger for secure surfing. For comfortable and safe stay in the woods, the RV has a car radio play for continuous music and listening to your favorite station.
> You may also like: Least-Visited National Parks: Why They're Worth a Look<<