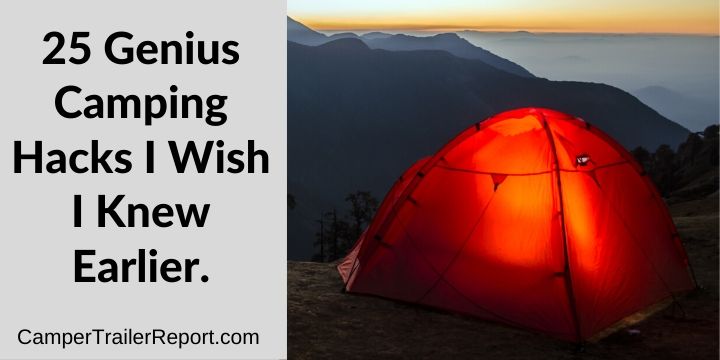 Camping is a great way to get back in touch with nature, create some life long memories with friends and family as well as being a wonderful way to get away from the busy rush of daily life.
However camping trips can also be fraught with all kinds of problems that don't come up in daily life when you're surrounded by all the modern conveniences, but knowing these genius camping hacks could just make the difference between a fantastically relaxing trip in stunning surroundings and an ever-worsening nightmare that you just want to be over!
25 Genius Camping Hacks I Wish I Knew Earlier.
1. Mosquitoes. These buzzing, biting little insects can ruin any camp trip with their persistent noise and tireless assaults! While mosquito repellant can be effective, why not try using a natural repellent such as sage. Burning the leaves of sage (in a bundle) will create a smoke that mosquitoes just can't stand, and they'll be sure to stay away!
2. Aluminum Foil. Cooking can be difficult while you're camping. Instead of bringing pots and pans and making life complicated, just bring some aluminum foil. It's lightweight and extremely versatile. To cook meat simply wrap the meat in the foil and place it on the fire. The meat will be cooked to perfection and retain its tasty and juicy moisture!
> You may also like:45 RV Accessory Must-Haves for Your Travel Trailer<<
3. Garden Rake. If you need to improvise a grill, whether you're camping or having an impromptu BBQ in the backyard, then try using the prongs of a rake. It makes a perfect grill for you to cook hotdogs, burgers, and bacon on!
4. Marinating your meat while you cook will always give it a better flavor, but if you don't want to be carrying around bottles of marinade and sauce in your bags then just take along a good sprig of rosemary. While the meat is cooking simply throw this onto the fire beneath and it will burn a delicious tasting smoke through the meat, naturally marinating it while the meat cooks.
5. Improvised Compass. If you find that you are lost and don't have a compass it could turn into a disaster! However, just using your watch (analog) you can find your way home. In the Northern Hemisphere, simply align the hour hand of your watch with the sun, and the halfway point between the hour hand and the 12 on your watch will point due North.
6. If you want to take spices for cooking with you but don't want to take up much room, you can recycle an old tic-tac box to put them in.
> You may also like:Worst 5th Wheel Brands to Avoid <<
7. Using plastic straws you can create single-use containers for a whole variety of things such as toothpaste and spices for cooking. Simply cut the straws in smaller pieces, 3 or 4 inches, then fill them with the toothpaste, and afterward seal the ends with a lighter. They're easy to pack and won't take up much space!
8. If you want to listen to some music while you're camping but don't want to be carrying around huge speakers a great hack is to bring a ceramic mug with you, place your cell phone inside and the mug will act as a natural amplifier!
9. Clean water is essential on any camping trip. If you have run out, simply get two jars, one with dirty water in it and the other empty. Put the end of a piece of cloth in the dirty water and if you wait the water will filter itself through the cloth to the empty jar!
10. If you're taking a portable cooler with you then place bottles of frozen water inside. This will keep your food and drinks cool and when the ice melts in the bottles you'll have plenty of freshwaters to drink.
Video Overview: 35 CLEVER CAMPING HACKS
11. Waking up in a freezing cold tent can be a bad way to start the day! To make sure you are all toasty warm right from the start of the day sleep with your clothes inside the sleeping bag and get dressed inside it! That way when you step out of your sleeping bag you'll be warm and ready to take on the day!
12. If you are going to be camping for a long time then washing your clothes is a must. To do this simply bring along a plastic bucket with a hole cut in its lid. When it comes time to wash clothes put them inside, add water and detergent and then using a stick stir the clothes around inside the bucket.
13. Take a frisbee! As well as being a fun way to pass some time, especially if you're camping with kids, they can also be used as a plate!
> You may also like: Least-Visited National Parks: Why They're Worth a Look<<
14. Learn to be able to identify some common plants that may cause you problems. Never camp on poison ivy because, as the name suggests, it's poisonous and can lead to you have bad skin rashes and irritation.
15. If you're trying to start a fire but can't find any kindling, or it's damp where you are camping, try using Doritos crisps. They light easily and are a great substitute for kindling.
16. Bring compact microfibre towels instead of the big bulky traditional cotton ones. They weigh much less and they dry in no time at all!
17. Bring duct tape! Duct tape has a thousand uses while camping. Small pieces can be used as kindling for a fire, but it can be used as rope and for general repairs. In emergencies, it can be used to secure a splint on a broken leg, or even as a bandage for a wound.
18. If you keep getting stung by stinging nettles, learn to identify the dock leaf plant. Rubbing this on the stings will instantly cool the burning and relieve you of the pain!
19. To make a neat camp lantern bring along small glass jars (with holes punched in the lid) and put tea light candles inside. They are portable and give off a nice soft light, and inside the jars, they won't be blown out by the wind.
20. If you love your scrambled eggs in the morning but are wondering how on earth you can take eggs with you then fret no further! Simply crack the eggs into a plastic bottle before you leave and take them in the bottle! When it comes time to cook pour the eggs into the pan and presto, scrambled eggs!
Video Overview: 26 CAMPING HACKS THAT WILL CHANGE YOUR LIFE
21. If you're out in the woods putting up your tent and you realize that you've not got enough tent pegs, then improvise and just use sticks instead. Choose thicker ones though that aren't going to break if it gets a bit windy.
22. To make popcorn while you're camping simply put the popcorn in a pan and then cover with aluminum foil. Hold the pan over the fire and wait for the popping to begin and soon you'll be eating popcorn by the fire.
23. If you're going camping and want to enjoy the ultimate marshmallows by the fire, bring along a bottle of Baileys to dip the cooked marshmallows in. Once you've tried it you'll never go back to plain old marshmallows again!
24. If you're not keen on cooking when you're out in the woods you can always cook food at home and then vacuum pack it for the trip. You can still heat it up over a fire once you're camping but it will save a lot of messing around, especially if you prefer cooking in your kitchen at home and don't want to carry bags of ingredients with you.
25. As a general rule if you are going camping it's always worth taking a few survival essentials in a small tin. This should include waterproof matches or a lighter, fishing wire, hooks, a small compass, salt and maybe a bandage. This little survival tin could just save your life one day!
> You may also like: 25 Best National Parks in the USA  <<