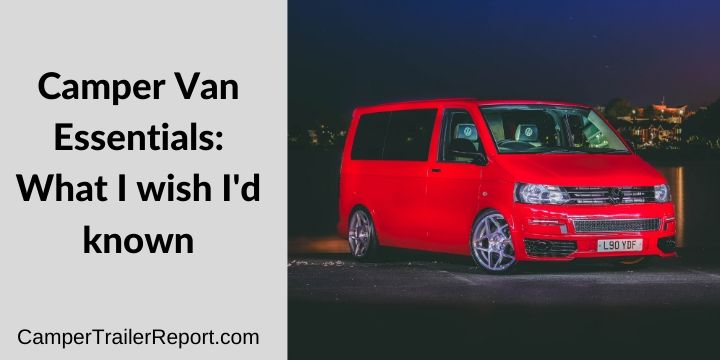 Camper Van Essentials: What I wish I'd known
There are camper van essentials you should have in an RV or motorhome. Even if you make a comprehensive list, you will find out that there are a few things you missed while on the road.
If you own the camper van, you might have installed or included most of these essentials. But, if you are hiring the RV, you will have to check each of these items. Usually, you will have the following camper van essentials:
Road safety equipment like jacks, warning triangles and hi-visibility vests
Maps and GPS
Gas bottles
Kitchen equipment like crockery, pots, pans, sharp knives, glassware, scissors, .etc.
Cleaning equipment e.g., broom and dustpan
External camper van equipment including electrical cables and water hose
Other items that are highly useful and you should include in your campervan equipment list include:
I. Reusable shopping bags
While camping, you will frequent supermarkets, malls, and local markets to shop for items. Plastic bags are not offered for free, and in some areas, they are not allowed. Ergo, carrying reusable shopping bags is the best option to avoid inconveniences.
II. First aid kit
You can have accidents and injuries at any given time. Therefore, you should have a fully stocked first aid kit before you go camping.
III. Eye masks and earplugs
Depending on where you will camp, you may need earplugs (if the place is noisy) and/or eye masks (if there is bright light). Eye masks may not be a priority if your RV windows have curtains and blinds. However, being prepared is better than sorry.
> You may also like:45 RV Accessory Must-Haves for Your Travel Trailer<<
IV. Short, lightweight bathrobe
If you are going to camp in public campgrounds, you should have this type of a bathrobe because getting changed in a public bathroom can be daunting. Besides having limited hanging space for your toiletries and clothes, you will have to deal with other people looking at you or trying to use the same bathroom space. Hence, get prepared in advance.
V. A hanging toiletry bag
Consider investing in a waterproof hanging toiletry bag; that's enough to carry all your basics like shampoo, soap, and razor. When using a public bathroom, you might get overwhelmed by the time allocated or the number of people using the same facilities. Try to be organized at all times.
VI. Microfiber travel towels
These types of towels are ideal when hiring a campervan and you are planning to visit the beach or public pools. Microfiber towels are easy to carry, clean, and use, unlike standard towels.
> You may also like:Worst 5th Wheel Brands to Avoid <<
VII. Power strip
Hired campervans usually have only one power outlet. Hence, investing in a power strip or board is a good idea, especially if you want to charge more than one item. When you access electricity for a short period of time, having a power strip can make it easy for you to charge everything rather than prioritizing if you have only one power outlet!
VIII. Chargers & extra cables
Having more than one charger is important just in case one fails. No one likes to have a dead phone in the middle of nowhere. Extra cables are also vital, especially if you are charging several items at a go. Remember, if you are camping for long and you've carried other equipment like laptops, consider carrying an inverter to avoid frustrations/inconveniences.
IX. Torch
You don't have to disturb other campers at night, borrowing a torch. Carry your own, and if you can afford the one that's rechargeable, the better.
X. Stationery
Sometimes stationary can help you thrive in the wild. For instance, scissors can be used when you cannot find the knife while you can use super glue to repair your shoe. Bubble wrap, sticky tape, and marking pen are among other items you should carry.
XI. Clothesline
Even though you can get clothesline and pegs in your camping site, you should always carry your own because you never know! It is better to be prepared and ready for anything rather than relying on other people to help you.
XII. Bags, plastic containers, and clips
You will buy a lot of food on the road from shops and local markets. For convenience and hygiene, have your own plastic containers, bags, and chips. You can also use these essentials to store leftover food for later use, especially if you prefer preparing your own food.
These camper van essentials might seem small and straightforward, but the items will make your trip smoother. Make a checklist to avoid forgetting. Finally, countercheck before leaving to make sure you have all these essentials with you before you go camping.
> You may also like: Least-Visited National Parks: Why They're Worth a Look<<