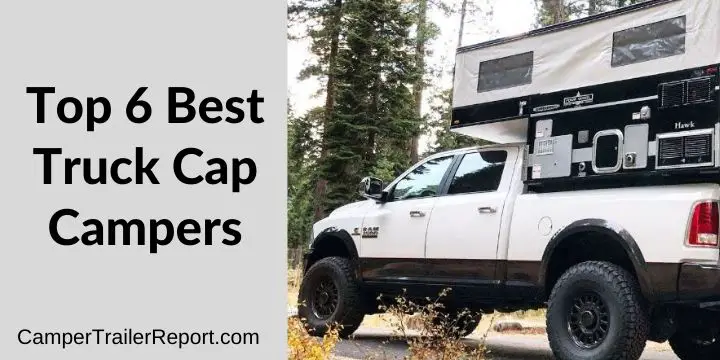 Top 6 Best Truck Cap Campers of 2020
Here are a few choices for those campers who prefer trucks. Camping can be a lot of fun if you have the right truck. So, here are the top 6 of the best truck cap campers;
1. Adventure XT Truck
The XT has all you need for off-road adventures and if you want to be off the grid for a few hours of quality time. Its features include;
Truck chassis can either be a Ford F550 or Dodge Ram 500
Its height is 11ft with a 5-inch lift kit
It can hold up to 100 gallons of fuel (diesel) and 90 gallons of water
It can store up to 20,000 watts
Two USB outlets
King/queen size bed with cabinets on each side. Its kitchen has a single burner, storage cabinets, a countertop, a fridge, and stainless sink.
It has a dining area with side booths that can turn to a sleeping area
Bathroom and toilet.
Fire extinguisher and smoke detector.
Video Overview: Holy Cow! This Heavy-Duty Overlanding Rig Comes With A Heavy Duty $400,000 Price Tag
> You may also like:45 RV Accessory Must-Haves for Your Travel Trailer<<
2. Kimbo 6 Base Camper
Its features include;
Aluminum frameless shell and R5 insulation with an interior brushed fabric
Insulated windows with blackout shades and screens
Reversible roof vent fan with 3 speed
A sealed battery with 12v that has 110v outlets with USB ports
Two benches with cushions for a social setting
Fire extinguisher and propane storage on the exterior
Solar lights and a sliding ladder to easily access the roof
A bed area with a mattress measuring at 5 inches| by 75inches
Weighs about 930 pounds with removable jack lifts on the side
Video Overview: LIVE: Kimbo 6 walkthrough
Video Overview: KIMBO LIVING – THE LIGHTEST & MOST SPACIOUS TRUCK CAMPER EVER Walk Through on Tacoma
3. Single Cab Tray Topper
Features of this camper include;
The body is lightweight with an aluminum shell
Recessed doors to prevent dust and a gas strut assisted roof
Slide-out benches with a two-burner stove and removable sink
Kitchen pantry storage and a 50L water tank. A water pump and faucet that is 12v
It has two gas bayonets
For reduced wind drag, it has a streamlined design
A battery charger with 17amp and 240v.
Shower tent and an option for a 4-ich spring mattress upgrade
Video Overview: SINGLE CAB TOURING FITOUT
> You may also like:Worst 5th Wheel Brands to Avoid <<
4. Falcon F-Lite 14 Travel Trailer
Features include;
Exterior length, width, and height are 13'5", 95", 97" respectively while the height of the interior is 6'1"
It weighs 1,692 LBS
Has a bed size of 51" by 72"
Has a fresh tank that can carry 18 gallons while the combo tank carries 30 gallons
Video Overview: 2019 Travel Lite Falcon F Lite FL-14 / Referral Auto Group
5. Tag Teardrop Trailer (Boondock Lite)
The Boondock's Lite features include;
Has a sink and a 2-burner gas stove
Stargazer windows and a yeti cooler
Comes with a 19-inch colored TV
Has an air conditioner and a 3-speed fan
15-inch sport rims with off-road tires and a spare wheel
A pitched axle for heavy-duty
Has an aluminum platform with diamond plated fenders or tubs
Video Overview: 2020 TAG Teardrop Trailer Walkthrough Tour (UPDATES!)
Video Overview: TAG Teardrop Trailer Limited Edition – 2020
6. The Livin Lite 6.8
Its features include;
Weighs about 2,026 pounds
The length of the floor is 6 feet, 6 inches
Carries 19 gallons of fresh water and 27 gallons of black/greywater
Has one battery and a structural warranty of 2 years
A 60" by 80" bed, closet, storage and a fridge
Has a seating area with the bathroom and toilet at the entrance
Video Overview: 2018 Camp Lite 6.8 | Truck Camper | Aluminum – RV Review
> You may also like:  Why America's Most Popular National Parks Need to Be on Your Bucket List <<