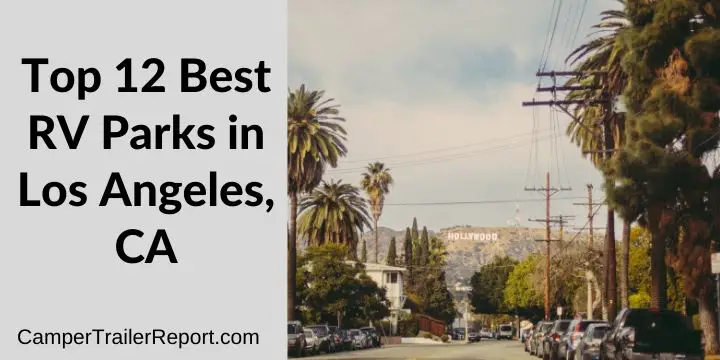 Top 12 Best RV Parks in Los Angeles, CA
Los Angeles is a place with many RV parks and campgrounds where you can highly enjoy it when visiting. It also has some tourist destinations and Disneyland, where the entire family will find attractive. The campgrounds around are near big cities, and when you need wide-ranging, you can start from there. It has moderate beautiful weather, and they are found in the top RV parks around this city, which are explained in the below article.
1. Hollywood RV Park
It is an RV park which lies at the Hollywood heart, and the distance is short from there to other famous known sightseeing places, including a walk of fame Hollywood and the Beverly hills. The park is known to have been a landmark from 1948, and its located at the center of most historic destinations, and even famous people tend to visit it. It has some unique artworks, and the famously known playground is located there too.
Video Overview: HOLLYWOOD RV PARK (formerly Balboa RV Park ) in Los Angeles
2. Dockweiler RV Park
The county government of LA is known to operate this RV park, and when visiting there, you are free to swim as well as take your showers whenever you want. It has private bathhouses that people enjoy and offers affordable rates that make people flow in every time. The park is directly located from the beach area. It is also known to boost Catalina and malibu island views.
> You may also like:45 RV Accessory Must-Haves for Your Travel Trailer<<
3. Golden Shore RV Resort
The RV park of the golden shore is small, and its located at the extended beach suburbs, and it is located next to the pacific aquarium and can also offer access to beaches. The amenities here are bigger ones in that there is boat renting, and most tourists and museum attractions are available.
Video Overview: Golden Shore RV Resort in Long Beach, California ?? Full Time RV Living & RV Park Reviews
4. Malibu Beach RV Park
It is the RV park at the Malibu beach area, which has most greenery wildlife creatures and many trees together with many surrounding hills and water views. Among the ritz parks, it is the main around LA and has pads offering surrounding hills views where every pad is some distance from each other.
> You may also like:Worst 5th Wheel Brands to Avoid <<
5. Anaheim RV Park
It is the one known to be so close to Disneyland since it is only five runs, and you are there. There are dog walking services offered here and also has some shaded sites where local busses always stop after every movement of 30 minutes.
6. Castaic Lake RV Park
It is the RV park which is located some distance from the typical metastatic lakes. Some residents live here for all of their time, and others half time. The park has low and accommodative rates around. It enables everyone to explore the city of LA without spending too much freedom.
Video Overview: Castaic Lake RV Park Castaic California CA – CampgroundViews.com
7. Fairplex KOA RV Park
It is the park that is located on the LA sides, and their grounds are at the larger parties. The park has a feature of big pools with some palm trees at its sites. The park is known to feature some amenities profusion. The gyms are available at the site area together with some minister necessities. The RV can be stored for some periods in the park.
8. Orangeland RV Park
It is also the RV park located at the Disneyland side and has the oak trees which bear oranges, and the guests are always free to pick them. The park seems to be so friendly to the environment and very interesting, especially for the kids together with families entirely. The outside of the park there is a bus stop area.
9. Anaheim Harbor RV Resort
It is the RV park which is located towards the Disneyland with the clubhouse accommodating many people. The premises have some putting greens and are very close to Disneyland, which enables you to see nightly fireworks everywhere. The park is very cheap hence can be afforded by most people and gives the alternative where you can reserve the pad using the grassy lawn.
Video Overview: Anaheim Harbor RV Review // Camping Close to Disneyland
10. Soledad Canyon RV Park
It is a decidedly more prominent RV park around the area on the grounds entirely, which creates a very inviting, comfortable space for both the families and children. It's near LA and very close to nature, and it has soaked pads featuring mountains and hills. The park is very green, which gives a sense of the right environment.
11. Bonita RV Park
The park is clean and is located around the airport, where you can view taking off jets and incoming ones. They offer friendly services and affordable prices for their commodities too. There are available nearby beaches with a few activities which you can relax and enjoy together as a family.
12. Walnut RV Park
The facilities here are perfect, and the pool is lovely, which is comfortable to be used and comforting in hot times during the afternoons. The Walnut RV in LA gives a refreshing feeling that will make you want to extend longer. The prices are cost-friendly, and you will always get what you need.
Video Overview: Walnut RV Park | Camping In Los Angeles
Conclusion
The RV parks in Los Angeles are very friendly and affordable. They have different features which make you want to visit them often. They are adorable hence making LA a bigger city to visit.
> You may also like: Least-Visited National Parks: Why They're Worth a Look<<