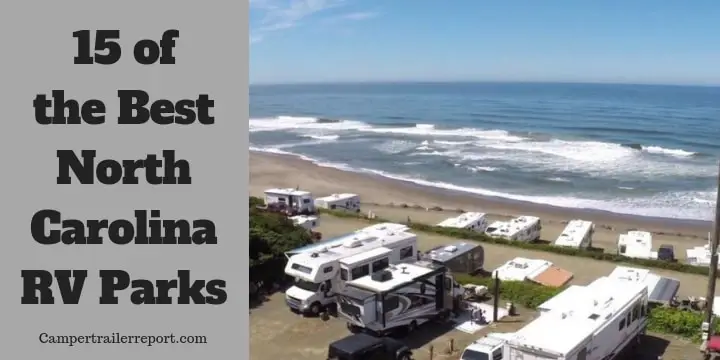 Best RV Campgrounds in NC Mountains
With some of the most beautiful serene coast and mountain range, North Carolina is campground heaven.
No wonder the states receive lots of tourist yearly. However, do you know who else loves the NC Mountains?
You guess right! Campers. From towering mountain ranges to beautiful unaltered beaches, and calm surrounding to explore, you and your family can bet on having a memorable time.
Of the many RV parks in this beautiful state, we bring you the top best campgrounds and RV beaches for your enjoyment. In no particular order as they have their own unique features, here are your 5 best.
Blue Ridge Parkway
This has to be one of the parks you shouldn't miss for your next camping trip. The Blue Ridge Parkway is a 469 miles long recreational motorway that runs along the infamous ridge of the mountains.
You get more than just a campground for your trip, this location offers you outstanding and breathtaking scenarios to explore.
It also provides you with dozens of places to stop and areas lager enough for your RV. While here, you can stop at the Linville falls and check out some picturesque waterfalls, and the Mt. Pisgah for hiking.
Video Overview: Blue Ridge Parkway 3-minute Tour
Stone Mountain State Park
The Stone Mountain state park is considered the gem of North Carolina and for good reasons too.
It is the paradise of outdoor lovers and offers you electricity and water source, picnic table, grill, and fire ring.
The park offers several biking trails, hiking, historic sites, rock climbing and many more.
Another site worth seeing at this park is the famous Mountain Granite Dome, Elk Knob which is about 30 miles away and the Pilot Mountain State Park.
> You may also like: 12 Best Waterfront RV Campgrounds: You Need to See. <<
Camp Hatteras RV Resort and Campground
This is a friendly RV facility situated on the beautiful and serene Hatteras Island in the outer banks of the state.
It covers a 50 acres campground and surrounded by the Atlantic Ocean and the Pamlico Sound.
The resort has three pools, marina, Jacuzzi sound, miniature golf, and water sports rentals. You are definitely in for a fun time when you visit this park
Also, the region offers other attractive sites to visit like the many lighthouses, Pea Island National Wildlife Refuge, and the Wright brothers' National Memorial
Camp Lookout National Seashore
Okay, just imagine being able to set up your camp on a beach, build a campfire and watching the sweeping light from the lighthouse.
Beautiful right? And to top it all, the park has no particular layout, it is a primitive area making the extra experience special.
You can visit the historic Portsmouth village not far away from the wild horse roaming free.
> You may also like:First Time Travel Trailer Owner Tips,Beginner's Guide. <<
Pettigrew State Park
With its centerpiece as the beautiful lake Phelps, the Pettigrew state park is a dream come true for campers who are looking to get the best of both nature and history.
Lake Phelps is one of the oldest and the second largest lake in the state. It offers boaters, swimmers, and anglers the perfect location for such recreational activities.
With about 13 campsites suitable for family, it is easy to explore while enjoying your time.
Camping is a fun activity, whether you went alone or with the family, it is something that has the power to bring the family closer.
We hope with this list, your next camping trip is all you have ever dreamt of.
Video Overview: NC WEEKEND | Pettigrew State Park | UNC-TV
5 best luxury RV resorts north Carolina
Mountain Falls Luxury Motorcoach Resort.
Situated in the Blueridge Mountains, Mountain Falls is one of the most luxurious RV resorts in North Carolina. It offers an all season service with amenities such as a spa, golfing, swimming pools, tennis courts and private clubhouse being provided.
Mountain Falls resort is a Class A exclusive resort- from 26ft or more. Depending on the season, their rates vary, but on average it ranges from $80 for a regular spot.
Twin Lakes RV Resort
The twin Lake Resort is situated between the Pamlico and Chocowinity rivers. It offers activities such as paddling, swimming, hiking, biking and sailing to mention just a few. Its amenities include RV storage, grills, hiking, and restrooms.
Raleigh Oaks RV Resort and Cottages
Its located in Four Oaks and its surrounded by attraction sites such as museums, fun parks, and Umstead State Park. It offers back-in and pull-through sites and full hookups for your RV. It offers amenities such as Hot tubs, swimming pools, miniature golf, and an art room.
Camp Hatteras RV and campground
This campsite is located on more than 50 acres of the Hatteras Island. It's surrounded by the Atlantic ocean which gives it great scenery.
It offers full hook-up campsites with Wi-Fi, cable tv, Jacuzzis, bathhouses and swimming pools.
The camp provides all range of activities such as kite surfing, fishing, horse riding, hiking, and golf to mention just a few.
Yogi Bears Jellystone Park
Situated in Tabor City in North Carolina, this is one of the best Rv resorts in this state. It's near Lake Waccamaw which provides reasonable grounds for fishing and other marine activities.
It offers amenities such as swimming pools, more than 125 fully equipped RV sites, and biking.
Video Overview: Fall Camping Fun with Yogi Bea at Jellystone Park
Five best permanent camping sites in NC
Goose Creek Resort
The resort is situated in Newport along Crystal Coast. As it is only a few minutes from the coast, it offers a wide range of marine activities such as fishing tournaments.
It also provides activities such as pool parties, crafts, movie night's playgrounds, and waterslides.
Amenities available include a clubhouse, RV storage, laundry facilities, and a ballroom.
It offers a long-term stay, and it's one of the best campgrounds.
Video Overview: Anna @ Goose Creek RV & Camping Resort!
Pine Lake RV Resort
Pine Lake RV resort is located in Wagram, North Carolina. It offers campers a long-term stay in all the four seasons of the year. The campground offers amenities such as laundry, dump station, store, showers, and restrooms. It offers recreational activities such as swimming pool, playgrounds, fishing and hiking.
Black Forest Family Campground
Situated in the Cedar Mountains, Black Forest Family Campgrounds is one of the best places to experience great vacation time with your family. It offers amenities such as restrooms, showers and camp stores. Activities include hiking, recreational rooms, and swimming pools.
Smoky View Resort in Maggie Valley
This resort is located in Maggie Valley and offers a great view to the Smoky Mountains.it offers amenities such as cottages for rent, RV storage, and laundry. It has a wide range of activities such as hiking, pools, and playgrounds.
Lake Myers Resort
This resort is located in Mocksville. It offers its campers long-term accessibility for more permanent stays. One of its biggest attractions to campers is the NASCAR races which occur close to the resort. This resort offers amenities such as full hookups, full bathroom with shower, villa rentals and kitchenware. It offers activities such as fishing, miniature golf, waterslides, grills, swimming, and basketball among others.
>> You may also like:45 RV Accessory Must-Haves for Your Travel Trailer<<